LUX Travel: Top 5 Hawaiian Poolside Resorts
Travel to the islands of Hawaii this year for the ultimate poolside experience. These top five Hawaiian poolside resorts offer everything from waterfalls to swim-in aquariums, and the poolside service that every LUX vacation needs. Time to book your Hawaiian resort vacation.
Four Seasons Resort Hualalai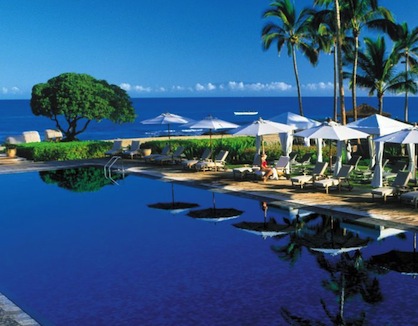 Set foot on the Big Island's Four Seasons Resort Hualalai. This luxury resort is complete with a choice of seven different pools. The King's Pond pool is a 1.8 million gallon swim-in "aquarium", sculpted out of 200-year-old lava rocks. Take a swim with tropical fish as natural springs and ocean water fill the pool. For a relaxing day, head over to the Beach Tree Pool. Attendants serve food and drinks from the poolside restaurant. There's a pool for every vacationer at the Four Season Resort Hualalai.
Grand Wailea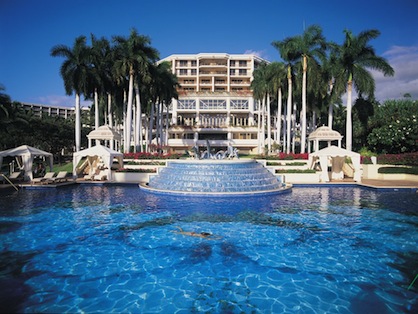 The Grand Wailea, located along the beautiful beaches of Maui, hosts nearly 26,000 square feet of aquatic area. There are nine interconnected pools throughout the resort, including whitewater rapids and a lazy current, to take you from pool to pool. This playful resort features four waterslides, a rope swing, waterfalls and the world's first water elevator, built into a volcano. Grab your swimsuit and get ready for a day full of poolside fun at the Grand Wailea.
St. Regis Princeville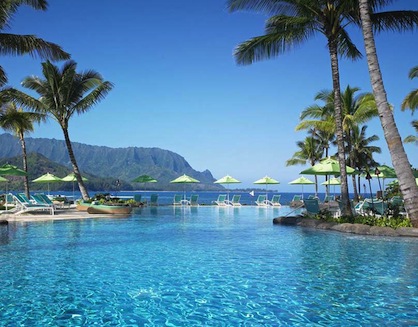 The St. Regis Princeville is the perfect romantic poolside vacation. The 5,000-square-foot infinity pool overlooks the peaceful Hanalei Bay. Treat yourself to a poolside massage, and enjoy the tropical gardens and a private cabana. Attendants service the guest throughout the resort with towel service, fruit spears and poolside dining from the Naula Kai Grill & Bar. This 24-hour pool experience will allow you to see the bay from sunrise until after the sun has set. Get away for a luxury vacation for two at the St. Regis Princeville resort.
Hilton Waikoloa Village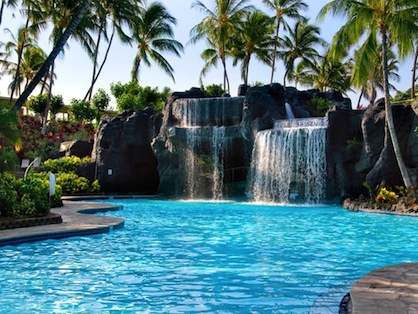 Waikoloa, located on the Big Island, is home to the Hilton Waikoloa Village resort. Known as the "oceanfront playground", this resort is home to tropical pools, waterfalls and a 175-foot waterslide. Take a dip in the four-acre ocean-fed lagoon, where an in-water dolphin encounter experience is awaiting you at the Dolphin Quest Hawaii. Back in the water-filled playground, be sure to escape to the waterfall grotto and adults only pool for a break from the kids. Get an assortment of experiences at the Hilton Waikoloa Village.
Sheraton Waikiki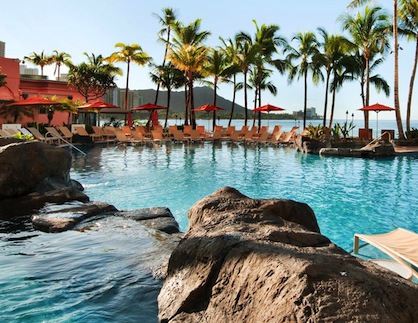 Honolulu is home to the Sheraton Waikiki resort. This poolside experience is perfect for those who want an in-ocean feel without leaving the resort. The "Superpool" is an infinity pool that appears to flow right into the ocean. Full service attendants provide the welcoming feeling you're looking for in a luxury resort. Between dining at the restaurants and a relaxing spa visit, dip in the "Superpool" for your ultimate poolside getaway at the Sheraton Waikiki.
Read more Travel
Tagged in: travel, vacation, hawaii, hawaiian resort, poolside,