Designer Spotlight: Tat2 Designs
As the designer behind the company Tat2 Designs, Briana Erin is her own particular definition of superwoman — or, super designer, as it is. The creative brain behind it all, she designs the collections, graphics, oversees her sales team, and runs production — no small feats for anyone. It's a labor of love, evidenced in her wildly successful business of nearly nine years and the line's presence in innumerable high-end stores and boutiques across the country. LadyLUX peeks into the world of this whirlwind to see how she does it all.
LadyLUX: How did you get started in this business?
Briana Erin: I come from a very creative family — my dad, Stuart, is a creative director and sculptor and there was always creative energy in my house. I started this business after I graduated from RISD [Rhode Island School of Design], nine years ago. I love what I do and love to wear a lot of different hats. Working with my stores and the relationships I've built with my buyers is one of the best parts. It's nice to be in the office and in the factory, and be on the road. As a designer, when you run a company, there is so much that you need to do besides the creative part.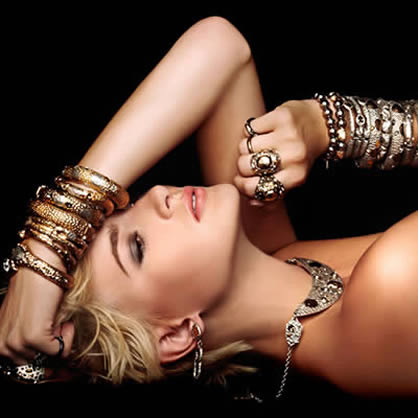 LL: Where can we find your pieces?
BE: We are throughout the United States, and all over the world in countries such as Abu Dhabi, Canada, Japan. We sell mostly to high-end boutiques where the customer is fashionable and sophisticated. The pieces layer really well with each other; I designed it that way, so every piece that you buy from a new collection layers well with the collection before it. We were also just taken into the Breakers in Palm Beach, the Peppermill Casino in Reno, and The Palms in Las Vegas. Hotels are big for us. I have an Atlanta showroom, a Dallas showroom, and reps on the road, so we cover a lot of territory. I do all the trade shows personally, which I think is really important. We also do about 15 to 20 trunk shows a year, which helps to develop a close relationship with the store and gets the staff really excited about the line. It gives the women and men who shop there an opportunity to meet us and see the pieces up close.

LL: How did you land on the name Tat2?
BE: After tattoo. A tattoo is body art, and jewelry is an extension of body art. The "2" stands for my partner and I who run the company.

LL: Your pieces incorporate many different types of metals into the design, semi-precious stones, ancient coins and pearls. How would you describe your style?
BE: My grandfather gave me a coin collection when I was a little girl. I think that is where I got the inspiration to include them in my designs, but I've always been drawn to coins because they're timeless. I'm known for my use of mixed metals: The jewelry is cast in pewter, with chains that are brass, 24K gold and sterling silver plate. The crystals are all Swarovski and each of the bangles have spring hinges and magnetic closures. A hammered finish gives it an aged look. I travel a lot so my collections are inspired by that, most recently by Italian cities. It was their classic beauty that drew me in. Also, my dad is sculptor and he sculpts a lot of pieces in my line.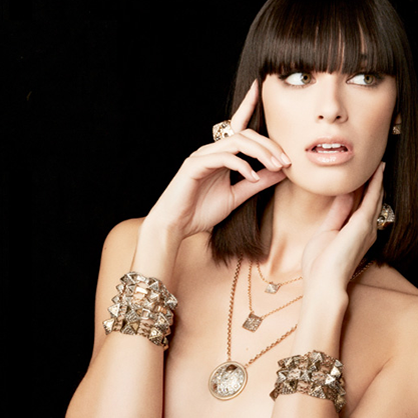 LL: Are there any famous names who have bought your jewelry?
BE: On site, Joy Bryant, Zooey Deschanel, Leelee Sobieski, Jennifer Love Hewitt, Jessica and Ashley Simpson, Lauren Conrad, Lucy Hale — a few! Angie Harmon wore my pieces on the cover of Cookie magazine and I've been featured in Harper's Bazaar, Cosmopolitan, Stylecaster, Destination Weddings, and on a Special K commercial.

LL: What's next for Tat2?
BE: Well aside from Tat2, I also created Briana Erin Jewelry, my fine jewelry line. Although Tat2 is my bread and butter, I really love the fine jewelry which appeals to the edgier but feminine side of my personality. Prior to this, I did develop a collection of shoes which were received very well. Moving forward, as I build my brand, I'd like to do shoes or handbags or both. I have such great ideas for handbags and can work my line into it. I first wanted to build something solid with my jewelry. Establishing yourself first is important; if you try to do too much, no one will take you seriously.
To keep up with Briana Erin and Tat2 Designs, follow her on Facebook and Twitter and visit www.tat2designs.com

Tagged in: lux exclusives, designer, jewelry, accessories, designer spotlight,