Tips on How to Be Your Most Productive Every Morning
Don't waste those early morning hours
It's easy to hit the snooze alarm for a bit more sleep, but it's better to get up and start your day. If you find that mornings aren't your most productive time, here are tips from working professionals who have been there and definitely done that.
One of the most consistent tips was about working out. Don't wait until the end of the day to workout. Do it first thing in the morning, and you'll feel more energetic all day.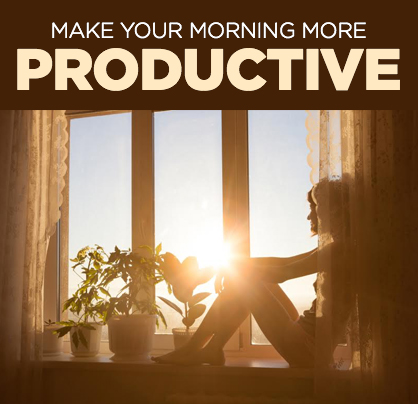 The night before
Plan your day the night before. Before you leave your office for the evening, take a look at what your next day looks like. This way you'll know what to expect ahead of time and you won't be pushed back by something unexpected.
Get a good nights sleep. You're far more productive when you're well rested.
Figure out what you will be wearing to work the next day, and have it ironed and ready to wear.
Put your workout clothes beside your bed.
In the morning at home
Work out. Morning workouts are the best way to start your day. When you squeeze in that morning trip to the gym, no matter what happens throughout the rest of your day, you'll at least have done one productive thing.
As you get ready, turn on music instead of the TV. It will help you move faster and brighten your mood and won't distract you.
Eat breakfast. Most people wake up and reach straight for the coffee, but eating breakfast is more crucial for your daily health and well being. Avoid a caffeine crash and fuel yourself with food instead of coffee.
Prepare for dinner. Yes, it's only the morning. But if you know what you're having for dinner, you'll be less likely to come home famished and opt for an unhealthy takeout meal. Prepare any chopped veggies in advance, and have your ingredients already in the fridge or pantry.
And while you're at it, if you brown bag it, pack your lunch the night before.
At the office
Once you're at your desk, do the hard stuff first. You know that thing that you'd rather put off until never? Do it first. The quicker you get the hardest stuff out of the way, the easier it will be for you to focus on everything else.
Clear the clutter. Make sure your desk is clear of clutter. It is much easier to be productive when your brain isn't bogged down by physical clutter in your office. It also is much easier to think clearly when you can see your desk. You also won't end up losing papers all the time.
Do a fast email scan. Don't get wrapped up immediately in all your emails. Quickly go through them and organize them into priorities. Tackle anything that needs to be handled immediately, delegate anything you can and then circle around later to any emails that need attention.
Skip the social media updates. They're a time suck. If you avoid going to Facebook, Twitter and Instagram, you'll save yourself plenty of time.
Keep a schedule of everything you need to accomplish that day, and check each item off when completed. Even small things matter and will give you a sense of accomplishment.
Sources: Jana Schiowitz Montero, vice president of communications, Upspring PR; Amira Valliani, co-founder and CEO, Zomida; Alison Kero, owner, ACK Organizing; Jake Lane, growth analyst, LawnStarter, Inc.
Tagged in: business, careers, morning routine,