LUX Travel: Top 5 Honeymoon Hot Spots
Spring consists of so many beautiful things. And those beautiful things involve weddings and of course, honeymoons! If you're looking forward to being a beautiful bride in your dream springtime wedding, now is the time to book your honeymoon. Here are five honeymoon hot spot destinations for you and your hubby to start your lives together in sweet spring style. From Bora Bora and the Maldives, to St. Lucia and Santorini, each of these picturesque destinations will make saying 'I do' all worth it!
Four Seasons Resort Bora Bora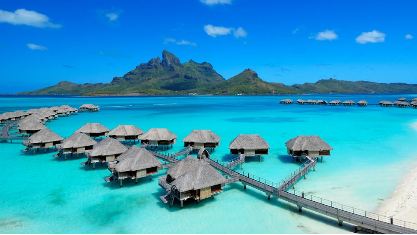 Newlyweds can kick back after a full day of nuptials at the Four Seasons Resort in Bora Bora. They will relish in the romantic ambiance of this South Seas Island while keeping comfortable in their over-the-water lodge, iconic thatched roof bungalow or one of the resort's seven premiere beachfront villas. Couples will experience an over-the-top honeymoon when they enjoy eating fresh seafood every evening overlooking a gorgeous sunset followed by a nighttime couples massage incorporating warm seashells in the view spa suite.
Fairmont Chateau Lake Louise Canada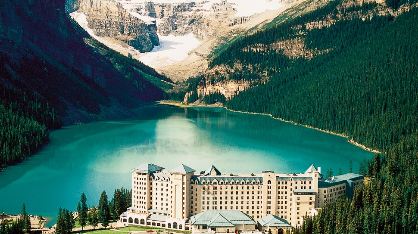 For newlyweds wanting a honeymoon destination surrounded by nature, the Fairmont Chateau Lake Louise Canada is the place to be for calmness and serenity. Viewed as a peak of luxury within the Canadian Rockies, the resort is situated among the mountains of Canada's Banff National Park. With guest rooms and suites designed in 19th-century style, couples will enjoy their views of the snow-capped mountains and emerald green waters from their window. For some intimate alone time, newlyweds can take a paddle or hike around the lake.
Komandoo Maldives Island Resort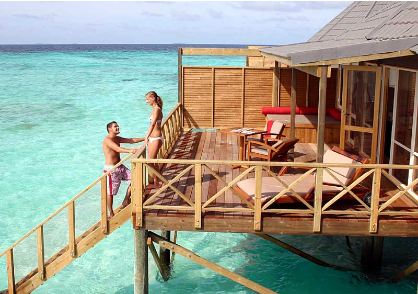 When arriving at the Komandoo Maldives Island Resort, newlyweds will be welcomed to the island of romance. Located in one of the world's most beautiful areas, the resort is a magical luxury hideaway featuring attractive island style, warm hospitality and classic Beach Villas set right on the sand. When not strolling along the beach, couples will spend most of their free time taking advantage of the world class diving locations and getting pampered together at the spa.
Anse Chastanet St. Lucia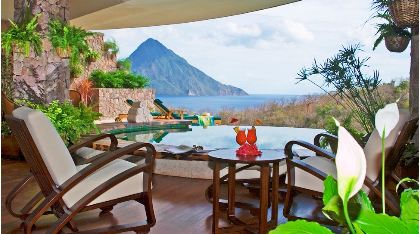 A private resort awaits honeymoon couples on St. Lucia's quiet southwestern coast at Anse Chastanet. Featuring classic Caribbean elegance blending nature's beauty with timeless luxury, the tropical resort is bordered by two sandy beaches offering beach access to the beautiful Caribbean Sea. Couples will experience both serene tranquility and vibrant exploration during beachside dining, basking in the sun or sunset sailing.
Mystique Resort Santorini Greece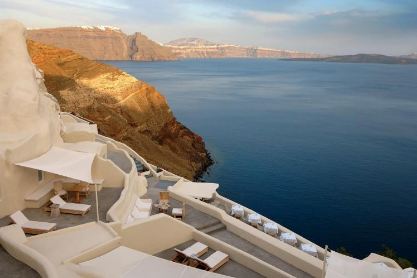 Located on Oia's most famous cliffs which offer amazing views of Santorini's clear blue crystalline waters, the Mystique Resort in Greece is a European honeymoon paradise. Newlyweds will lavish in the lap of luxury when they stay in the suites opening onto sea-facing terraces with views of the volcano and Aegean Caldera, complete with relaxing daybeds. Couples can hold hands all the way down charming cobblestone pathways leading to the plunge pool and the infinity-edge pool set right by the Aura Bar for a bit of play time.
Read more LUX Travel
Tagged in: guides, lux travel, travel, luxury travel, wedding, honeymoon, greece, bora bora,