Napa Valley in 24 hours
With the Napa Valley's plethora of amazing restaurants and stellar wineries, it wouldn't be difficult to spend a week – or the rest of 2011 for that matter – eating and drinking your way through the area.
But even if you're short on time, it's still well worth making a visit to what's become one of the country's top food and wine destinations. Here's what to see, sip, taste and try when you've got just 24 hours in wine country.
SIP
Truchard Vineyards
Truchard may not be a household name, but several of the wineries that buy its grapes — from Nickel & Nickel to Frog's Leap — certainly are. The Truchard family keeps about 30 percent of their fruit for their own label and then entrusts winemaker of 13 years Sal De Ianni to do the rest.
"I always tell people our wines are very balanced and very elegant," Jo Ann Truchard, who runs the winery with her husband, Tony, said. "Sal really just tries to have the grapes express themselves, and he does a fabulous job."
Tastings are as intimate as they come here, taking place inside a 100-year-old barn just across the driveway from the family home, and also include a tour of the property's maze of a wine cave. Plus you can pick up a late harvest Roussanne dessert wine to sub in for boring old coffee at your next dinner party.

Tasting: $15 by appointment only
www.truchardvineyards.com, (707) 253-7153
SHOP
Oxbow Market
Think of this 40,000-square-foot marketplace located in the heart of burgeoning downtown Napa as a sort of Disneyland for foodies, filled with gourmet merchants, produce vendors and sit-down eateries.
"We built the concept around individual owner-operated businesses, consistent with what you'd find in markets around the world," Steve Carlin, the market's founder and chief executive, said. "We hoped people would not only appreciate the ability to buy directly from the suppliers or the producers, but would welcome the local gathering place."
Indeed, there's plenty to appreciate here. You can pick up a custom-ground exotic blend at Whole Spice Company, a blood-orange olive oil at The Olive Press, or sidle up to the bar at Hog Island Oyster Company's outpost to slurp down a half-dozen Sweetwaters plucked from nearby Tomales Bay.
This April, look for a new family-style, ingredient-driven eatery from Todd Humphries, former owner of the valley's celebrated Martini House restaurant.
www.oxbowpublicmarket.com (707) 226-6529
LEARN
Duckhorn Vineyards
What happens when the oil from a walnut coats your palate before you dig into a Cab? How do lemon and salt affect the taste of Sauvignon Blanc? Can you really drink Chardonnay with steak? Splurge on Duckhorn's in-depth "Food For Thought" tasting and you'll walk out with all the answers … or at least the freedom to throw stodgy old food-and-wine pairing rules out the window.
The wines here, especially Duckhorn's fabled Merlots, are knockouts on their own, but even better with gourmet bites — including pomegranate-glazed lamb meatballs and blue cheese cookies — prepared by the winery's own chef.
Food for Thought tasting: $55 by appointment only
www.duckhorn.com, (888)-354-8885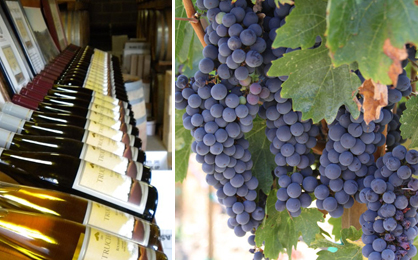 Courtesy of Truchard Vineyards
EAT
Breakfast: Bouchon Bakery
Sure, Thomas Keller has opened other locations in New York and Las Vegas, and plans to add a bakery to Bouchon Beverly Hills, but none have the charm of this original little bakeshop, wedged smack in the middle of Napa Valley's culinary darling, the town of Yountville. Grab a latte, a baguette (or a croissant, or an éclair …) and a tiny outdoor table in the courtyard, and you won't want to get up. Got a famished four-legged friend in tow? Bouchon even sells foie gras doggie biscuits.
www.bouchonbakery.com, (707) 944-2253
Lunch: Mustards Grill
Cindy Pawlcyn's Napa Valley institution started dishing up American comfort food focused on local ingredients long before it was trendy. Twenty-seven years later, the restaurant, filled with natural light, still serves the best lunch around. Highlights include the grilled vegetarian spinach and mushroom "burger," a slow-smoked barbecue pork sandwich and a seafood tostada piled high with a different fresh fish each day.
www.mustardsgrill.com, (707) 944-2424
Dinner: Bottega
It's nearly impossible to order the wrong thing off Michael Chiarello's menu of rustic wine country cuisine infused with the flavors of Italy's Calabria region. Seasonal antipasti plates include a citrus-laden, shaved Brussels sprouts salad and an addictive polenta presented in a glass jar with wild mushrooms. Homemade pasta offerings include pillowy ricotta gnocchi and hand-cut egg linguine tossed with Manila clams and sausage. The dimly lit setting is at once warm and formal, with exposed brick walls, soaring timber-beamed ceilings, chairs covered in rich leather and a glass-enclosed private dining room. Take a peek into the open kitchen, and you'll most likely spot Chef Chiarello at the helm.
www.botteganapavalley.com, (707) 945-1050
STAY
Bardessonoi>
You don't get much more environmentally friendly than this place. The 2-year-old Bardessono — which has landed a rare LEED platinum certification — was constructed with reclaimed woods and used sliced-up stone from a home previously on the property to tile the hotel. Not only that, it has an underground geothermal system to heat and cool its rooms, and provides guests with organic linens and house-filtered water.
"We are the greenest luxury hotel in the world," Leslie Papa, front office manager, said. "The Bardessono family has been here for so many years and wanted to do something that was right for the community."
The 62-room hotel still manages to feel decadent with massage tables, fireplaces, Jacuzzi tubs and oversized patios standard in every room, plus bend-over-backward service and a restaurant menu highlighting ingredients from area farms via dishes such as artichoke risotto and duck with cider jus.
www.bardessono.com, (707) 204-6000
CELEBRATE
The 18th Annual Mustard Festival
This 3-month-long festival, inspired by the colorful wild mustard that pops up in the vineyards this time of year, kicks off Jan. 29 with an evening of food, wine and music at The Culinary Institute of America at St. Helena. Other events include an art gallery weekend in February and the Calistoga Jazz Festival in March.
www.mustardfestival.org
Tagged in: lifestyle, food, restaurants, wine, napa valley, wine country,