#26Acts Sweeps the Nation with Kindness
As we begin 2013, many of us will be getting into the grind as we work to achieve better health, more happiness and everything else on our wishlist for the new year. But there is one type of New Year's resolution that doesn't require a strong will, which is the act of giving. After the heartbreaking shooting in Newtown Connecticut, NBC News anchor Ann Curry took to social media and asked people how the world would be different if everyone committed to acts of kindness. In response, thousands of people are performing 26 acts of kindness to honor each of the lives lost at Sandy Hook Elementary School.
After covering the tragedy in Newtown, Curry was deeply saddened and yearned to help in her own way after asking herself, "What is the answer to this kind of national suffering?" She was taken back to a memory of reporting on the Darfur genocide in 2007. While visiting a hospital full of people affected by violence, Curry took Polaroid pictures of the mothers and their children until she had no film left. When the mothers saw their child's face appear on the photograph in their hand, their faces melted with delight. This memory was Curry's inspiration for creating her kindness campaign.
"If you do good, you'll feel good," Curry wrote and explained about the origins of her 26 Acts campaign. "What if? Imagine if everyone could commit to doing one act of kindness for every one of those children killed in Newtown […] Right now, this country wants to heal. I think the only thing comforting in the face of a tragedy like this is to do something good with it if you can. Be a part of that wave."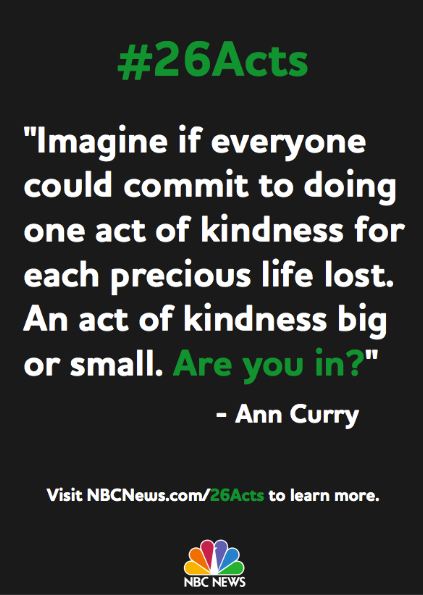 Photo Courtesy of #26Acts
Started just days after the tragedy occurred, Curry's 26 Acts campaign Facebook page has already reached over 94,000 likes. Thousands of people across the nation and the world have responded to the campaign by posting their good deeds on the Facebook page and Curry's blog with the hash tag #26Acts. Some of these acts of kindness include sending Christmas cards and gifts to the families of the deceased, funding local organizations, donating canned goods and even leaving a large tip for their waiter.
At LadyLUX, we truly believe in our mantra, "Good for the sake of good," and try to live it each and every day. Every season is the season of giving and every day is a day for returning the favor. The acts of giving and kindness go a long way. What will your first one be?
To learn more about the 26 Acts of Kindness campaign, visit www.Facebook.com/26acts and www.nbcnews.com/26acts.

Tagged in: causes, giving back, 26 acts of kindness, ann curry, good deeds, newtown, sandy hook, random act of kindness, #26acts,