30-Day Challenge: Going Vegan With Tara
In week 3 of the challenge, I've realized how fortunate I am to be living in a city whose food establishments are generally used to picky vegans asking a million questions, holding the butter and subbing plants for animal products everywhere they go. I spent some time in my hometown of Stamford, Conn. recently, and discovered that others outside the metropolis don't have it quite so easy.
My first instructive encounter came when I went to brunch before catching an afternoon movie with a friend. We went to a popular tapas-style Italian restaurant that I remember liking as a vegetarian. As a vegan, though, it was a different experience entirely. In addition to not having soymilk for coffee (no caffeine = unhappy me), there was nothing I could eat on the menu besides a small house salad.
I was just too hungry for that, so I went for the pesto portobello panini, explaining to the waiter that I was vegan and asking if he could leave out the mozzarella cheese and maybe add some roasted peppers or tomatoes instead. Reasonable enough, I thought. 20 minutes later, I was brought a piece of bread with shredded lettuce and a slice of tomato on it. Really? I don't know whether this person was just very confused about what vegan is or if there was just miscommunication in the crowded restaurant, but this plate was just sad. After another conversation explaining that I wanted the portobello, just not cheese, he was able to perk it up a bit, but this proved to be a pretty typical experience.
In New York, it's easy to get spoiled by amazing restaurants like Pala in the Lower East Side, which serves artisanal pizza from original, vegan and gluten-free menus, or even mainstream grocery stores that stock Vegenaise and all kinds of animal-free food staples. Outside, there are still pockets of vegan-friendly businesses, but I generally got used to the feeling of always being the difficult one at the table and navigating restaurants that just weren't used to dealing with these restrictive diets. It made me appreciate the people who persevere in places where vegan is really unheard of.
With a Gallup report earlier this year revealing that only 5 percent of the adult population is vegetarian and a mere 2 percent vegan, I suppose we are still a tiny minority. However, I was heartened by a conversation with Adam Sobel, the chef behind the insanely popular food truck, the Cinnamon Snail, which operates out of New York and New Jersey.
He told me that, in the 11 years that he's been vegan, the diet has "gone from being this pretty obscure thing to being very mainstream," at least in NYC.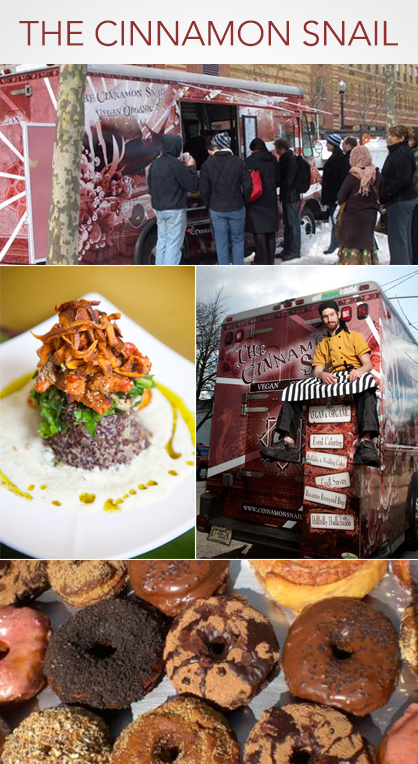 "It's become really accessible and I think it makes a lot of sense. This year right now is projected to be the most vegan-friendly year ever. I think a lot of people are going vegan or vegetarian and I feel like our society is really ready for that kind of change now," he said.
And, with a seasonal menu fusing some of the most exciting and bold flavors from a wide range of cuisines, Sobel is doing his part to make the transition that much easier. On a given day, his menu will include items such as fresh fig pancakes, the Korean-inspired Gouchujang burger deluxe, seitan Al Pastor, as well as a range of raw options and decadent pastries. The Cinnamon Snail has a perfect 5 stars out of 361 reviews on Yelp and won the coveted People's Choice Awards at the Vendy's last year. To Sobel, winning this "crown jewel" of an industry dominated by grilled meats and other animal-based food is a sign that "speaks volumes" about the direction of plant-based diets in the city and beyond.
With a slew of celebrities, health professionals, cookbooks and documentaries promoting the lifestyle, this is a trend that is on the rise and Sobel sees the evidence in his customers each day.
"Even if they're not ready to 100 percent make the switch, more and more mainstream people are getting open-minded about eating some vegan food and not having all these negative connotations about it," he said. "That's really why we do what we do."
For him, winning over people today who might have scoffed at vegan food yesterday is "a form of activism" that has ethical as well as culinary implications. "It's really big, it means a lot for the movement of animal liberation and that's what this is all about for me and certainly a lot of people who are vegan," he shared. "It's not really something I do for my health. It's not a diet for me. It's a means of finding a lifestyle where we don't cause suffering to animals."
Unfortunately, the image of being limited to a boring salad or, in my case, a plain lettuce and tomato sandwich, is still a reality for many vegans. Yet, with more and more people discovering it as a delicious and healthy option, I'm looking forward to seeing it creep beyond the city lines in years to come.
Read more of the LadyLux 30-Day Challenge.
Tagged in: wellness, 30 day challenge, vegan, nutrition, health, the cinnamon snail,