5 Lip Looks Inspired by Holiday Cocktails
Do you have your holiday outfits all lined up in a row for your next soiree, but scratching your head when it comes to what makeup look you want to glam up your face with? We have compiled five fabulous lip looks inspired by yummy, holiday cocktails that are sure to give you a festive look that will definitely spread some holiday cheer. If you're feeling extra cheerful, try your hand out at shaking up one (or all?) of the holiday cocktail recipes and share with family and friends.
Gingerbread Martini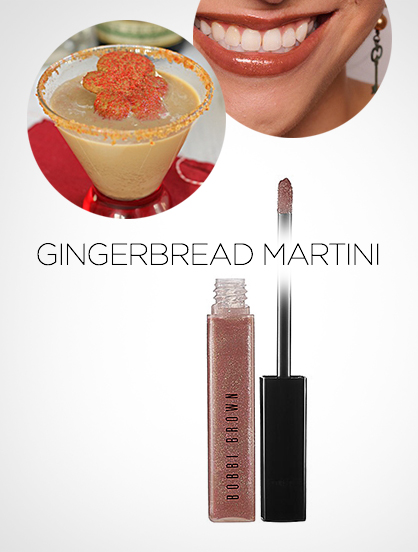 Will you be baking and decorating gingerbread houses or cookies this season? Gingerbread is one of the most recognized, spiced scents of the season aside from peppermint, and it warms our souls with sweet smells and tastes of honey and ginger. The Gingerbread Martini cocktail was the perfect inspiration for a shimmery glossed lip look of a warm brown hue and flecks of gold and bronze, using Bobbi Brown's High Shimmer Lip Gloss in Uber Suede. Finish off your lips with glamorous metallic gold and bronze eyes and winged eyeliner, because you don't want to forget voluminous lashes. If you'll be making gingerbread martinis this year, top your cocktail with a gingerbread man for the cute factor.
Candy Cane Cocktail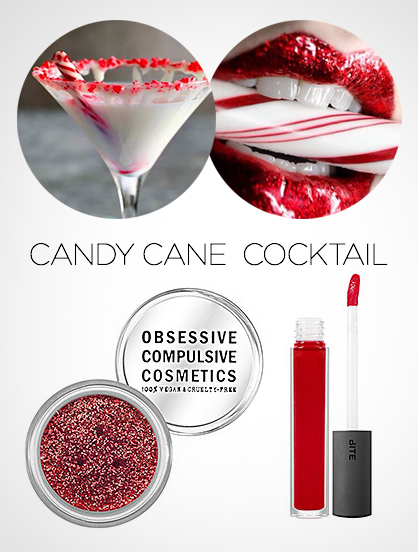 It's truly not the holidays without the refreshing taste and smell of peppermint. We found absolute delight in the thought of peppermint-garnished cocktails such as this Candy Cane Drink. Mimic the crushed peppermint rimmed cocktail glass and candy apple red candy cane stripes by wearing the vibrant red gloss of Bite Beauty Lush Fruit Lip Gloss in Apple with Obsessive Compulsive Cosmetic red glitter mixed in.
Sleigh Bells Cocktail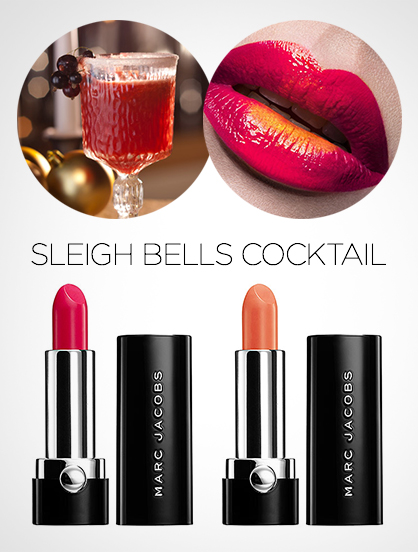 Can you hear those sleigh bells ringing? We can, with this mouthwatering adult beverage, Sleighbells Cocktail. Excite your taste palate with this cocktail's tart raspberries and hint of sweet peach liqueur flavors. Just as the flavors transition between sweet and tart, you can reflect the two tastes by wearing ombre lips of a deep, raspberry fuchsia shade and transition to a lighter peach shade. To complete this look, use a lip brush and Marc Jacobs Beauty Lovemarc Lip Gel in Dizzy Spell and Roll the Dice . The Ombre lips trend made a hot debut in the beauty world and will definitely continue to warm up the cold weather with its bold look.
Spiced Apple Cider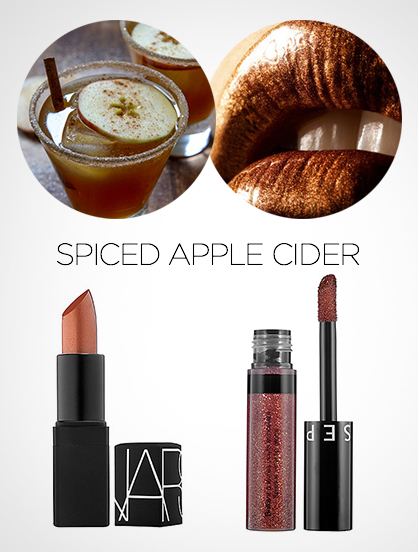 Take apple cider to another level with this Spiced Amaretto Apple Cider cocktail. So fragrant and full of flavor, this cocktail inspired a sinfully cinnamon-colored lip. Start with a luscious copper-toned lipstick as a base, such as NARS' Hot Voodoo, and finish with a high-shine brown and gold sparkle lip gloss such as the Sephora Collection Sparkle Vinyl Lip Gloss in Swagger.
Eggnog Cocktail & Midnight Milk Punch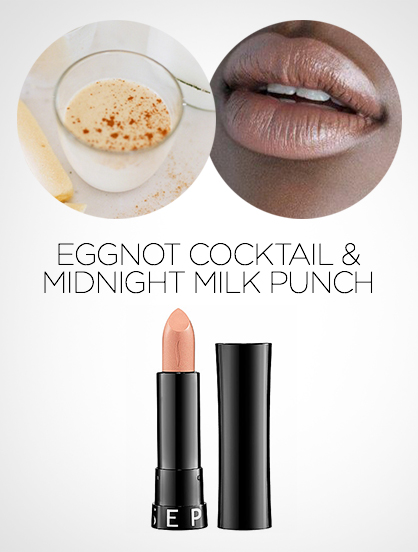 You didn't think we were going to leave out eggnog, did you? We may not all be eggnog fans, but you may be swayed by this Eggnog Cocktail. If not, try this eggnog alternative, Midnight Milk Punch. This creamy confection sprinkled with nutmeg inspired a fresh, frosted lip look using the Sephora Collection Rouge Shine Lipstick in Pop Star. Release your inner winter pixie by completing the beauty look by adding a light, silver or charcoal smoky eye.
Read more LUX Beauty.
Tagged in: makeup, holiday 2013, beauty, cocktails, sephora, marc by marc,