5 Tasty Treats Using Tequila
July 24 marks National Tequila Day! To help savor the official flavor of Mexico, LadyLUX features five different tequila-infused treats. These desserts and sugary cocktails blended with the liquor will help you celebrate this "holiday" in a very yummy way. Olé!
Tequila Ice Cream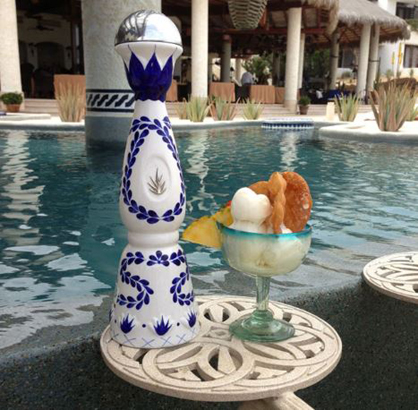 Photo Courtesy of Las Ventanas al Paraiso
While poolside, cool down with a refreshing recipe of tequila-infused ice cream. Specially featured at Las Ventanas al Paraíso, A Rosewood Resort, this frosted and creamy treat is offered to guests as they bask under the blazing Mexican sun.
Ingredients:
8 cups whole milk
2 3/4 cups whipped cream
2 cups sugar
1 cup corn syrup
1 cup powdered milk
5 ounces premium tequila
Ice cream maker
Heat milk and cream until boiled and mix in the rest of the ingredients. Let sit and cool. Pour into an ice cream maker canister and proceed to create tequila-infused ice cream. Scoop the sugary delight into a pretty glass and don't forget to add a pretty umbrella or piece of fruit for decoration!
Tequila Lime Sorbet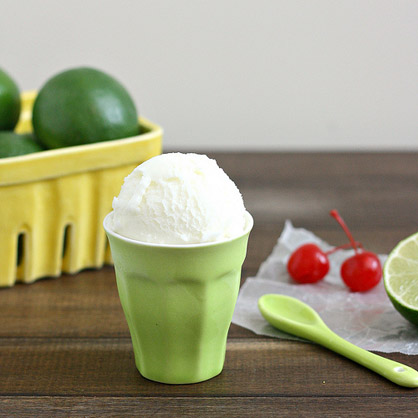 Photo Courtesy of Tracey's Culinary Adventure
Tame the afternoon heat by serving up a sweet and refreshing sorbet treat featuring lime juice, sugar and a splash of tequila.
Ingredients:
1 ½ cups water
¾ cup sugar
2 teaspoons grated lime rind
½ cup of fresh lime juice
2 tablespoons tequila
Preparation:
Mix water and sugar in a small saucepan. Bring to a boil; cook until sugar dissolves then cool. Mix sugar syrup, rind, juice and tequila. Pour mixture into a freezer-safe container, then cover and freeze until firm.
Tequila Watermelon Popsicles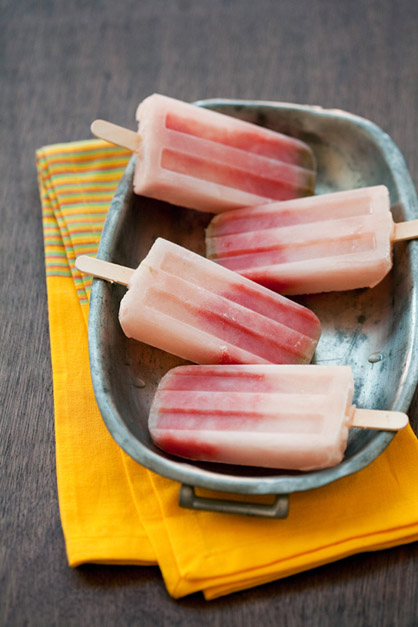 Photo Courtesy of Love & Olive Oil
Suck on some tequila watermelon popsicles when you can take the temperature any longer! Keep these light and sweet tequila-infused treats inside your freezer during the rest of summer.
Ingredients:
¼ cup water
¼ cup granulated sugar
1 cup watermelon juice
1 lime, zested and juiced
2 tablespoons tequila
Preparation:
Mix water and sugar in a microwaveable-safe container. Heat on high from 30 seconds to 1 minute. Stir until dissolved and then cool. Roughly chop watermelon to make juice. Use 3 cups of watermelon to make one cup of juice.
Mix watermelon juice, sugar syrup, lime juice and zest, and tequila in a small bowl or pitcher. Pour the mix into popsicle molds. Insert popsicle sticks and freeze until solid.
Paloma Cocktail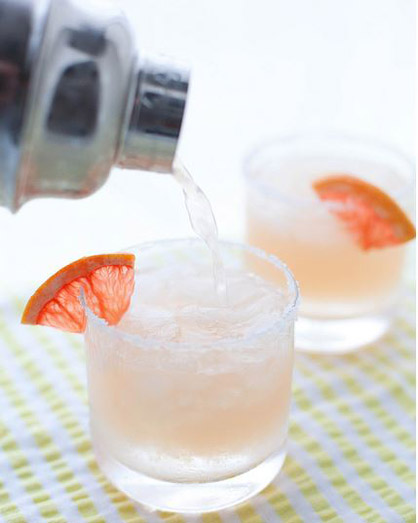 Photo Courtesy of Annies-eats.com
Enjoy the rest of summer by sipping on a sweet and tangy Paloma cocktail complete with tequila, lime and grapefruit juice.
Ingredients:
½ cup freshly squeezed grapefruit juice
¼ cup freshly squeezed lime juice
½ cup tequila or mescal
2 tablespoons simple syrup
½ cup club soda
Preparation:
Fill glasses with crushed ice and add the grapefruit juice, lime juice, tequila and syrup after mixing well in a cocktail shaker. Pour ¼ cup club soda into glasses and mix with stirrer. Add some beauty to the drinks by first rimming the glasses with coarse salt and garnishing with grapefruit wedges.
Tequila Lime Coconut Macaroon Bars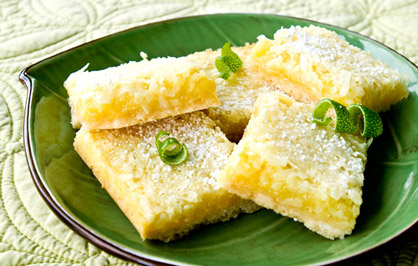 Photo Courtesy of Flowerpatchfarmhouse.com
Tickle your taste buds with some tequila lime coconut macaroon bars! These bars using some pretty yummy ingredients will definitely leave you craving more.
Ingredients:
2 cups all purpose flour, divided
2 cups sugar, divided
1.2 cup cold butter, cut into pieces
4 eggs
1 ½ cups sweetened flaked coconut
1 teaspoon lime zest
1/3 cup fresh lime juice
3 tablespoons tequila
½ teaspoon baking powder
¼ teaspoon salt
Garnishes: powdered sugar, lime rind curls
Preparation:
Preheat oven to 350 degrees. Line bottom and side of a baking pan with heavy duty aluminum foil. Grease the foil lightly.
Stir 1 ¾ cup of flour and ½ cup sugar together. Add in butter and blend together with a mixer. Bake at 350 degrees for 20 to 23 minutes or until golden brown.
Whisk eggs in a medium bowl until smooth; add in the coconut, the following 3 ingredients and the remaining 1 ½ cups sugar. Stir the baking powder, salt and left over ¼ cup flour and add into the egg mixture and whisk. Pour over the hot crust.
Bake at 350 degrees for 25 minutes. Let it cool for 1 hour on a wire rack and cut into bars. Add a powdered sugar and a lime rind curl as a pretty garnish.
Tagged in: desserts, cocktail, treats, international tequila day, tequila,