Online shopping community Vogue Writer allows users to share stories to earn discount
With the idea that every piece of clothing or pair of shoes tells a story, Vogue Writer is a new online fashion community that launches today. The site was developed by the same team of Stanford graduates that created StyleSays, the fashion community that shops together through wish lists and featured styled looks. While the new site is also a shopping community, it aims for a more personal experience that brings sentiment to each shopped item. The concept came to co-founder and director of fashion Jess Lam when he was shopping with a friend.
"I picked up a pair of boots in a crowded Urban Outfitters. Instantly my friend said she loved the boots and launched into a story of boot shopping in Paris two years ago. Within that moment she had built an entire story around an item that before then looked like every other pair of boots on the shelf," Lam explained. "Needless to say, I bought the boots and could vividly imagine myself walking the streets of Paris in them."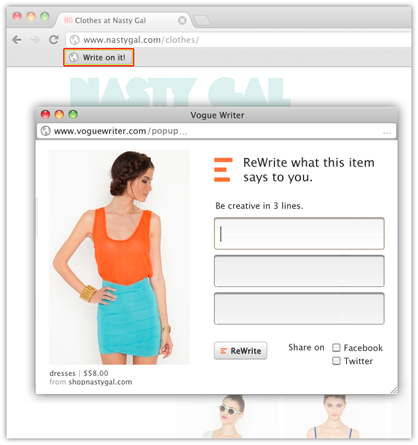 LadyLUX via Vogue Writer
As fashion enthusiasts shop online, Vogue Writer encourages members to save images of desired products by using the "Write on it!" button that can be easily installed into any internet browser. As the image is about to be saved, shoppers can write three lines to describe their stories, opinions, styling tips or reasons for wanting the item or look. The idea is to provide context and background to give the rest of the community a new way to view products. Chunky platform sandals might recall Coachella adventures, while a luxurious fur coat may tell tales of New York Fashion Week.
"Personally reading these stories has been powerful for me and I can't even wear the clothes. I believe this is something brands and designers have always wanted as well," Lam shared. "They spend months, sometimes years, creating a product just to say goodbye as it's purchased. But you see that it's just the beginning of the story and now they can finally see how their inventions fit into people's lives."
Adding to the shopping experience, Vogue Writer rewards members for sharing their stories with deeply discounted sales from young up-and-coming designers and brands including KahriAnne, Proof Eyewear and Glasiz.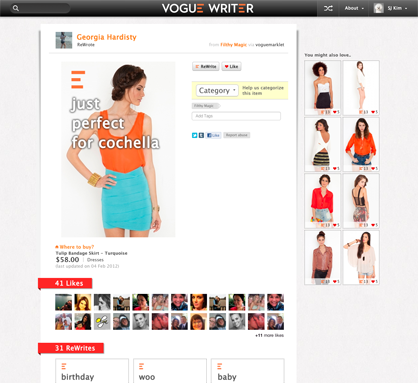 LadyLUX via Vogue Writer
"I pour over tons of blogs, fashion/design sites, and curation networks to find amazing and unique products to feature in our sales. It's a lot of work but by far one of my favorite responsibilities thus far. I've been meeting incredibly talented individuals with big futures," Lam said.
Members can continue to reduce the price of featured sale items by simply writing and contributing more to the community. The site intends to not only give new meaning to clothes and shoes but also to help young designers gain exposure.
Vogue Writer aims to be one of the healthiest and most energetic brand-to-customer shopping communities on the internet.
Membership to Vogue Writer is limited but LadyLUX readers can sign up using the code voguewriter.sewing.36.
Please click here to visit Vogue Writer.
Tagged in: lux exclusives, website, online shopping, vogue writer, stylesays, online shopping community, kahrianne, glasiz, proof eyewear,