Wellness Wednesday: 3 All Natural Wellness Shots
All natural and nutrient dense, cheers to your health and what ails you with wellness shots you can make right at home. Whether you're fighting a cold,or looking for a beauty boost, these simple concoctions can work wonders. Stock up on the following ingredients and give these three recipes a try:
Wellness Shot: To Fight Colds and The Flu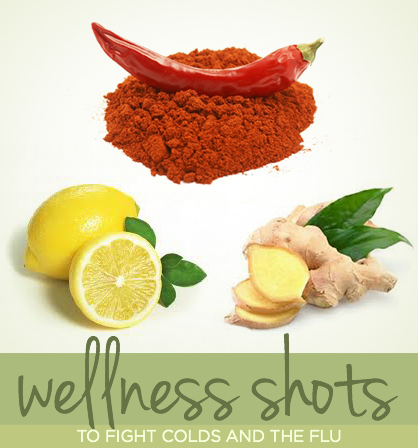 Ingredients:
1 Lemon
Ginger Root
Cayenne Pepper
Juice 1 whole lemon and an inch of ginger root and top with 2 dashes of cayenne pepper.
Steer clear of miserable colds and the flu this season with a natural immune-boosting shot you can drink daily. The potent combination of lemon, ginger and cayenne pepper is sure to keep nasty bugs that come your way at bay. A healthy and concentrated dose of vitamin C, lemon works to boost the immune system while detoxifying the body and balancing your pH level. Add ginger to work as a powerful anti-inflammatory and antihistamine. Ginger is also great for relieving upset stomachs, aches and pains while working to break up mucus in the body. Top it off with medicinal cayenne to treat poor circulation, fevers and nausea.
Wellness Shot: For Beauty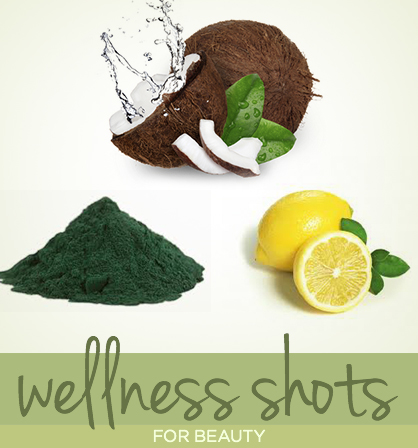 Ingredients:
¼ Cup Coconut Water
1 Teaspoon Spirulina
½ Lemon
Mix coconut water a spirulina and squeeze ½ of a lemon into the mix.
In addition to overall health and wellness, incorporate the super food spirulina into your daily diet for beautiful hair, skin and nails. Great for vegetarians, it's also incredibly high in protein and a great source of iron. One of the richest whole food sources of antioxidants, spirulina also contains 18 amino acids that work together to give you clear, radiant and well-nourished skin. In addition, essential fatty acids and minerals promote hair growth and strength, while preventing breakage, hair loss and dandruff. If you haven't jumped on the bandwagon yet, head to the nearest health food store and start taking spirulina today.
Wellness Shot: To Fight a Hangover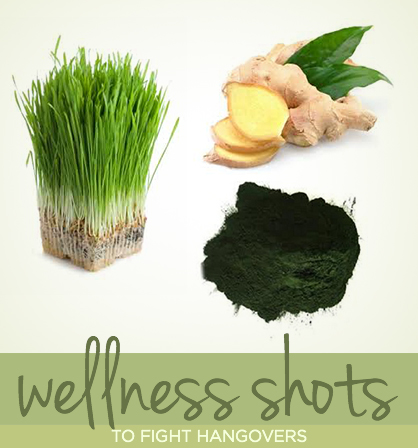 Ingredients:
2 oz. Wheatgrass
1 Teaspoon Chlorophyll
Ginger Root
Juice 2 oz. of wheatgrass and 1 inch of ginger root. Add 1 teaspoon of chlorophyll.
Don't spend the day with a headache and nausea, replenish your body after a night out on the town with an all-natural elixir that will help fight that hangover. Caused by dehydration and vitamin depletion, nip that hangover in the bud with nutrient dense wheatgrass. Rich in minerals and equivalent to over two pounds of vegetables, wheatgrass has the ability to detox the liver, restore your natural pH levels and acts as an energizing agent. Added chlorophyll oxygenates brain and liver cells that are taxed by excessive alcohol, while helping to cleanse the body. Ease nausea and increase detoxification with the help of a little ginger.
Read More Wellness Wednesday

Tagged in: wellness, wellness wednesday, nutrition, health,