Ani Lee and her 'new vintage' party dresses
Ani Lee's dresses are made for parties. As the designer points out, what gal doesn't like to glam up in a fun party dress and dance the night away? Whether sleek or flirty, her vintage-inspired styles exude a sense of romance and elegance that grace any occasion.
Her Spring 2012 line exemplifies the three qualities she strives for in her dresses: simplicity, femininity and quirkiness, the same three words that describe her personal aesthetic.
"I like to feel pretty, be flirty and well-mannered, but I can also be fairly unpredictable and have those moments when I want to dress like a rock star and get a little wild," she said.
Getting quirky can mean the long skirt and cutout waist of her "Skylar" dress, which definitely shows some skin, or it can be the 1940s-inspired collar on the "Billie" playsuit, a Hollywood-glam style shorts romper.
With their simple styles and neutral hues, her adaptable dresses truly deserve the term versatile. Whether staple go-to items or more fun, adventuresome looks, they can be worn during the day with basic accessories or dressed to the hilt for night, and every kind of occasion in-between. Lee reports women have worn them as everything from wedding dresses and prom gowns to nightclub gear and red-carpet garb.
"There is something in there for every woman – the classic woman, the hipster woman, the sexy woman, the working woman, the fashionista," the designer said. "It's a flexible and easy collection of pieces that women can virtually make their own."
Daily life in New York, the fashion capital of the world, and her long-lived passion for vintage clothing spurred her interest in using the past as inspiration. This creative vision soon blossomed into a plenitude of interesting design possibilities.
"I found myself drawn to high fashion pieces that were essentially art forms," Lee said. "My fashion sense matured when instead of just picking out simple vintage pieces that were in good shape, I began to see thrilling possibilities in the pieces that were more worn and distressed. I wanted to change them, revive them, and, most of all, reinvent them. I wanted to articulate their stories."
Clothing became her canvas. She ripped endless bags of apparel pieces apart and reworked them: adding pleats or applying adornments, giving them, as she puts it, "the works." These projects whetted her appetite for more. Soon, she reports "going to sleep and waking up dreaming about all of the beautiful dresses I wanted to make from my 'dismantled' vintage garments."
With no formal training in design at the time, she learned design "backwards" from the old-school tailor who helped her create the original pieces. After receiving much acclaim from friends and many inquiries from strangers about the clothing, Lee began to think of herself as a designer.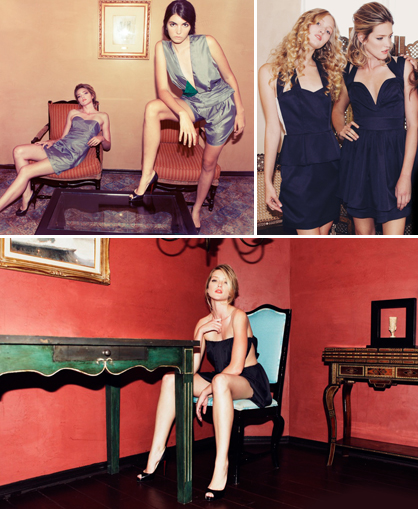 via Ani Lee
Today, she takes inspiration from the vintage, perhaps a scene in an old movie or an eye-catching print, and refashions the idea into a "new vintage": Clothing that is reborn in a way that works for the contemporary woman, yet still honors these things of the past.
"I see vintage artifacts coming from a time and place of simplicity and elegance; the more worn the better, for it means they have a story," Lee said. "They inspire me to design simple styles with uncommon and interesting prints or features that make them even more unique and special."
Inspired by women's pleasure in wearing her dresses, the designer loves crafting pieces for those important occasions in life when women want to feel, well, special.
"There is nothing like finding that perfect dress for an event that a woman is looking forward to and wants it to be special," she said. "What you wear that evening sets the tone for how you're going to feel. We all want to feel and look our best. Why not design for those moments – when a girl feels like a million bucks?"
Her very first piece, a shift dress, emerged out of manipulating a gorgeous piece of antique beaded fabric. She didn't have enough material to form a whole piece, but experimented with it as a vest, and soon discovered that by closing up the armholes and going for a more fitted form, the fabric would work perfectly as a shift dress. Lee completed the look with an eye-catching, antique brass exposed zipper.
"It is still one of my favorite dresses in my closet. It's simple, but has a little punch of edginess with its shorter length and large zipper," she declared.
Her dresses appeal to women's feminine side. With soft, ethereal looks, each dress is a celebration of women's spirit.
"When I think of a dress – a garment that is specifically constructed for women, I try to imagine each piece as almost having its own 'lifeblood' and how it can best celebrate the woman's body and spirit, augmenting the energy, sex appeal, sensitivity, and lightness of all women," the designer explained. "I design pieces that are soft and comfortable to wear, but that will also evoke strength with such elements as a crisscrossed back detail or a more severe V-shape neckline. I always want to try to capture the essence of the female dual nature."
Her inspiration is as varied as her dresses. Her latest obsession is Spanish culture, down to the food, bullfighting and traditions. In particular, her Spring 2012 draws from the scandalous yet "real" movie "A Matador's Mistress," which follows the life of Manolete, a well-known bullfighter from the 1940s, and his lover.
The collection not only draws inspiration from the colors and costumes of the film, but also the romantic relationship. The 1940s influence worked its way into her new collection with Peter Pan collars, halter straps and intense pleats, as did the bullfighting costumes, which appear in the front flaps of the "Moca" skirt and the shirred contrasting panel and waist of the "Liv" blouse.
Lee believes listening to her customers is key, and describes designing as a "team effort" between the wearer and the designer. It is the designer's job to balance designing from his or her own perspective and designing for others.
"I want women to feel creative and part of the design process, and to feel 'at home' in my pieces," she said. "Everyone has creative urges that must be allowed to be expressed. I want women to know that I take their desires very seriously, and really think about what will make them feel creative, stylish and beautiful when they wear my pieces. It's about being positive, confident and uplifting at the end of the day."
Experience her fun collections at www.ani-lee.com.

Tagged in: lux exclusives, dresses, designer, clothing, party dresses, ani lee,