Ashton Michael goes green for spring
Los Angeles-based designer Ashton Hirota is no stranger to publicity. He has a host of A-list clientele, mostly musicians such as the Black Eyed Peas, The Sounds and Nicki Minaj. Hirota divulged that Usher's outfit at the Super Bowl on Sunday… Yeah, he designed it.
His label – Ashton Michael Black Label – is getting attention, however, for more than who is wearing it. His Spring/Summer 2011 collection is entirely eco-friendly, and it's his first collection in seven years.
He originally debuted the collection at the Green Shows in September 2010 and showed at Los Angeles Fashion Week a month later. The line is completely sustainable, using Tensel, bamboo and organic cotton as the materials. Hirota consulted RETH¿NK, a Seattle-based company, to produce fabric from recycled water bottles.
He first heard of RETH¿NK in 2010 when they worked together on Black Eyed Peas tour shirts.
"They really were the first company that made me want to use sustainable fabrics," Hirota said.
Hirota was excited about the project and the future of sustainable fashion; however, he has a sense of humor when it comes to the serious cause.
"I think everyone should be aware of the environment and really make a valid effort to pitch in, but I will be honest and say I'm not a 'tree-hugging' hippie by any stretch," Hirota said.
The celebrity designer hadn't designed an entire collection in almost a decade. Back in 2004, he left his label GLAZA to his business partner and went solo. Since then, he's focused on private clients.
"I designed and handmade the entire collection myself in three weeks and jetted off to New York City to make the greens shows black," Hirota said. "I felt this was the opportunity to show people that sustainable fashion doesn't have to be granola and bland—rather, fashion-forward, wearable and rock 'n' roll."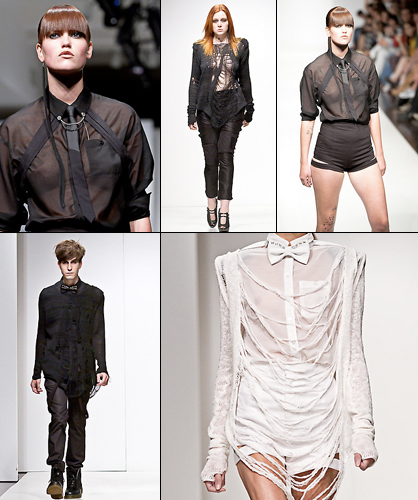 The SS'11 collection definitely sustains Hirota's spirit. The line is monochromic, modern and all about the edge. Shredding and sheer shirts dominate the black-and-white ensembles. There is a slight straight-jacket/S&M vibe, brought on by the use of straps and avant-garde construction.
The collection received high marks from Italian Vogue, Women's Wear Daily and Zink Magazine, to name a few.
What does Hirota think of it?
"It was like giving birth," he said. "It choked me up to see it all come together in New York City."
Hirota didn't divulge any future sustainable projects or even a Fall 2011 collection, but he did have something to say about eco-fashion.
"I think sustainable fashion has a huge future," he said. "With all the advances in technology, who knows what will be available for high-end fashion via the eco highway?"
For more information about Ashton Michael Black Label SS'11, visit ashtonmichael.com.
Tagged in: lux exclusives, fashion, los angeles fashion week, green shows, ashton hirota, ashton michael black label, eco-friendly,