At NYFW: Silk & Satin
The cottons and knits of fall and winter got tossed out in New York Fashion Week's spring cleaning. Instead, designers opted to add slinkier silks and satins to the mix.
Barbara Tfank showed off shiny fabrics in her signature structured, box-pleat dresses. Since being worn by First Lady Michelle Obama, it's been hard for Tfank's pieces to stay off the radar. Completely fitting for the wife of a president, her looks are sophisticated and minimalist, focusing on a fresh, pastel palette. One combination, a lavender wrap top paired with floral-printed pants, is reminiscent of a Jackie O. ensemble. Satins and silks were the fabric of choice in her SS 2011 collection, whether in a floral button-up or a '50s-inspired cocktail dress.
Similarly known for her tight, structured dresses, Victoria Beckham debuted her fifth collection at her first-ever show at New York Fashion Week. Opening with a silk parachute dress in a lovely shade of purple, Beckham used satin in juicy hues of yellow and violet, as well in neutrals such as white, tan and black. She closed the show with two satin gowns, both ballooned out at the waist and cinched by a chain-link belt. She switched off her construction: some pieces were romantically draped and tied with a knot, while others had her signature exposed zipper and below-the-knee tailoring. Each piece impeccably utilized spring's new favorite fabric, proving that Beckham's first show will definitely not be her last.
Rumored to be inspired by Australia and New Zealand, Luca Luca's spring looks were fit for a 10-day cruise. Nautical shades of white, blue, gray and khaki dominated its NYFW show, and whimsical prints exuded a casual glamour – two words seldom used together. These effortless looks utilized silks and satins in shades of navy, gunmetal and bright coral (perhaps inspired by the Great Barrier Reef?). While the occasional floor-length gown made the runway, for the most part, Luca Luca stayed economical with length, showing off some leg in shorts, skirts and dresses.
Last but not least, the true NYFW trendsetter had to be Donna Karan with her romantic, monochromatic collection in shades of nude, gold and off-white. Easily mistaken for lingerie, her looks were soft, frilly and refined, rather than seeking attention through bright color or barely-there cuts. Almost every piece went past the knee; however, the occasional slit made an appearance, adding some "oomph" to the quiet collection. Her muted, colorless palette blended well into the show's desertlike backdrop.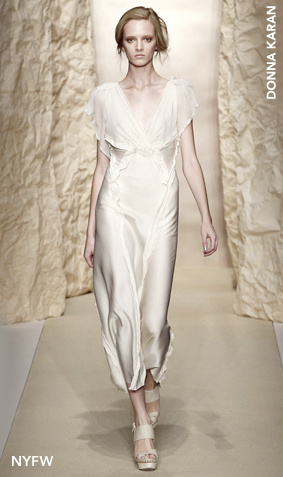 Tagged in: new york, new york, fashion week, runway, dkny, donna karan, victoria beckham, silk, barbara tfank, satin, luca luca,