Bald Is Beautiful: Offering Special Gifts to Cancer Patients
It's an illness that may be all too familiar to you. Cancer doesn't just affect patients; it affects everyone they are associated with. Family members, friends and even strangers can suffer the emotional trauma of this dangerous disease. That's where Bald Is Beautiful comes in. The organization strives to promote strength, empowerment and beauty for those who are battling cancer. Using money from donations and proceeds through their online store to buy small gifts for patients, Bald Is Beautiful helps to make patients feel special and fill the void that any type of medical attention cannot.
This special organization was founded in honor of all those battling the illness and to help give strength and hope. After losing three family members to cancer, Lauren Noel founded the organization in their honor and as a way to cope and raise awareness for those currently fighting the disease. She aims to show patients that being bald can be beautiful.
"My cousin passed away at the age of 19 from cancer November 14, 2006. Our family already went through pain that no one should ever feel. We never thought this would happen again in our family, but it did. Another angel got her wings. My sister passed away on Halloween of 2012 from Leukemia […] Instead of choosing to be angry I chose to pour my grief into purpose. This is where Bald Is Beautiful started," said Noel. She also recently lost her uncle to the disease.
Noel wanted to start 2013 with a fresh start and planned to turn her heartache into a change for cancer patients and all those affected. Bald Is Beautiful was launched on January 1, 2013 and is based in Huntington Beach, Calif.
"I started it with the idea of just putting myself out there. To help sisters, mothers, cousins, uncles, friends and more deal with someone close to them battling cancer. That was my therapy. After just a couple weeks, Bald Is Beautiful started to be in the spotlight and I realized I could do more, so I did," said Noel.
Noel took the reins of her newfound endeavor and transformed her inspiration and passion for helping others into creating an online boutique for Bald Is Beautiful. The website features adorable items perfect to give cancer patients as a personal gift to make them feel special. Jewelry, totes, stationary, health and beauty trinkets and even items for children and the home are for sale on the Bald Is Beautiful online store.
"Most cancer-related foundations put their money towards finding a cure. We fully support this and would love nothing more than to find a cure, but what are we doing for the patients actually battling this? My sister always told me the little things mattered. Anything would brighten her day and that's exactly what we are trying to do. Brighten someone's day. We are trying to give them confidence, strength and a reason to keep fighting," said Noel.
Noel personally designed the Bald Is Beautiful website and the unique logo in the color orange, representing the color of Leukemia, as homage to her late sister. The fresh and youthful logo is displayed on various tote bags for sale. Each product for sale is designed by a different artist. Most items are handmade to order so each piece is unique adding individual character appeal.
Thirty-five percent of every item purchased goes directly to patient care funding, while sixty-five percent covers product and handling of items. Online shoppers can purchase and donate at the same exact time.
"There's no certain organization the money goes to. We give to specific people. What makes us unique is that you can help choose. People contact us daily on whom they would like to give to. We never want you to wonder where your money is going," revealed Noel.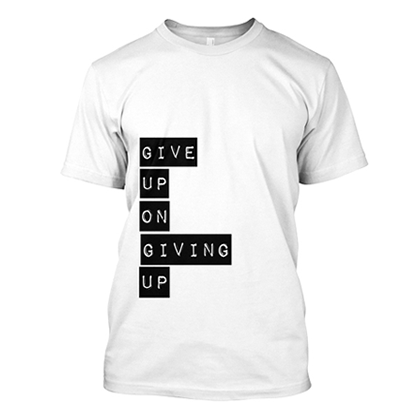 Until April 24th, Bald Is Beautiful is holding an exclusive fundraiser through Teespring.com. Noel has designed a special t-shirt on the site displaying the text, "GIVE UP ON GIVING UP" with the website printed on the back side.
Bald Is Beautiful has only been an organization for three months but has definitely been making a difference in the happiness of patients. Noel is currently in the process of transforming her venture into a real nonprofit. In the future, she looks forward to touching more patients' lives and catering to more hospitals outside of California.
Although Bald Is Beautiful is still in the very early stages of its business model, the organization hopes to continue bringing joy, laughter and hope back into people's lives.
To learn more about Bald Is Beautiful, visit www.BaldIs-Beautiful.org or follow them on Facebook.

Tagged in: charity, causes, nonprofit, organization, cancer, bald is beautiful,