Best Bites From the NYC Vegetarian Food Festival
With a packed house and lines stretching around the block, the NYC Vegetarian Food Festival was the place to be this weekend. New and established companies alike showcased their best products with free samples and demos, while speakers from all reaches of the vegetarian community were on hand to inspire, educate and savor the positive energy of the event. LadyLUX sampled lots of great snacks, beverages and sweet treats, and have narrowed down our top 10 picks.
Saratoga Peanut Butter Company — Monkey Boy
This peanut butter is jazzed up with sweet raisins and banana and we would eat it on just about anything. The all-natural company promises no trans fats or added sugars in any of their products.
Raw Revolution — Almond Butter Cup Bar
If you followed Danilae's 30-day Challenge back in January, you know that eating raw has some impressive benefits. All we know is this nutrition bar is delicious and we can read every ingredient on the label. Sold!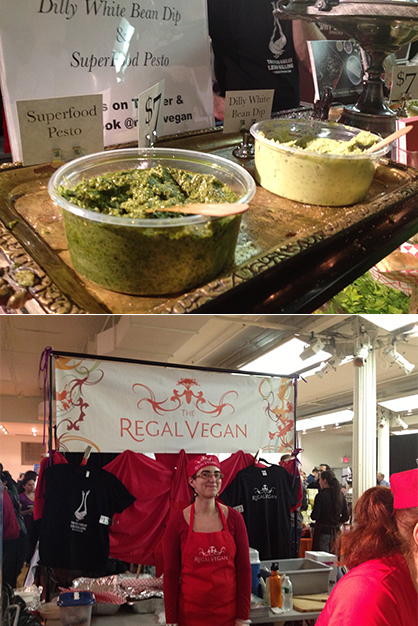 The Regal Vegan — Superfood Pesto & Basilocotta
The Regal Vegan had an assortment of healthy, gluten-free spreads that were all so good, it was impossible to pick just one. The SuperFood Pesto would be delicious on anything, while the Basilicotta, a blend of cashew cheese, basil, lemon juice and salt, would also be a great pick for a dip, sauce, bagel spread, pizza topping, etc.
Fruit Bliss — Soft Dried Figs
We had never heard of this company, but their soft-dried figs were to die for! Even though they're dried, they have a juiciness that makes them taste really fresh. Plus they're preservative-free. These may be making their way into our snack rotation soon.
RAAW – Very Berry Wheatgrass
This beverage line boasts 100 percent fruit and vegetable juices without sugars, dyes or preservatives. They're flash pasteurized, so not actually raw, but come in an array of tasty, energizing flavors. We were big fans of the Very Berry Wheatgrass.
Dauphin Bakery — Salted Chocolate Chunk Cookie
Holy moly! This soft cookie mixes dark virgin chocolate with Himalayan pink salt for extreme deliciousness. Unbelievably, they are designed so that people with just about any dietary restriction can enjoy them. They are free of tree nuts, gluten, dairy, eggs and refined sugar.
Rescue Chocolate — Forever Mocha
This company is dear to our hearts for several reasons. First, 100 percent of their profits go to animal rescue organizations around the country. Second, their handcrafted chocolate is absolutely amazing. We chose Forever Mocha this time, but you won't be disappointed by Peanut Butter Pit Bull, Pick me! Pepper (spicy!), Fosteriffic Peppermint, Fakin Bacon, or any other flavor.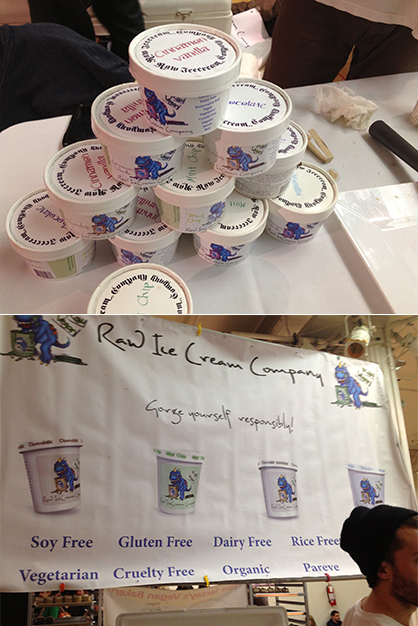 Raw Ice Cream Company — Cinnamon Vanilla
We are so happy to live in a world where raw, vegan ice cream can be this good. In addition to being gluten-free and dairy-free, this cashew-based treat also comes in eco-friendly biomass packaging.
Sophie's Kitchen — Breaded Vegan Scallops
This company has lots of great options for vegetarians or anyone with seafood allergies. The scallops are gluten-free and have zero trans fat, sugar, preservatives and cholesterol—and taste pretty great too! Especially with all the sketchiness surrounding real seafood recently, even mainstream folks may be tempted by their products!
Chicago Vegan Foods — Dandies Marshmallows
Yes! Finally a yummy vegan marshmallow without that darn animal-based gelatin to ruin it for us! Excuse us, we need to go make some rice krispies treats immediately.
Read more about NYC Vegetarian Food Festival

Tagged in: wellness, vegan, nutrition, health, raw, foodie, nyc vegetarian food festival, gluten-free,