Best cities to celebrate New Year's Eve 2012
Wherever you are spending your New Year's Eve, LadyLUX hopes that it will be as exciting as the parties thrown in one of these six cities. We found the best American and international bashes to pop open some bubbly, finish 2011 with flair and ring in 2012 with a bang!
New York City

via LadyLUX
No other American location can compare to New York City when it comes New Year's Eve. For the past 107 years, Times Square has been the center of worldwide attention on this night, with its hustle and bustle of downtown city lights. More than a billion people around the globe watch the famous New Year's Eve Ball drop from the One Times Square flagpole.
If you're celebrating the night at home, you can catch all the celebrations from your couch. This year, artist Drake and "Smash" star Megan Hilty will perform on "NBC's New Year's Eve with Carson Daly." Be sure to watch Pitbull, Hot Chelle Rae, Justin Beiber and Lady Gaga on "Dick Clark's New Year's Rockin' Eve with Ryan Seacrest 2012."
Sources: www.timessquarenyc.org, www.destination360.com
Los Angeles
via LadyLUX
Amid the many cities in Los Angeles, you are sure to find one or two celebrations that will satisfy your need to party, whether you choose an extreme or a more relaxed atmosphere. If you plan to celebrate in La-La Land, always keep an eye out for celebrities.
Some festive places that Los Angelenos can head to for New Year's Eve 2012 include TAO, the "Together As One" extravaganza held at the Los Angeles Sports Arena with notable club-scene DJs; the Maxim Magazine Black & White NYE Affair at the Grauman Chinese Theatre; or the New Year's Eve party at the Hollywood Bowl. For smaller, more intimate bars, Sunset Boulevard has a few options, such as the House of Blues, the Good Bar, The Cat Club and the Viper Room.
Sources: www.lanewyears.com/, www.destination360.com
Las Vegas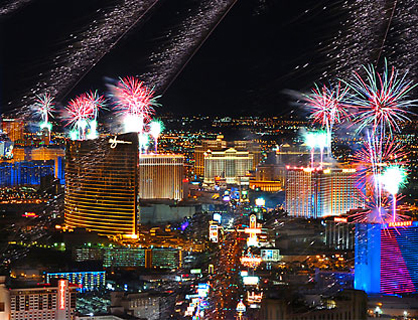 via LadyLUX
On New Year's Eve, the Las Vegas Strip is overflowing with more than 300,000 people and more lights than any other night of the year. People pack along the four-mile-long strip and watch fireworks ignite off the roofs of various hotels and resorts at midnight.
Hotels, clubs and bars feature special performances. Partygoers can experience a casino crawl, hot entertaining shows hosted by A-list entertainers and wild parties at clubs like Surrender with will.i.am of the Black Eyed Peas, TAO hosted by Kim Kardashian, Pure with Chris Brown and Marquee with DJ Kaskade.
Sources: www.vegas.com/newyears, www.destination360.com

Mexico City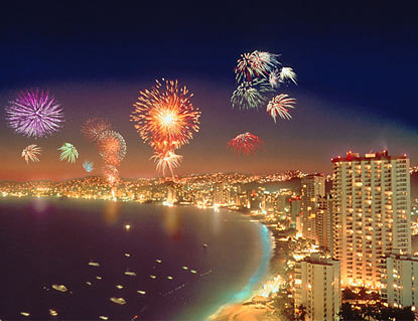 via LadyLUX
For an international, exotic and especially warm way to spend New Year's, Mexico City is a fabulous option. Most families stay at home and eat all night long, but the younger crowd celebrates at the street festivals and many beach parties. The main celebrations in Mexico City resemble parties such as those in Rio de Janeiro. Along the Paseo de la Reforma, the carnivallike atmosphere begins in the late afternoon and does not end until the early morning hours. A long fireworks display provides the perfect background to the bands, dancers and floats in the street parade at Zocalo, the Mexican Times Square. Beach parties in Cancun or Puerto Vallarta are all the rage if you don't live in the city. At the stroke of midnight, Mexicans eat twelve grapes, signifying the twelve months in the year, and make a wish for each one. ¡Feliz Año Nuevo!
Sources: www.visitmexico.com, www.destination360.com
Paris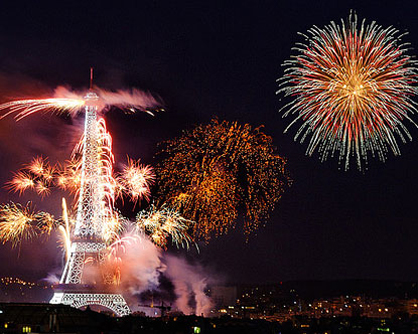 via LadyLUX
A beautiful city to visit on any occasion, Paris is no less appealing on New Year's Eve. The most popular area for Parisians and tourists to gather for New Year's is the prestigious French avenue the Champs-Elysees. Parisians begin to arrive at the main party areas a few hours before midnight, with champagne bottles and glasses in hand. From the Champs-Elysees, celebrators can get a view of the fireworks exploding from the Eiffel Tower at the stroke of midnight.
New Year's is also the perfect time to experience traditional French activities such as seeing a cabaret show at the Moulin Rouge or devouring some delicious cuisine at a Parisian café or restaurant. Paris eateries usually have a special NYE dinner menu. Bonne année et bonne santé!
Sources: www.paris.com, www.destination360.com
Tokyo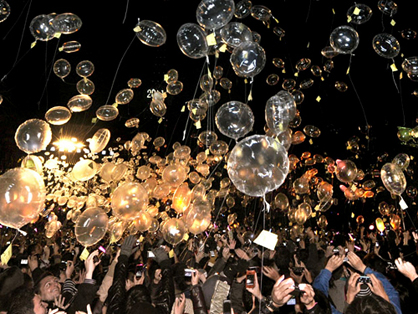 via LadyLUX
In Japan, the New Year is a four-day celebration filled with cleaning, cooking, praying and toasting with sake instead of champagne. New Year's is considered the most important holiday in Japan. Japanese traditions make celebrating New Year's in Tokyo special. In preparation for the new year, known as "shogatsu" or "oshogatsu," the Japanese thoroughly clean their houses to ensure that nothing from the past is carried over into the next year. The most popular activity in Tokyo is visiting to a temple to pray and be blessed. At midnight, temples such as the Meiji Shrine ring nightwatch bells 108 times to ward off the 108 earthly desires.
As Tokyo has a diverse population, there are a variety of other New Year's celebrations. Two of the biggest places to celebrate are Tokyo Disneyland and the Zojoji Temple, where partygoers release 3,000 clear balloons at midnight, praying for peace and happiness.
Sources: www.about.com, www.destination360.com
Tagged in: new york city, paris, travel, party, las vegas, los angeles, 2012, tokyo, new year's eve, american, international, cities, mexico city, new year's,