Best & Trends: Golden Globes 2013
The atmosphere of 70th Annual Golden Globe Awards Ceremony was anything but boring last night, especially on the red carpet. The ladies of Hollywood were decked out in their awards season finery with much glitz, glamour and drama. We witnessed some eye-catching gown trends that were flaunted in the best way possible. Some luxe dress trends were reds, dusky hues, embellishments, white haute, well-fitting and as pretty as spring. The ladies that didn't earn a Globe last night were certainly fashionable winners. Here are our chic choices that stole the show:
Ladies in Red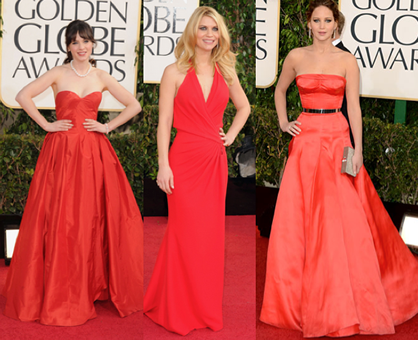 Wearing red on the red carpet can sometimes be a fashion faux pas. But these ladies in crimson glided down the red runway effortlessly and beautifully. Zooey Deschanel's quirky and old-school style was shown in her red carpet style wearing white pearls with her Oscar de la Renta strapless gown. Maybe Best Actress winner, Jennifer Lawrence wore a Dior Haute Couture ball gown with a bustier bodice and futuristic silver belt also winning points on the red carpet. The Versace halter number that Claire Danes showed off complimented her hot post-baby body to a T.
Embellished & Embroidered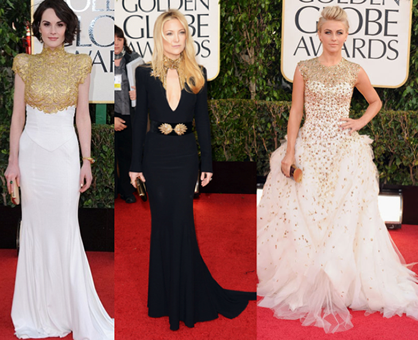 Sometimes gowns need a bit more décor that will cause a stir with sparkles and amazing embroidery. Julianne Hough elegantly floated down the carpet in her Monique Lhuillier gown with white tulle and gold embellishments. Taking on a regal feel at the Globes, Michelle Dockery flaunted her Alexandre Vaulthier dress with a noble gold high neckline. Kate Hudson rocked the current black and gold trend wearing an Alexander McQueen gown featuring a sexy cut-out and high neckline and belt with gold sequin embellishments.
Dark Romance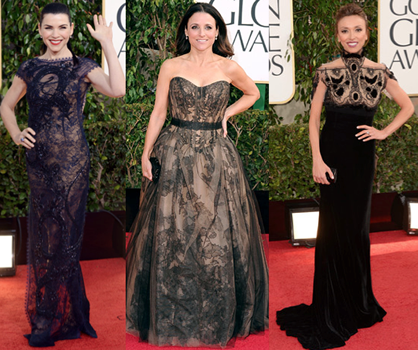 Playing with the season's shadowy color scheme, these gals boasted dark and romantic looks without putting a damper on the red carpet. Julia Louise Dreyfus looked glam as can be in her ethereal nude and black dress from Vera Wang. Giuliana Rancic's high-necked number by Celia Kritharioti took on a dark and dusky feel as she floated down the runway in black velvet and lace. Julianna Margulies kept her look both edgy and classy when she paraded her dark purple lace Emilio Pucci dress across the red carpet.
White Haute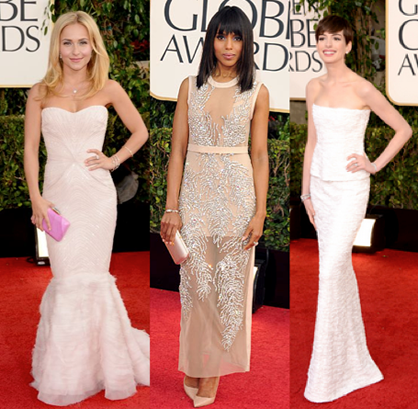 Just as popular as the dark hues of the season, winter whites made a sparkling appearance last night. Hayden Panettiere showed up to the awards in a white, very tight and ruched Roberto Cavalli dress that exuded a sophisticated feel. Best Supporting Actress winner Anne Hathaway presented her slim figure in a white-sequined Chanel dress while still flaunting her pixie cut from her "Les Miserables" role. "Django Unchained" star Kerry Washington wowed everyone on the carpet with her white-hued number by Miu Miu complete with glittering appliques adorning the sheath dress.
Best Fit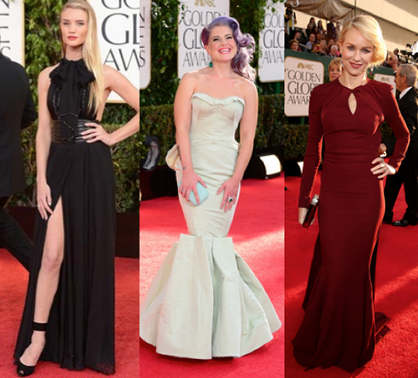 Some dresses on the red carpet could not have been worn by just anyone. These three ladies have a knack for style and pull off these difficult dresses flawlessly. As a Fashion Police panelist, it is only natural that Kelly Osbourne takes a fashion risk and masters it in her Zac Posen gown with a powder-blue color and mermaid cut. Naomi Watts' dramatic wine-hued back-revealing gown by Zac Posen fit her perfectly hugging every curve easily and glamorously. Rosie Huntington-Whiteley and her Yves Saint Laurent gown are a perfect pair in heaven with the high-necked halter, thick belt and thigh-high slit.
Spring is in the Air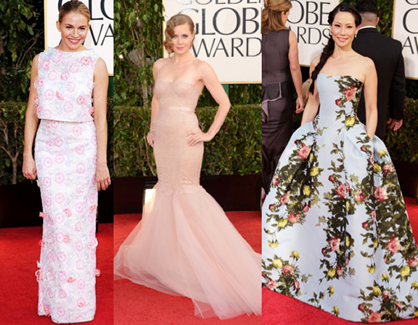 Spring is fast approaching and so are pastels and florals based on these pastel looks seen last night. Sienna Miller's fresh, flirty and flowered tank and skirt by Erdem was certainly pretty but more modern compared to the rest of the crowd. Amy Adams got dolled up in her ballerina pink-hued mermaid gown with lace bodice and tulle skirt. Lucy Liu brings a young yet sophisticated feel to the Globes in her girlie Carolina Herrera floral print frock.
Clutches & Minaudieres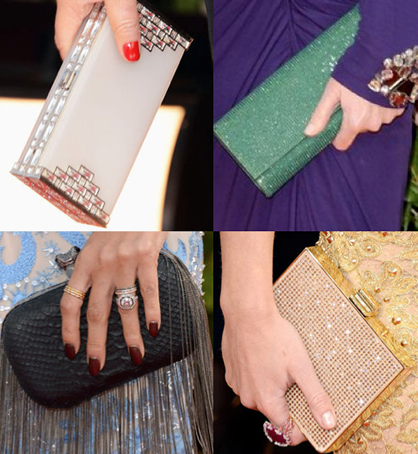 The attention is always put on the dress but what about the handbag? Clutches and miniaudieres were must-have items at the Globes that many times completed the red-carpet-ready ensembles. These petite purses held in the hands of the best in the biz flaunted many rhinestones, jewels and beads in square, rectangular and rounded shapes.
Shoes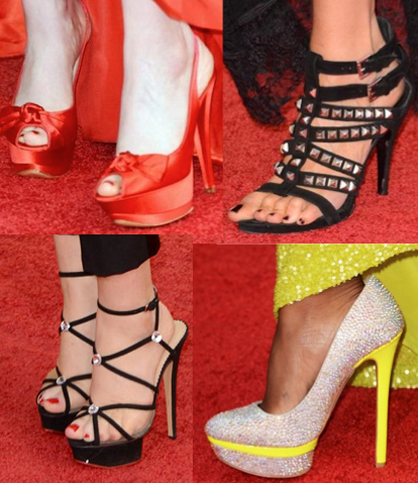 Shoes worn by hosts, presenters, nominees and guests consisted of the highest pumps, sandals and platforms heels. High heels boasted materials of satin, velvet and were decorated with bows, jewels, rhinestones and hard rocker studs.
Jewelry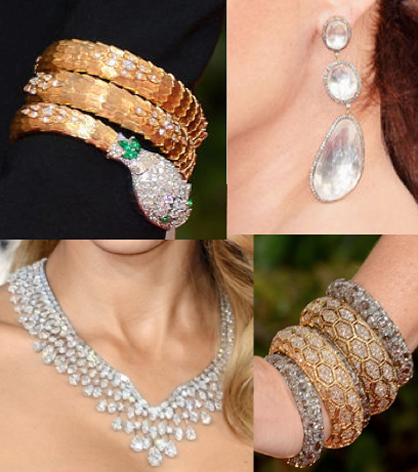 At times more important the gowns and certainly more expensive is the bling! Loaned from the most famous diamond companies in the entire world, jewels on earrings, necklaces and earrings were flaunted with so much beauty and glamour. Pieces that stood out were yellow diamond snake bracelets, simple white diamond bangles, diamond bib necklaces, statement earrings with long drops, bold studs and tiered chandelier earrings.
Tagged in: trends, dresses, red carpet, golden globes, award season, best dressed, celebrities, 70th annual golden globe awards,