Blogger Spotlight: DIYs with Elisharon
Sharon Lei, the incredibly talented Hawaii-based personal style blogger of Elisharon, is a self-taught seamstress, fashion student, DIY expert, self-proclaimed shoe- and dessert-aholic, and aspiring fashion designer. She lives with her high school sweetheart and blogger husband, The Pirate, and their maltipoo, Pooma. For now, Sharon works in the tourist business, where her "office" is a few steps away from the beach. In addition, Sharon uses her artistry to create these imaginative box creations. Her other favorite DIYs include peplum and clutches. See how to make her incredible camouflage clutch below!
LL: How did you get into DIYing?
SL: Although I feel like I've only heavily been into DIY-ing the past 2 to 3 years, I think my passion for DIY stemmed from my childhood. I remember hand-stitching clothing for my Barbie dolls because I didn't really care for the Barbie clothes that were being sold in the stores. I also remember making my Barbie's furniture out of cardboard and plastic remnants. I was quite the innovative child. I always loved creating things. I would also watch my grandmother sew on her vintage Singer machine; it was actually the machine I learned how to sew on. Through trial and lots of errors, I basically taught myself the basics of sewing.
LL: What is your favorite part of DIY?
SL: I'm currently enrolled in the fashion technology program at the local college and learning an abundance of technical skills. I love the technical aspect of the fashion industry. I love to sew and, not to toot my own horn, but I'm pretty damn good at it. Each stitch is perfection. Now, as an adult on a fashion/wardrobe budget, DIY projects are the ideal way to keep on trend with what's going on in the fashion scene without breaking the bank. A lot of times, I'll spot something on the runway or in a store and think to myself how I could create that with a budget.
LL: Mantra?
SL: My mantra would be: I'm see, I want, I DIY!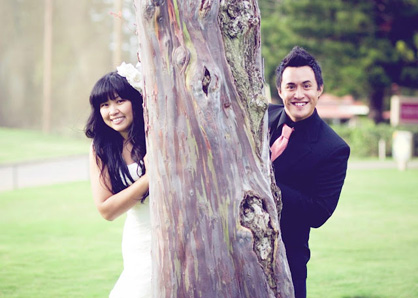 LL: How did you meet your husband?
SL: The Pirate (Elisha) and I met when we were only 10 years old. That was 20 years ago! We were friends at first and then we started dating our senior year of high school. Yup, we're high school sweethearts. He's truly my soul mate. I mean, our names do interlock so effortlessly: ELISHARON. And it's pretty amazing to share the love of fashion with your spouse. He's also in the same fashion program as I am. Our ultimate goal is to create a clothing line one day. I'm sure with a lot of hard work and dedication, we'll succeed. He has the eye for design and since I'm technically gifted, we're the perfect pair.
What do you do for a living and in your free time?
SL: In my spare time, I like to nap. It sounds so boring, but beauty sleep is important. I also love to shop, but that's a given. I wish I could shop for a living. Perhaps, one day I will. Right now, I work full in the tourism industry. It's a fun job; I love the people I work with, and my "office" is steps away from the beach.
Anything your readers might not know about you?
SL: I also have a little side "business" where I create card boxes for parties. I love to be constantly create things. And because creativity is such a special thing, I firmly believe that creativity should be shared.
I love to cook, even though I'm not great at it. When I'm in the kitchen, I like to pretend that I'm on a cooking show. So much fun.
Aside from shoes, I am a dessert-aholic. The way I love sweets should be illegal.
We have a 4-year-old dogter named Pooma. She is a maltipoo. That's how we came up with her name: PooMa. She's truly the best furbaby around.
I love Hello Kitty. I wish I had a real cat, but Elisha is allergic.
Elisharon exclusively shares how to DIY this fabulous camouflage clutch:
You can follow Sharon on her adventures at Elisharon and on Twitter or Facebook!
Tagged in: diy, interview, blogger spotlight, camouflage, blogger interview, camouflage clutch, diy clutch, sharon lei, elisharon,