Bonfaire: Your Designer Pre-Ordering Destination
Kieron McCammon envisions Bonfaire as disrupting the retail channel. The fashion e-commerce site, which he founded last year, serves as a personal showroom in which fashion lovers can peruse and pre-order the next season's great finds in luxury shoes, handbags and accessories. The shopper becomes the buyer, with first access to these exquisitely crafted items, often exclusive offered on Bonfaire. Sample a well-curated range of stylish accessories from premier designers from New York, Los Angeles, Paris, London, Milan and other fashion hot spots – and get them ahead of season, manufactured just for you.
"To our members, it is all about discovery," McCammon, co-founder and CEO of Bonfaire, said. "It is about finding something that isn't a Prada or isn't the latest Louis Vuitton that I think everyone is getting a little jaded about these days. We are focusing on this consumer, this growing base of women who are looking for beautiful, well-crafted designer luxury product, and we are able to bring it to them because we are working directly with designers at a great price point … To present designers and let the consumers decide what they really want to order – it is a unique proposition for both the designer and the consumer."
The site's roots date back to 2011, when McCammon, at a crossroads, was eager to start a new venture. Through networking, he encountered a woman with a retail background, and the two began to talk shop about commerce and the challenges of being a fledgling designer.
"(It was) the idea of this untapped opportunity where the up-and-coming designers, given the constraints of the retail channel, that a lot of consumers weren't getting access to or weren't able to see lots of interesting shoes," McCammon said. "That was the initial passion, around the idea of pre-ordering for shoes. So we starting kicking around the idea what if we could work with designers and their collections to allow consumers to become the buyer and give direct access to these wonderful collections, a lot of these styles which never get to see the light of day because they don't get picked up."
Bonfaire's designers are carefully selected for their exquisite taste, quality and craftsmanship. Bonfaire's team of fashion experts scour the world, from Paris to Milan, to find fabulous designers that fit with Bonfaire's voice. Items from each designer's collection are meticulously chosen and then showcased by the site, which makes all its product descriptions, editorial and photographs in-house.
"The process is really a creative one, part science and part creativity," the founder said. "The science part is making sure the designers we are working with can work with the manufacturer and have a track record and have the right kinds of price points for our audience and making sure we have the right mix of merchandise … So there is a science part of it to make sure we have the right collection of merchandise. And then there's the creative part, the part where the buyer's eyes come in."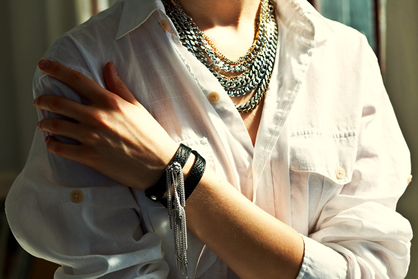 At Bonfaire, each designer has a voice. It is not just about presenting a gorgeous handbag, but telling the story of the designer who crafted it.
"We are focused on unleashing creativity," the CEO declared. "How can we partner with up-and-coming designers from around the world and give them a voice, allow them to connect with consumers so they can focus on building and making an amazing product? And part of us working with designers is to bring their story out as well as their collections. Who are they? What is the inspiration behind the collection? We work hard to weave the thread of their story through the fabric of our e-commerce experience. "
The Bonfaire woman is aware of her own style and is sure who she is; she is seeking something unique and different to match her personal taste. Bonfaire makes that connection.
"They are not beholden unto any label," McCammon said of his customers. "They look for products that amplify their style they already have. And we provide something different, something unique, something they are not going to find when they go into the average retail channel or go on the average luxury e-com site. That need for something different, that something that not everyone else has."
The decision to limit Bonfaire's focus to accessories was quite deliberate. Accessories, after all, are the zing behind a fab look, and Bonfaire knows it.
"You walk down the street with a Gap T-shirt on and a pair of jeans, but you have on these statement pair of shoes or that designer handbag, of the sort you find on Bonfaire, that's really what makes the outfit. … It's really finding a product you can use every day, you can really make part of your wardrobe in so many ways, whether it's going out to work, or going out in the evening and dressing up that same bag or same bracelet you bought on Bonfaire," McCammon said.
The company soft-launched in September; at that point, says McCammon, they were "just experimenting." Now through their first full season, the site formally launched in February and McCammon is concentrating his efforts on getting the word out to an expanding consumer base. Today the e-commerce site unveils a new collection nearly every day. What's next on Bonfaire's menu are items made to order. The CEO hopes to offer a handmade product from fresh designers shipped in around four to six weeks.
Check it out at www.bonfaire.com.
Tagged in: designer, accessories, shoes, bags, luxury, website, e-commerce, bonfaire,