Make it: Brioche Donuts From Award-Winning Pastry Chef Mindy Segal
Mindy Segal's restaurant, Hot Chocolate, has carved a place for itself as one of Chicago's top foodie destinations and in 2012, she received some major recognition in the form of a James Beard Award for Outstanding Pastry Chef. With chef-driven, chef-owned restaurants on the rise in Chicago's competitive culinary scene, Segal had her work cut out for her, but has won over the crowds with an artisanal take on American classics and an irresistible dessert menu. Her restaurant is known for the burgers, but also has a hit with "The Study," a dessert item that presents five interpretations of a flavor or ingredient to offer "an experience in textures in temperatures." Now featured on the menu is hot chocolate—what else? Variations of the sweet drink include Cocktail, Warm, Whipped, Brownie and Frozen.
The full-service restaurant produces everything in house—from fresh bread in their bakery to house-ground lamb sausage—and places an emphasis on sourcing the best ingredients possible.
"I am very much part of the local movement of using seasonal, local produce and producers. I like to know here my food is coming from. I like to have relationships with my farmers, and I also care about what I put in my body so I care about what I put in my guests' body," Segal explained.
She was kind enough to share her recipe for an ever-popular item on the menu: brioche donuts. Get ready to indulge!
LadyLUX will be catching up with Chef Segal and many more of the country's best chefs, mixologists, brewers and winemakers at the Sun Winefest this weekend. Stay tuned for more exclusive recipes and coverage of this foodie favorite event.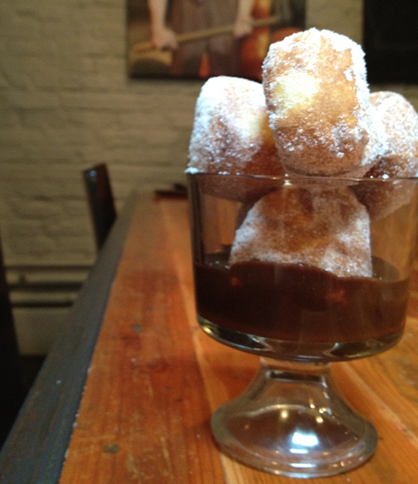 MINDY'S BRIOCHE DONUTS
Makes about 35 doughnuts
Starter
1/3 cup + 2 ½ tsp whole milk
1 tbsp yeast (dried)
1 large egg
1 egg yolk
1 ¾ cup all-purpose flour
Dough
5 eggs
¾ cup sugar
1 ¼ lbs flour (about 4 cups) + extra flour for dusting
1 oz (about 1 tbsp) clover honey
1 tsp salt
1/2 lb butter (2 sticks), softened, divided into tablespoon-size chunks
Canola oil, for frying
1 cup granulated sugar
1. Begin with the starter: Heat milk to about 90 degrees. Remove from heat and stir in yeast with a fork. Let the mixture sit until it gets creamy and foamy, about five minutes. (If mixture doesn't foam, start over with new yeast.) Mix in egg and egg yolk with a fork. Add one cup of the flour and mix with a wooden spoon until a dough forms. Pour the rest of the flour over the top of the mixture (don't mix it), cover with plastic wrap and let rise in a warm place for about an hour, until it has doubled in volume.
2. Make dough: In the bowl of a standing mixer, combine starter, eggs, sugar, flour and honey. Fit the mixer with a dough-hook attachment; mix on low speed. Add salt. Mix until dough comes together, pulls away cleanly from the sides of the bowl and forms a ball, about three to four minutes. Add softened butter one tablespoon at a time, waiting to add more until the last bit is incorporated. When all of the butter is added, you should have a soft, smooth, shiny dough. Place it in a greased bowl, cover with plastic and refrigerate overnight.
3. In the morning, let the dough sit in a warm place for three hours—it should come to room temperature and have risen slightly. On a lightly floured surface, roll out the dough approximately a half-inch thick. Cut doughnuts with a cookie cutter (HotChocolate's are two-inch circles); cut hole in the middle of each doughnut using a smaller cookie cutter and set aside to rise in a warm, draft-free space until they've risen and are slightly puffy, about 30 minutes.
4. Attach a deep-fry thermometer to a heavy pot, and heat about three inches of canola frying oil to 350 degrees. Fry the doughnuts two or three at a time, about one minute per side, until golden brown. Remove from oil, drain on paper towels and toss in granulated sugar to coat while still warm. Serve warm with a small bowl of chocolate ganache for dipping.
TIPS
• A deep-fry thermometer ensures the proper temperature—find one for $12.95 at Sur La Table. If the oil isn't hot enough, the doughnuts won't crisp evenly and will become soggy. If it's too hot, the doughnuts will cook on the outside but remain undercooked on the inside.
• Don't have a cookie cutter? Cut out the doughnuts with an upside-down measuring cup, then unscrew the removable KitchenAid imprint from the front of the mixer and use it to cut out the middle
Enjoy!
Tagged in: recipes, foodie, chicago, hot chocolate, sun winefest, brioche donuts, mindy segal,