ByLangley.com: "All day. every night"
Mollie Lang has got it all: a supportive husband, a baby girl, a new house and byLangley.com, an e-boutique through which she sells her personal style passions of luxury loungewear, sleepwear and lingerie.
Lang carried her fashion style beliefs into the next chapter of her life when she created byLangley. By offering the best relaxed fashion, Lang believes that young women can strive for the best quality while still being stylish and comfortable.
"Over the last year and a half, I left my corporate job, turned 30, bought a house and had a gorgeous baby. In that time, I decided to launch byLangley, which is a site dedicated to my style passions: loungewear, sleepwear and lingerie," Lang said. "I traded in my Miu Mius for plush knee highs because that is just where I am in life right now … and my look needs to be less formal and more comfortable but certainly never 'mommy.'"
Lang received a great deal of helpful experience in the fashion industry after she graduated from Syracuse University with a degree in art history. She headed straight to New York City. She first worked as an assistant to the SVP of marketing for Tommy Hilfiger, but learned most of her digital, art, commerce and fashion retail knowledge from working at the luxury catalog retailer VIVRE and American Eagle.
"Originally, I had this fantasy of owning a little jewel box store that was like an extension of my own bedroom. I imagined an environment that was warm, indulgent, intimate and a little bit naughty with yours truly front and center helping clients to find their own comfort zone of sex appeal. When my husband, Tom, heard this idea, he thought it sounded great, but the idea of me being in the same place day in and day out was not something he could see or thought that I would want in the long run … Tom looked at me and said exactly what he should have, which is 'Why the heck would you work in a brick and mortar when you have six years of digital experience?'" Lang said.
After contemplating whether to open up a shop or go the e-commerce route, Lang followed her gut and went with what she knew best.
"I know the online space and am very comfortable in it. I am also quite passionate about discovering how to make the online experience 'luxurious' and more personal, which was a challenge I saw specifically in the last two places I worked … Fashion has always been something that I was in love with. … I am not about fashion as I am about having individual style," Lang said.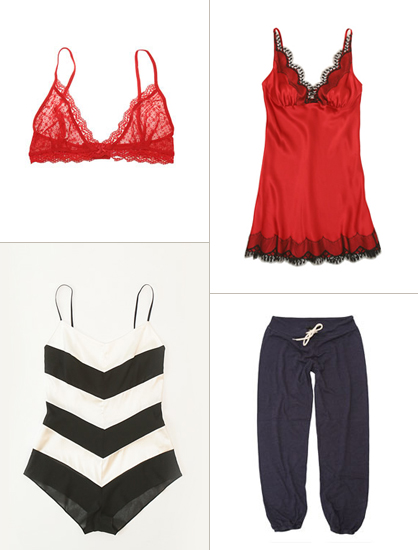 via byLangley
After launching byLangley, Lang put her skills to the test and the site flourished, attracting many women interested in purchasing the practical yet sexy designer pieces. Currently offering 24 lines, the site displays a nice mix of more established brands – such as Cosabella, Soft Joie, Eberjey and Only Hearts – with new, upcoming labels such as La Fee Verte, Beautiful Bottoms, T Los Angeles and Monrow.
"I hope that each piece conveys a bit of an accessible fantasy, whether your fantasy is to be in the most comfortable terry fleece boyfriend pullover from a brand like Soft Joie or to incite a little romance back in your marriage, or into yourself, by wearing a romper. I may feel like an exhausted new mother, but I am going to pull myself together to feel the best that I can, even if I'm not leaving my house," Lang said.
Lang practices the byLangley motto, "all day. every night," religiously and hopes customers will likewise do so.
"I believe that by layering these pieces, I can go from day to all night. I literally pull off pieces all day long until I end up most nights in a tee, bralet and boyshorts!" Lang declared.

In creating byLangley, Lang intended the site to be geared toward modern, sophisticated women while still keeping Generation Y in mind.
"There is a difference in attitude between the 'Y' and the 'X' woman … I believe that the 'Y' woman believes that everything is possible and that we are the leading ladies of our own movie. Great style is a part of that … Women closer to their early 30s, late 20s spectrum were much more interested in having a wardrobe that was between work and Lululemon. As women in the beginning of their marriages, there was also a definite belief that looking sexy wasn't just about sex, but about the way a great chemise or cool pair of knickers makes you feel – which is then what leads to sex. She is in control of her sexuality and not in an objectified way, but in a very modern, honest way," Lang explained.
ByLangley is certainly going in the direction that Lang intended. The byLangley Zinke FireSide red lace bralet and knickers have recently been featured in O, The Oprah Magazine. Lang hopes to create more awareness that women should not only consider their style when going out, but on their downtime at home and at night as well.
"Every piece on byLangley is something that I would wear. It really is my own style and in the future we'll be doing more 'outfitting' so women understand even more how I might pair a chemise with socks and a cashmere wrap. I'm constantly on the lookout for designers that fit the byLangley lifestyle … I don't want to be another RTW site," said Lang.
Lang wants byLangley to be a place where women can explore, learn and shop all the beautiful pieces on their free time when not juggling business or their family. She continues to follow that goal herself, becoming a great example of what young women can achieve.
"I can't believe I am living my dream. While I'm incredibly busy, this is the most invigorating time of my entire life! I want my beautiful daughter to know that I believe women can do it all and it's okay to feel gorgeous while setting the world on fire!" Lang concluded.

To experience all byLangley pieces, please visit byLangley.com.

Tagged in: lux exclusives, lingerie, loungewear, cosabella, lang, eberjay, sleepwear, bylangley, monrow, mollie,