Chanel opens another boutique on Paris's Avenue Montaigne
On March 8, Chanel will open the doors to a new 6,500-square-foot boutique at No. 51 on Avenue Montaigne in Paris. The street boasts numerous high fashion stores, including one of Chanel's long-standing boutiques that is devoted to watches and fine jewelry. With the new location, the brand will more than double its selling space on the coveted street.
"Today we need more space to be able to display our collections," said Bruno Pavlovsky, president of fashion at Chanel. "Our objective is to have the three [Avenue Montaigne] boutiques at the same level of luxury perception."
While having three boutiques on the luxury street is unusual and unique to Chanel, Pavlovsky noted that the brand would rather have multiple locations than one large "supermarket of luxury."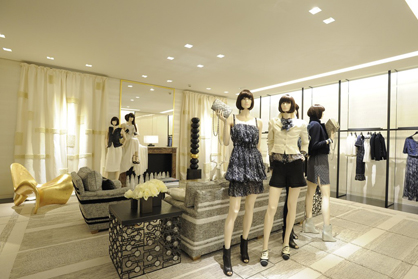 LadyLUX via WWD.com
To construct the new Chanel boutique, New York architect Peter Marino was brought on-board to raise the bar in terms of luxury build-outs that are usually only found in the private homes of elite clients.
The curtains are wonders of cascading silk embroidered with dense patches of pearls or tiles of metallic leather. A glass necklace by French artist Jean-Michel Othoniel accents the white marble staircase that leads up to three rooms of ready-to-wear. Artwork by Olga de Amaral, Ingrid Donat, Peter Dayton and Johan Crete can be found throughout the boutique.
"It's really interesting to see how high we can go," Marino said to WWD.com. "This is a completely new world of Chanel in terms of materials. I'm giving all the couturiers a run for their money."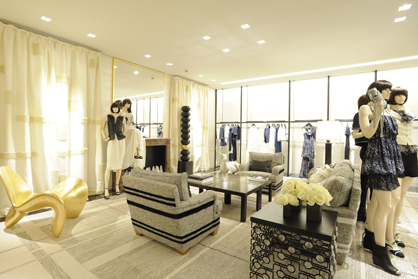 LadyLUX via WWD.com
The first floor of the boutique will showcase handbags, small leather good, scarves, shoes and sunglasses, while the double-height room will be reserved for precious accessories and its métiers d'art collections, which are embellished with the couture salons Chanel owns. The room is lined in gold tweed and completed with chandeliers by goldsmith Goossens. The gold tweed can also be found in the carpet of the shoe salon.
Pavlovsky noted that the older boutiques will undergo renovations within the next year.
Tagged in: paris, chanel, new store opening, peter marino, bruno pavlovsky, avenue montaigne,