Charity Miles: Keeping Charity Funding Going for Miles
With all of the different types of charities and forms of giving back, it's easy to be overwhelmed and unsure of where to begin. Now it's possible to fund great charities with an everyday activity—working out! Charity Miles, the new app for iPhones and Androids, allows people to earn money for a charity of their choice by walking, running or biking. Charity Miles provides stress-free steps to provide philanthropic funding and an easier way for everyone to give back to top charities like Feed America, Achilles International, Autism Speaks and Habitat for Humanity.
Charity Miles was started by Gene Gurkoff, David Nottoli and Joe Marinucci, three friends who are active marathoners, cyclists and triathletes. The app was launched in June of 2012 on National Running Day. This GPS-enabled app tracks users' time, mileage and impact.
Gurkoff's grandfather suffers from Parkinson's disease. As a way of staying healthy and helping to fund Parkinson's research, Gurkoff began a fitness plan of running marathons and triathlons. To date, he has run over thirty-five marathons and six Ironman triathlons.
To further his support and funding efforts, Gurkoff helped found Team Fox, the grassroots fundraising arm of the Michael J. Fox Foundation for Parkinson's Research. Since its inception in 2006, Team Fox has raised over $20 million.
As all charities know, securing such large sums or corporate sponsorships is not easy. Charity Miles aims to help companies solve their cause-funding problems by helping to redirect their larger marketing budgets to other marketing strategies not related to social media.
"Like many charities, we often find it difficult to get big corporate sponsorships. Companies want to get involved—both because they realize that supporting a charity is good for their brand and because they want to have a positive impact […] That's why I thought of Charity Miles. Companies are actively looking to support charities in ways that deliver measurable returns. And they're actively looking for digital app experiences that allow them to connect with their audiences more meaningfully than regular advertisements," said Gurkoff.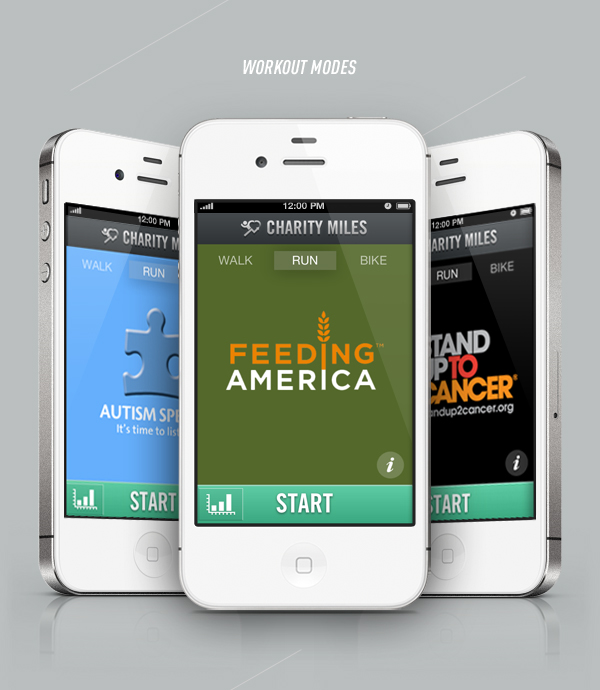 Photo Courtesy of Charity Miles
The for-profit's app is very simple to use. After downloading onto an iPhone or Android, users choose from one of their partner charities and either walk, run or bike to raise money for it. Bikers earn 10 cents per mile while runners and walkers earn 25 cents per mile, all up to an initial $1 million.
"My partners and I are putting up the first bit of money to establish our user base and be able to attract corporate sponsors to back us. We've already got our first two sponsors which we will be announcing in 2013," said Gurkoff.
Grown entirely by word of mouth and social media channels, Charity Miles has already reached over 50,000 members since the launch last June. After trying out the app, members are begging the press to give attention to Charity Miles. Various magazines, including TimeOut New York, Mashable and USA Today, have all given positive reviews of the app and the technological feature it's implementing on future charity funding.
Like all technological companies, Gurkoff and his Charity Miles partners faced a few bumps after users began to complain about a few tech problems. Users must login through Facebook in order to use the app and share their activity on Facebook and Twitter in order for charities to receive their donations. "I think we underestimated how uncomfortable many people really are with Facebook. Our most common 'constructive' feedback is from people who want to use our app but don't want to login through Facebook. Therefore, we are now developing another login system so that people can create non-Facebook profiles," explained Gurkoff.
Sometimes, the app could not track users' exact location. They then could not track their mileage or get credit for funding as they walked, ran or biked. Very fixable with time, these problems have not stalled Gurkoff and the team from forming their philanthropic path.
Besides announcing their first two sponsors in 2013, Gurkoff is also pleased to announce that there is much in store for the future of Charity Miles.
"We have so much planned for 2013 and beyond […] By popular demand, I will plug in a soon-to-be-released update that will allow people to use our app while walking inside or on treadmills […] We want to cover as many bases as possible. But it's also important that we have a meaningful impact for each charity we support. So we are also looking to develop features that will allow smaller, more local charities to participate too," Gurkoff said.
In this digital world, everyone has to multi-task in order to balance their work and social lives. Charity Miles is an app that enables users to do so and has the ability to change the way future start-up charity organizations will construct their platform and pursue funding. While using the app, members can keep their feet going while keeping the funding going as well.
To begin raising funds while working out and to learn more about Charity Miles, visit www.CharityMiles.org.

Tagged in: causes, fitness, app, philanthropy, running, workout, iphone, charity miles, android, phone app, biking, walking,