Charity on the high seas: Bal d'Oceana in Monaco
Oceana doesn't hold back when it comes to spreading the word on ocean conservation. Known for their A-list supporters and formal affairs, this year's Bal d'Oceana will be no exception. On June 25 at the Hôtel de Paris in Monaco, yacht owners will bring down the sails to enjoy a 4-course-meal and conversation about saving our oceans. CEO of Oceana, Andrew Sharpless, said in a statement, "We look forward to sharing this occasion with others that have a similar passion for protecting the world's oceans. Attendees of Bal d'Oceana will be doing their part by helping us win more victories for marine creatures and habitats worldwide."
Tony Harris, CEO of Boat International Media, thought it was an ingenious idea to combine yachters with the cause. He said, "We share the same goals. Our yacht owners all share a common love of the Oceans and all understand the need to protect the fragile ecosystems within them. We are honored to be working with a marine conservation charity that really achieves measurable results and can demonstrate a successful track record in its short history."
Instead of grassroots protests, Oceana goes straight to the government. Their renowned team of scientists, lawyers, advocates and lobbyists make it possible to have a real voice in Washington. Influencing the capitol, Oceana doesn't let important legislation and policy get docked, instead they work hard, enlisting celebrities and charitable givers, to make positive changes that reduce pollution and enhance the lives of marine animals.
For more information about tomorrow's event, go to their web site at SuperYachtRendezvous.com/bal-doceana.
Update: LadyLux was just informed that the newly engaged royal couple, Prince Albert and former Olympic swimmer Charlene Wittstock are making their very first appearance at tonight's soiree. It has only been a few days since the Royal Family of Monaco divulged the story to the press, so the cause obviously hits home for the couple. Wittstock, a professional swimmer from South Africa has an obvious connection to the ocean and her fiancee, Prince Albert, is known for his dedication to helping sustain ocean life. Back in 2009, he tried to pass a ban on bluefin tuna due to the rapidly declining population. Oceana fully supported the cause, even though it did not get passed, and since then the Prince has made ocean conservation a big priority in Monaco policy.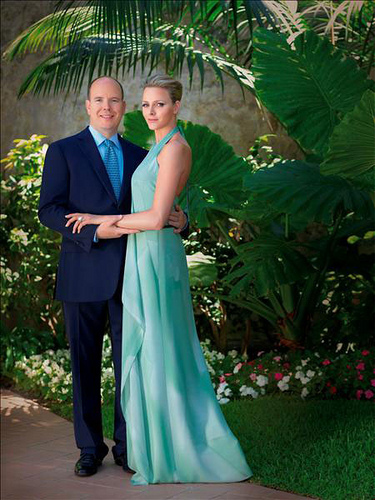 Prince Albert and Charlene Wittstock (Globovisión/Flickr)
Tagged in: lux exclusives, charity, green, oceana, love, ocean, monaco, eco-friendly,