Charles Albert's Alchemía collection redefines jewelry with innovative new metal
While most teenagers have prom and homework on their minds, young entrepreneurial spirit Charles Albert was already contemplating the idea of owning a business. He began his career by enlisting in the U.S Army National Guard while still in high school, serving his country for 14 years, and also graduated from the University of Scranton with an ambitious Bachelor of Science degree in business management and minors in philosophy and history. With a solid foundation, Albert launched his eponymous jewelry company with a dream and just $60 in 1990.
Charles Albert, Inc. initially began by selling costume jewelry and, over time, organically grew into the fashion-forward brand and manufacturer that it is today with the help of Albert's wife, Beth. The Florida-based brand features meticulously handcrafted rings, bracelets, necklaces and earrings made from remarkable stones from all over the world.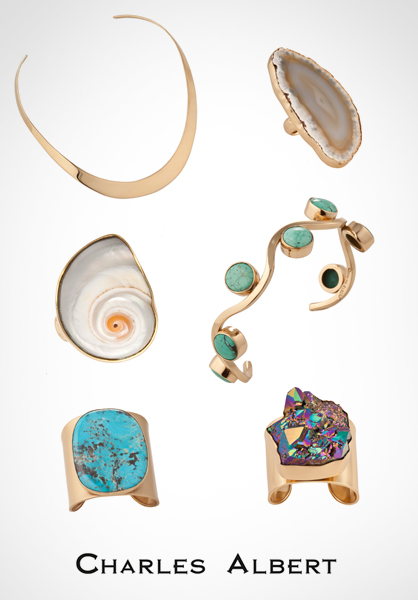 LadyLUX via Charles Albert
"Collecting stones has been a love of mine since I was a child. Our one-of-a-kind pieces are inspired by nature and I allow the stones to be the centerpieces for unique wearable art," Albert shared.
Albert has been known for his fine sterling silver – a grade of silver that is higher than sterling silver – for the last 21 years. Now, the brand has launched its latest collection, Alchemía, which features an innovative metal that simulates the appearance of 18K gold but remains at an affordable price point. The new Alchemía metal, coined "zero karat gold," is created through a process called based metal infusion in which common, non-precious metals are blended in specific proportions to create the look of gold. The color of the metal is on-point and is nickel-free, lead-free and lacquered, making it hypoallergenic for sensitive wearers. The strong and flexible lacquer is used to protect the metal from turning or tarnishing, while still allowing the rings and cuffs to be easily adjusted.
This Spring season's Alchemía collection is inspired by nature's organic beauty and is comprised of a full range of hand-selected gemstones including opal, turquoise, pearl, quartz, blue topaz, agate, amethyst, kyanite and obsidian, as well as minerals, shells and fossils that are sourced worldwide.
ddquo;The vivid pinks and bright purples are reminiscent of the tropical flowers of Brazil, the soft browns and muted gold tones are borrowed from the sandy landscapes of Egypt. Alchemía evokes inspiration from around the world," the designer explained.
Fresh as the concept is, Alchemía remains consistent with previous collections and maintains the brand's edgy, contemporary design aesthetic that complements a woman's personal style and enhances her individuality. The Spring selection offers modern cuffs, versatile earrings and couture necklaces that simulate oversized rings, a perfect centerpiece to a bold outfit.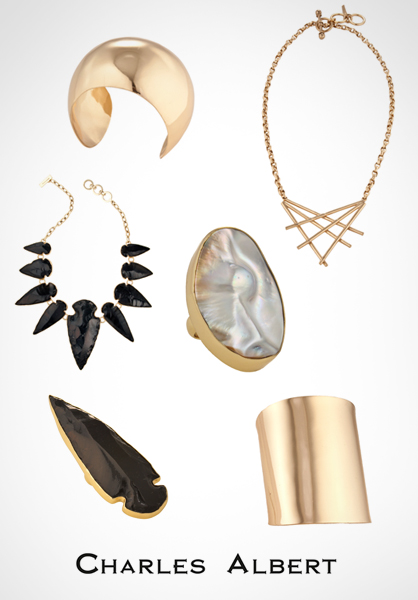 LadyLUX via Charles Albert
"This season's must-have piece is the statement earrings. These earrings can be worn on the beach and then can be worn with a cocktail dress for a night on the town! These earrings are so versatile which is why they are my must-have piece," Albert said.
As the Fall season approaches, Albert already has his mind on the next version of Alchemía, pondering a wide assortment of possibilities.
"Our Alchemia line pairs well with next season's trends. We're going to be seeing a lot of delicate fabrics such as lace and sheers, which will offset the harsher looks of the metals well. We're also seeing a lot of gem tones: bold colors that dress up any boring winter outfit!" Albert described.
The self-taught designer has come a long way from his humble beginnings and has carved a niche for himself with his one-of-a-kind fossil, mineral and gemstone jewelry. His ambition as a teenager isn't lost as he continues to take his business to the next level.
"My passion lies in designing new and unusual jewelry for anyone who wants to express their unique individuality. I continually strive to create high-quality artisan pieces to amaze my customers," said Albert.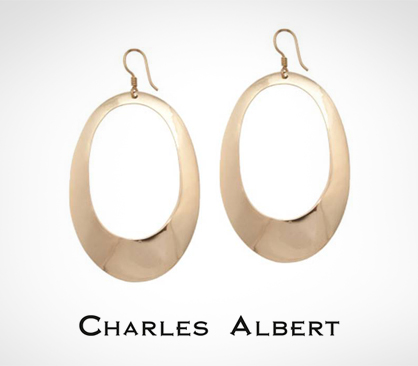 LadyLUX via Charles Albert
LUX Giveaway:

One lucky winner will receive these Charles Albert Alchemia Elongated Oval Earrings! Here's how to enter:

1. Like Charles Albert on Facebook here.
2. Follow @mycharlesalbert on Twitter (if you have one).
3. Comment under the picture of the earrings with your contact info here.
Contest will end in 7 days, winner will be chosen at random via Facebook. Good luck!
Tagged in: lux exclusives, jewelry, charles albert, alchemía, florida, fine sterling silver, charles albert, inc.,