Designers Huishan Zhang and Marsha Ma give "Made in China" a makeover by branding in Paris
In the fashion industry, the idea of "Made in China" has generally been a negative one due to poor quality, bulk manufacturing and knock-offs, but Chinese designers Huishan Zhang and Marsha Ma aim to redefine the notion by branding their collections in Paris and working with manufacturers that will produce small quantities.
"What I want to show is that 'Made in China,' if combined with 'Designed in China,' can be high quality and good. Not the cheap stuff, or the fakes," Zhang said to WWD.com.
The designer is currently based in London but for Fall/Winter 2012, Zhang presented his collection in the showroom of Rue du Mail during Paris Fashion Week. The ensembles featured lace and wool eyelet embroidery with his signature Chinese brocade and dragon aesthetic. Zhang sources his intricate materials from his hometown of Qingdao in Northern China.
"I am very lucky that these manufacturers are willing to produce small quantities of fabric for me," the designer said. "Usually, they only take big bulk orders for export."
Zhang has a steady plan to carefully develop his style and reputation in the West before conquering China, where he currently has no presence.
"It's a huge market, China," he mused. "And it can swallow me and my creativity if I am not ready."
His ready-to-wear and haute couture collections can be found in Browns in the U.K. and Hong Kong's Joyce Boutique.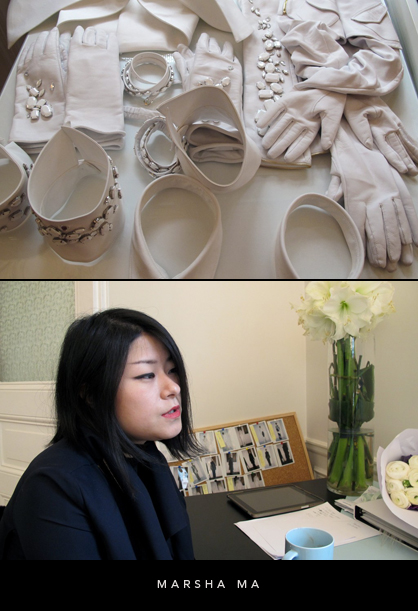 LadyLUX via WWD.com
Ma, on the other hand, has a different strategy in the efforts to makeover "Made in China." She has a co-op style business collaboration with Qiao Qiao and Qiu Hao that provide a manufacturing workshop and a retail outlet.
"It's a new business model," said Ma. "We all sell in One by One, a boutique owned by Qiao Qiao, and we share the manufacturing."
The facility is shared with two other Chinese designers based in Shanghai and has allowed her to produce small quantities appropriate for her start-up line.
"I am now on the schedule for Paris Fashion Week," Ma said. "I can do this because we have our own manufacturing facility now in China, they can do small quantities and they can make my runway pieces in a hurry."
The collaboration with Chinese company Qiao Qiao and Qiu Hao is working for Ma, as her label generates about $12,000 per day, but she continues her presence in Paris to build her reputation.
"Selling well in China is not a brand. I have to build a brand image and Paris is the right place for me," Ma explained.
Ma's Fall/Winter 2012 collection can also be found internationally at Spiga 2 in Milan and Harvey Nichols in Hong Kong and Istanbul.
Tagged in: china, chinese, chinese designers, marsha ma, one by one boutique, huishan zhang, redefine "made in china",