Concrete Polish offers modern jewelry with a crystallized twist
Concrete Polish designer Angela Monaco had a lifetime appreciation for jewelry and didn't originally envision jewelry designing as a career. Concrete Polish, a line of wearable art filled with rugged geodes, marries minerals and metals together to become women's lustrous emblems of beauty and strength.
"My love for jewelry and crystals dates back to my early childhood. My mother adorned the house with all kinds of treasures, which I was always asking to borrow. I have always been creating some sort of ornaments and trading or selling my jewels. I took my inspiration a step further when I learned to work with crystals as a sculptural form, using casting and mold-making techniques," Monaco revealed. "I originally was in school for printmaking and graphic design. One friend taught me how to solder, and then another asked me to take an Intro to Jewelry class with her. I had a few really inspirational teachers at MICA, and my love for metal smith skyrocketed."
With this new passion, she started up a jewelry line of her own while still enrolled in the Maryland Institute College of Arts. Monaco created Concrete Polish in 2009, and merged her student life with her new jewelry designing life, taking pride in creating each piece by hand and enjoying every aspect of the process.
"Concrete Polish came about while I was in school. Friends of mine always wanted me to make them jewelry, so I came up with a way to make my designs available for more ladies. Eventually, I became interested in developing a complete collection of jewelry inspired by cast crystals," said the designer. "Crystals are so close to my heart it just makes sense for me to work with them. The scientific and metaphysical aspects of them have always intrigued me. Each crystal is completely unique and that is forever inspiring. I get to work with them in metallic forms, which is really exciting. Alloys last longer and I love the colors of silver and bronze jewelry."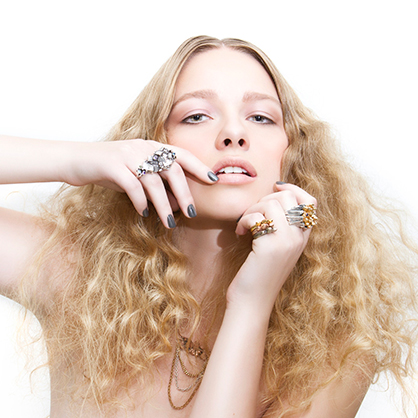 via Concrete Polish
Produced in Monaco's studio in the heart of Philadelphia's historic Jewelers Row, this bold and bewitching collection of crystallized jewelry brings something new to the current rage of statement pieces. She is inspired by her urban surroundings and constantly incorporates them into her line.
"My inspiration is drawn from all around me. City life plays a huge role in my designs. I like making statement pieces that make a girl feel powerful on or off her home turf. My jewelry is a way of taking nature and making it hard-edged and permanent, so you can keep it close even in the roughest urban surroundings," she said. "Concrete Polish appeals to any girl who isn't afraid to make a statement. Honestly my customer range is from 20 to 65, which makes me very happy."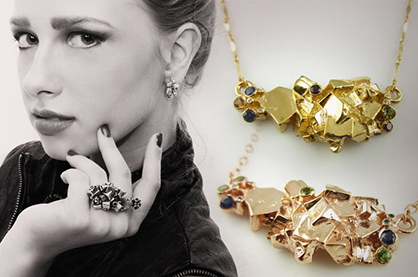 via Concrete Polish

All of Monaco's Concrete Polish collections, Ingenious Crown, Women's Classics and Sinful Nature, exhibit powerful yet beautiful rings, bracelets, cuffs, necklaces and earrings featuring single or multiple crystals for a sparkling effect. Choose from jewelry with studs, animals, metals, chains and even weapons. If you want a simple piece, there are various items that are less hard-rock but still have the pretty metal and crystal designs. If you want something completely different that caters to your own style, Monaco offers custom orders.
"Indigenous Crown is a collection inspired by animals and botanical life. My Classics collection is like greatest hits, pieces that have stayed in demand throughout the years. Sinful Nature is the collection inspired by the spellbinding structure of crystals," said Monaco.
Creating jewelry contains its own set of ethical and environmental concerns, and Concrete Polish takes sustainability seriously. The company strives to create fine pieces with the lowest impact possible, and supports the local Philadelphia economy and minimizes the environmental disturbance of transportation and shipping.
"Concrete Polish uses one hundred percent reclaimed precious metals whenever possible. Recycled jewelry and industrial materials are repurposed to cast new and beautiful ornaments infused with history. Concrete Polish also uses environmentally conscious studio practices to diminish the gallery's footprint," the website states.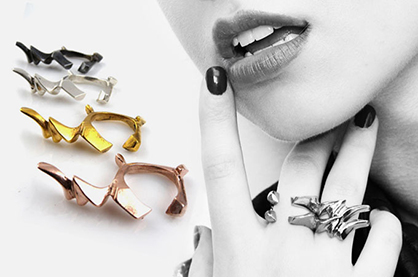 via Concrete Polish
Monaco and her team have been extra busy expanding the brand for the future of Concrete Polish in the coming years.
"We are working hard on producing our Spring/Summer 2013 Collection. We will be showcasing our Classics and the new collection at the Pool trade show in Vegas. We have so many fun photo shoots and films planned. I am so excited!" explained Monaco. "Next year I will be adding a bridal collection to Concrete Polish for brides who want something more than an ordinary ring. I'll be intertwining the crystal designs with raw diamonds. I can't wait to make one for myself!"
To learn more about Monaco, Concrete Polish and to shop from each dazzling jewelry collection, visit www.ConcretePolishStudio.com.
Tagged in: lux exclusives, jewelry line, designer angela monaco, philadelphia jewelry company, modern jewelry, crystallized jewelry, concrete polish, women's jewelry,