Conservation International honors DreamWorks Animation at gala
Monday, May 16, marked the date when two great companies collaborating to preserve and protect our planet came together to celebrate their efforts. Conservation International honored DreamWorks Animation and its CEO, Jeffrey Katzenberg, as global conservation heroes for their continued commitment to nature and conservation as well as their support of CI's work in Sichuan Province, China.
"DreamWorks has been a part in why nature is so fascinating," Peter Seligmann, chairman and CEO of Conservation International, said. "They put a personality on nature and go out of their way to support it."
Pending the release of DreamWorks Animation's "Kung Fu Panda 2," which will be out May 26, the Montage Beverly Hills was transformed into an Asian-inspired gala. Guests and celebrities walked a bamboo carpet and took photographs with Po, the main character from "Kung Fu Panda 2," as they arrived in support of CI and DreamWorks Animation.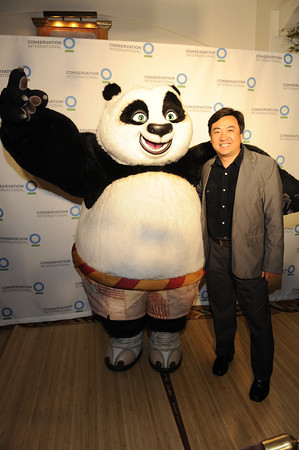 Po & Conservation International China program director Aster Zhang
For NBC's "The Event" star Jason Ritter, supporting CI is a family affair. "I got involved through my mother, Nancy Morgan, who has been on the board for years. It's really an incredible organization," he mentioned. "Growing up in LA, things like recycling and water conservation have been drummed into me … It's great to see an organization that puts so much into preserving the environment."
Among the supporters of both CI and DreamWorks, guests included Harrison Ford, vice chairman of CI; Nancy Morgan; Gillian Winn; Jason Ritter; and, of course, guest of honor, Jeffrey Katzenberg.
"This award means so much because our work is inspired by nature," Katzenberg said. "CI works to preserve nature and the stories we tell. Whether it's 'Madagascar' or 'Kung Fu Panda,' nature makes what we do possible."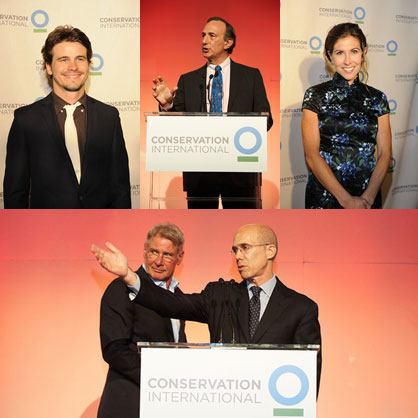 Jason Ritter, Peter Seligmann, Gillian Wynn, Harrison Ford & Jeffrey Katzenberg
Guests were treated to an Asian-themed dinner decorated with orchids and bamboo, while listening to speeches by Gillian Winn, Seligmann, Ford and Katzenberg.
On accepting the award on behalf of the film production studio, Katzenberg said, "As we go back to our jobs at DreamWorks Animation, we can be sure that we will be able to continue emulating nature because Conservation International is so hard at work protecting it." He also stated, "We remain in awe of nature and the organizations that preserve it: organizations like Conservation International."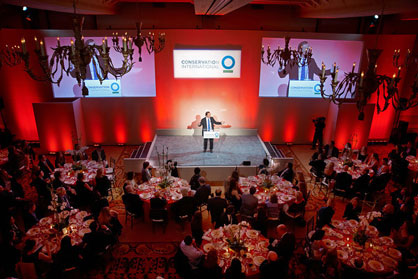 The Montage Beverly Hills
With a room full of supporters and admirers, it is clear that Conservation International and DreamWorks Animation are doing their part to garner support to save our environment.
This article was contributed by Dani Smith. To read more from Dani, follow her adventures on Twitter at @Danilaexoxo.
*All images courtesy of Conservation International.
Tagged in: lux exclusives, celebrity, china, philanthropy, environment, conservation international, non-profit, dreamworks animation, charity event, jeffrey katzenberg,