Copenhagen Fashion Week Fall 2012: Munthe plus Simonsen
Munthe plus Simsonsen had a tough vibe going on this season at Copenhagen Fashion Week. It was a vibe that was part laid-back glam, part edgy chic and all kinds of attitude. It came as no surprise that Munthe plus Simsonsen's founder and designer Naja Munthe looked to the beautiful yet rough Scandinavian seasons for inspiration as well as Ibiza's glowing summers and relaxed lifestyle. For the Fall 2012 collection, Munthe translated the harsh season into sturdy, rugged materials and the carefree spirit into easy, loose silhouettes.
The looks not only had an attitude but also echoed the '90s tousled grunginess. They included loose boyfriend-feel trousers, oversized jackets and blazers, and sporty puffer vests and minimal turtlenecks – which have been gaining popularity all over the Pre-Fall and Fall runways. Even the models' hair was done in loose, untamed waves.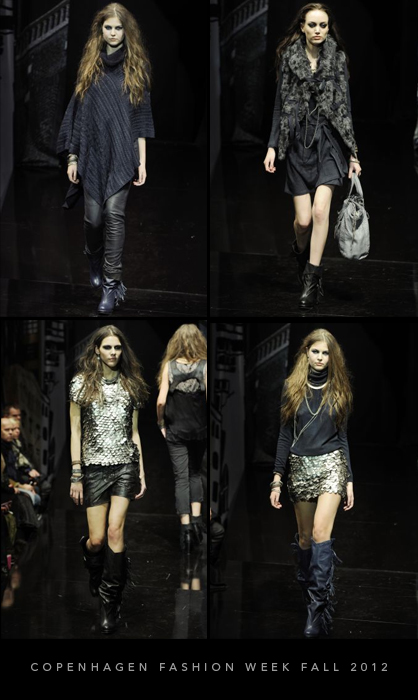 LadyLUX via Copenhagen Fashion Week
The Danish designer continued the understated sensibilities with a wearable, uncomplicated assortment of looks. The styles featured a range of styling possibilities, including unconstrained leather skirts with a worn-out feel, cargo-style button-downs and cropped pants, marble-knitted colorblock sweaters, draped jersey dresses and mesh tees.
Munthe wasn't entirely subtle, however. She livened up the line with a gold sequin disc miniskirt paired with a black turtleneck, collared necklace and knee-high fringe boots – a style from Spring redone in black. The gold sequin discs were also exhibited on a T-shirt, which resembled armor with its bold shoulders.
Fur vest and jackets in both light and charcoal gray brought a touch of luxe to dress looks. The chubby furs were causally layered over long-sleeve daydresses. The most notable fur jacket – an ombre piece that changed from light gray to black – was styled simply with navy pants, proving fur is possible in the daytime.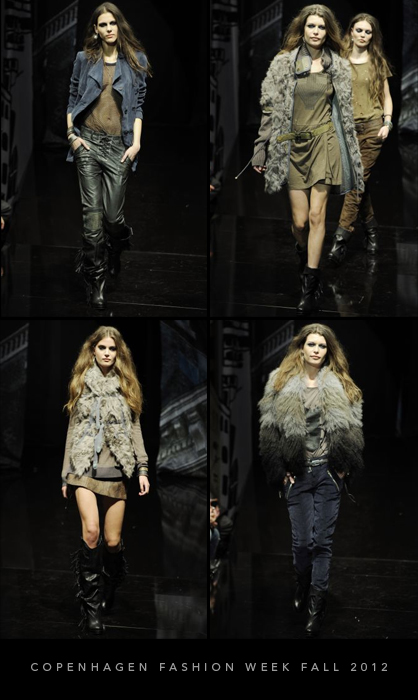 LadyLUX via Copenhagen Fashion Week
It's an exciting season for Munthe and not just because of the cool collection. Alongside the ready-to-wear, she will also be launching a leather shoe and handbag collection that complements her edginess. So yes – that means the fringe boots are for sale.
This article was contributed by Annette Tang of the VersaStyle. You can follow Annette and her fashion adventures on Twitter at @theversastyle.
Tagged in: runway, fall, fall 2012, copenhagen, ready-to-wear, copenhagen fashion week, naja munthe, munthe plus simonsen,