Copenhagen Fashion Week Spring 2012: Munthe plus Simonsen
Since its inception in 1994, award-winning Danish design label Munthe plus Simonsen has delivered four amazing collections each year, made its designs available in 11 countries, and opened three image stores, including a Copenhagen location that places it on the city's best shopping list. Head designer Naja Munthe takes meticulous care in selecting each color and material she uses.
For Spring 2012 at Copenhagen Fashion Week, Munthe experimented with fringe, fur, neutral tones with pops of pink, watercolor ombre effects, and layers of scarves and bolo ties for a modern cowboy-meets-Indian-inspired collection. Models strutted the runway in various looks kept cohesive when styled with knee-high fringe boots, bold pink accented eyebrows and Western accessories.
Dresses in the collection went from boxy shift styles embellished with square studs or belts, to slouchy jersey looks and flowing maxis. Some standout dress numbers included a tan wrap-dress paired with a long white fur vest and completed with tan fringe boots, and a short, hot pink ensemble made flirty with layers of fringe.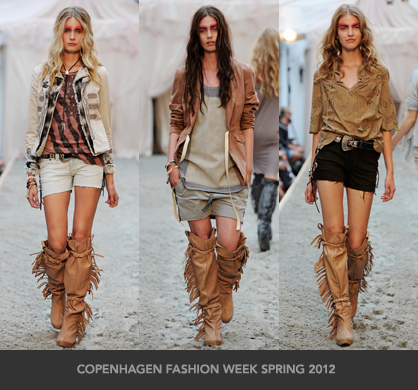 LadyLUX via Copenhagen Fashion Week
Of course, no Spring collection would be complete without shorts. Munthe plus Simonsen's shorts were longer and baggy than the runway has seen in seasons. The relaxed fit boyfriend shorts featured perfectly frayed denim pieces belted with Western buckles or clean khaki drawstring options. Shorts were styled with easy, loose-fitting tops, often matched with cardigans or draped jackets to create effortless looks.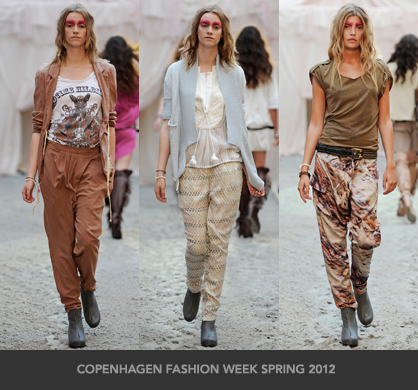 LadyLUX via Copenhagen Fashion Week
Exhibiting a relaxed style, loose trousers in solid browns and expressive prints made their way down the runway. Watercolor prints were made tough with a cap sleeve T-shirt and boots, while pants were paired with printed tees and cardigans.
Munthe plus Simonsen's stylish yet effortless Spring 2012 collection can easily go from runway to street in a heartbeat.
This article was contributed by Annette Tang of the VersaStyle. You can follow Annette and her fashion adventures on Twitter at @theversastyle.
Tagged in: fashion week, spring 2012, runway, copenhagen, copenhagen fashion week, danish, denmark,