Holiday Entertaining Tips and Red Velvet Recipe From Cornelia Guest
With Christmas dinners and New Year's Eve parties just days away, many of us are finalizing plans for what to serve, how to decorate and how to stay sane through the holiday season. Cornelia Guest, an entertaining expert, author, socialite, philanthropist and newest celebrity contender on Food Network's "Rachael Vs. Guy," shares her tips for special touches and favorite dishes to help get through the crunch. Still searching for a show-stopping dessert? We've got three words for you: red. velvet. cake. Try Cornelia's decadent recipe below!
LadyLux: What was the last great party you went to and what was great about it?
Cornelia Guest: Bruce Weber's birthday weekend for his wife Nan Bush. We had beachside dinners and concerts, lunches – it was non-stop festivities, fab food, drinks and great friends.
LL: Any tips for setting a festive table?
CG: Anything from outside: holly, pinecones, different greens and lots of gold and silver.
LL: Other decorating touches to liven up the party space?
CG: I love using Mother Nature and greens smell so good. Don't forget the mistletoe! I also have a stuffed Santa that I put next to the tree. I just pray every year the dogs don't eat him!
LL: What are your biggest crowd-pleasers for the holiday?
CG: Pink Champagne—everyone loves it. It's fun and festive and you can find some very good affordable ones.
LL: What are you excited to serve this year?
CG: I'm looking forward to making a squash soup…and I grew the squash.
LL: How do you go about putting together a menu? Any guiding principles for an indulgent yet well-balanced holiday meal?
CG: I put menus together by going to farmers' markets and seeing what's available. I like to use as many local seasonal things as I can and it keeps the cost down. Also, grains are affordable, delicious, versatile and make great leftovers. You can also freeze them.
LL: Entertaining is a joy—and sometimes hugely stressful. What do you do to make sure you stay relaxed and have fun at your own party?
CG: Don't get in over your head with crazy recipes that are complicated and time consuming. And if you're going to be in the kitchen, put a bottle of champagne in there and have cocktails!
LL: And tips for guests - What are the best things to bring the hostess?
CG: Cornelia Guest Cookies and I love live plants and a donation to your local animal shelter.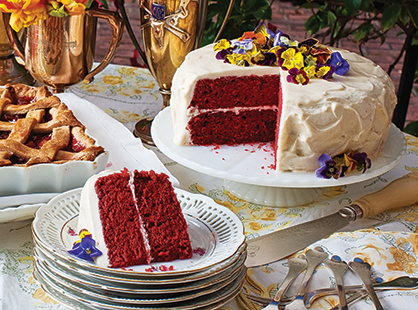 Cornelia's Red Velvet Cake
SERVES 8
ACTIVE TIME: 20 MINUTES
TOTAL TIME: 1 HOUR
When in doubt, serve red velvet cake. Anytime, anywhere-everyone loves it. I like to under bake my cakes. I take the pans out of the oven five to ten minutes early, because the cake continues to bake while it cools and can lose moisture.
FOR CAKE BATTER:
3 ½ cups whole wheat pastry flour
1 cup cane sugar
2 teaspoons baking soda
1 teaspoon sea salt
2 ½ teaspoons cacao powder
2 cups hemp milk
2/3 cup canola oil
3 tablespoons red food coloring
2 tablespoons distilled white vinegar
1 tablespoon vanilla extract
FOR BUTTERCREAM FROSTING:
1 cup Earth Balance "butter", at room temperature
5 cups confectioners' sugar
2 tablespoons vanilla extract
4 ½ tablespoons hemp milk
1. Preheat oven to 350ºF. Lightly oil two 8-inch round cake pans.
2. To make the batter: In a large bowl, combine flour, sugar, baking soda, salt, and cacao powder. Create a well in the center, add milk, oil, food coloring, vinegar, and vanilla, and mix until thoroughly combined.
3. Divide cake batter evenly between oiled pans. Place pans in the middle of the oven spaced evenly apart. Bake for 25 to 30 minutes, rotating halfway through. When the cakes pull away from the side of the pans and a toothpick inserted into the center of each comes out clean, they are ready.
4. Let cakes cool for 10 minutes in the pans, then run a knife around the edges to loosen them from the sides. Invert one layer onto a plate and then reinvert onto a cooling rack, rounded-side up. Do the same with the other layer on another part of the rack. Let cool completely.
5. For the frosting, with an electric hand or stand mixer, cream the Earth Balance "butter" until it is smooth and begins to fluff. With the mixer on low speed, add confectioners' sugar and fluff for another few minutes. Add vanilla and hemp milk. Combine well, then beat on high until frosting is light and fluffy, 3 to 4 minutes. Add 1 or 2 tablespoons more milk to achieve the right consistency. Cover the icing with plastic wrap to prevent it from drying out until you're ready to use. Rewhip before using.
6. To frost cake, place one layer, rounded-side down, on a plate or cake stand. Using a palette knife or offset spatula, spread some frosting over the top of the cake. Carefully set the other layer on top, rounded-side down, and repeat. Cover entire cake with remaining frosting.
Yum! Discover more of Cornelia's delicious, cruelty-free recipes in her new cookbook, "Simple Pleasures: Healthy Seasonal Cooking and Easy Entertaining," and catch her in action as "Rachael Vs. Guy" returns for its second season on Sunday, January 6th. She'll be going head-to-head with celebrity contestants including Dean McDermott, Johnny Weir, Gilbert Gottfried and Chilli for bragging rights and $50,000 for a favorite charity. Don't miss it!
Tagged in: recipes, holiday, cooking, holiday 2012, decorating, parties, new year's eve, cornelia guest, simple pleasures, rachael vs guy,