Craig Van Den Brulle debuts Delaunay pieces
Craig Van Den Brulle, the owner of Capitol Furnishings in New York City, is working on a personal collection of cutting-edge designs.
There are only three pieces – a mirror, a chair and a table – to his newest collection, which is called Delaunay and will debut in spring.
It's much different from anything Van Den Brulle has done before, especially when it comes to the manufacturing process. All of the pieces are computer generated, he said, using 3-D software.
"This is the most complicated and most 'out there' line we've done," Van Den Brulle said. "(The pieces) are simple and bold in form, but they are more complicated."
The designer said he feels having a technological component is important to the future of modern home design.
He also believes that aesthetically, the line diverts from more classical references he has made in past collections.
"This just feels bolder. It feels very fresh and new," he said.
Van Den Brulle has completed the mirror and table; the chair is currently in the works.
The designer and owner got into home furnishings about 16 years ago, and since then, he's steadily worked his way to the top, turning his Nolita store into a shopping destination for urbanites. He boasts an A-list clientele, such as Tom Ford, Anna Wintour, Oprah Winfrey, Gwyneth Paltrow and Kate Hudson. As time goes on, the collector is hoping to focus more and more on his own designs.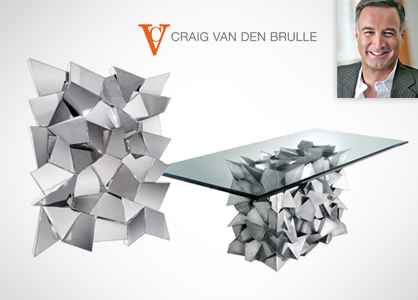 The Delaunay Chrome Mirror and Delaunay Steel Dining Table are currently on his website. He is only creating 15 of each finish of each design. All pieces are available now for purchase.
For prices, contact Craig Van Den Brulle at (212) 925-6760.
Tagged in: lux exclusives, new york, new york, home, design, craig van den brulle, nolita,