Del Mar Races 2011: Hats off to Opening Day
On Wednesday, July 20, the 72nd season of the Del Mar Horse Races took place "where the turf meets the surf": the Del Mar Thoroughbred Club. Whether attendees took a train, a plane, or a car, a record-setting more than 46,500 race fans turned out to take part in one of the most sought-out San Diego celebrations, reported the San Diego Union-Tribune. A true example of how San Diegans celebrate their city, Del Mar was filled with big bets, fast horses and unforgettable fashion.
The main Del Mar tradition has never changed – betting on beautiful horses and winning big money. Two winning horses, Mr. Commons with jockey Mike Smith and Eye on Jacob, were favorites among the crowd, and two female jockeys, Chantal Sutherland and Kayla Stra, both caught guests' eyes after each winning a race.
At the exclusive Turf Club and Coors Light Party, guests mingled with fellow San Diego socialites. Over the years, Del Mar has attracted many Hollywood starlets and television celebrities, such as "OC Housewife" Lynne Curtin and "The Bachelorette" couple Ali Fedotowsky and Roberto Martinez, who help make Del Mar more popular each year.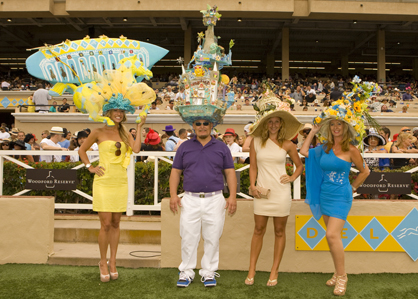 via Bailey Gardiner
The most anticipated tradition, however, is the One and Only Truly Fabulous Hats Parade and Contest, presented by San Diego Hat Co. Entrants were judged on the creativity and style of their hats by a panel of judges in four categories: Best Racing Theme, Funniest or Most Outrageous, Most Glamorous and Best Flowers. Winners received a cash prize and gift certificate to San Diego Hat Co.
First place for Best Racing Theme and the grand prize went to a gigantic turf-and-surf-themed hat decorated in yellow and blue, Del Mar's signature colors. Featuring a horse framing the front in an argyle pattern, this hat showed off a surf board painted with horses at the starting line, with large blue and yellow ribbons tied to the front. The other winning hats displayed a sandcastle, a bird cage, and a garden of sunflowers and blue daisies.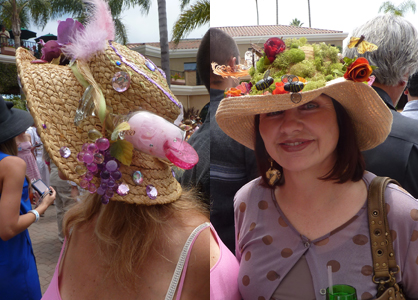 via LadyLUX
Many hats took a great deal of effort to create. Kathleen Goldman of San Clemente showed off her pink champagne-inspired hat, which boasted adorned jewels, mini plastic champagne glasses and flashing lights.
"I'm a pink champagne kind of girl. I am entering the hat contest. It took me two days to make it. I added jewels and lights on the side that I will turn on just for the contest," she explained.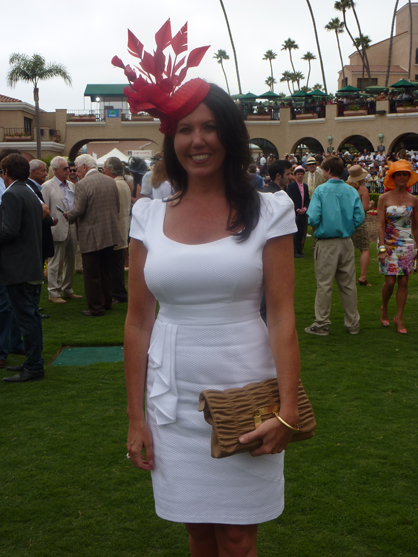 via LadyLUX
Sporting suits, jackets and slacks in funky patterns and colors such as argyle and paisley, even men took part in the Opening Day fun by wearing their best summer finery, dressing themselves in classic fedoras, leather dress shoes, loafers and top siders.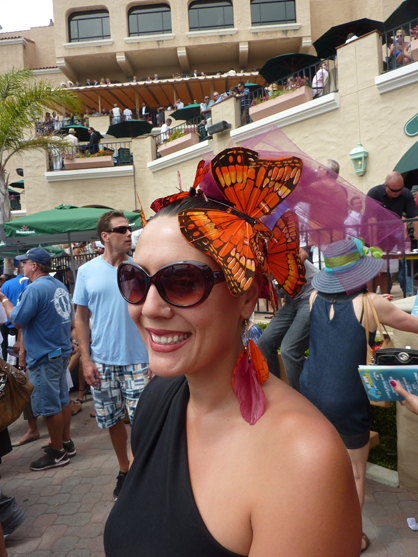 via LadyLUX
One popular hat trend this year was the fascinator, inspired by the hats often worn to royal weddings. These quirky headpieces were decorated with eye-catching ornaments including flowers, feathers, beads and butterflies. Some ladies kept it old school by sticking with vintage pillbox hats and petite headbands with a simple amount of adornment.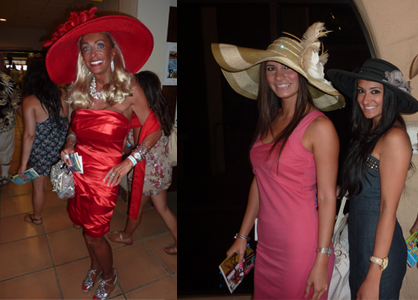 via LadyLUX

Although it has been a tradition for women to make their own hats, many women are leaving it to the experts to create their masterpieces. Independent designers and local hat companies such as San Diego Hat Co. and Del Mar Hat Co. with Carol Bader designs are options for women who want to look chic without expending much effort. Del Mar Hat Co. is so popular that it even creates hats for other major horse races, including the famous Kentucky Derby.
Taylor Miller of La Jolla has been attending the races for five years. For this Opening Day, she came in a red satin dress, red wrap and silver accessories.
"I love the gorgeous horses and their athleticism, but I'm always here for the fashion, of course," Miller said, whose red, oversized hat was made by Carol Bader of the Del Mar Hat Company.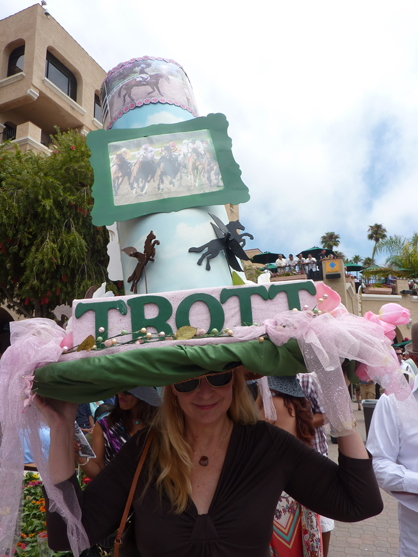 via LadyLUX
Some did not come just for the horse- and hat-watching. Susan Armenti and Bonnie Adams designed a hat to create awareness of an issue that not many racing fans think about. The two represent TROTT, "training racehorses off the track," which helps ex-racehorses find new careers.
"We evaluate, train and adopt horses. We like to come here and be a resource when horses retire," Adams said.
Armenti's hat was almost three feet tall and decorated with pinks ribbons, photos of horses, wooden horses that spun in the wind and large letters that spelled "TROTT" in front.
Throughout the day, socialites, race fans and the rest of San Diego's in-crowd brought each tradition to life with style. It is obvious that Del Mar is certainly the place to be on Opening Day.


Tagged in: lux exclusives, 2011, san diego, hats, del mar, fascinator, del mar races, horse races, hat contest, opening day,