7 Denim Trends to Try Now
Who doesn't love denim? If you're like us, you own way more than you ever wear. Well, to further crowd your overflowing closet or pique your interest in denim if you've managed to stay away, the denim industry has gone through quite a change in the last few years. They've found ways to keep us interested by introducing new finishes, coatings and offerings by high-end designers not necessarily known for their contribution to denim. Keep reading for some recent trends sure to keep you coming back for more.
Matching Sets
Many wonder if the denim-on-denim look is acceptable and if the past few seasons are any indication, the answer is a definite yes! Designer offerings range from active-inspired tees to hot-weather bralets to suits and capes. Monochrome pairings in deep and glossy separates keep the looks luxe and nothing like Britney Spears and Justin Timberlake at the 2001 MTV Awards. That was a definite "don't" and still hurts our eyes.
Career Denim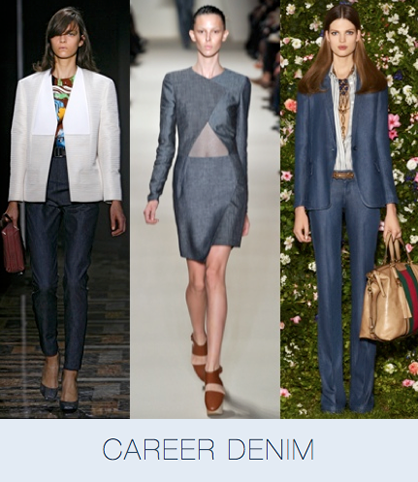 If you are fortunate enough to be able to incorporate denim into your work wardrobe, now is the time. A range of designers showed premium denim in classic shapes and styling in their Resort 2013 and Spring/Summer collections. The '80s were heavily referenced in sharply cut pantsuits to resemble power dressing along with wide, boxy options. Dark indigo washes received a glossy sheen to create an overall polished look.
Concept Cutting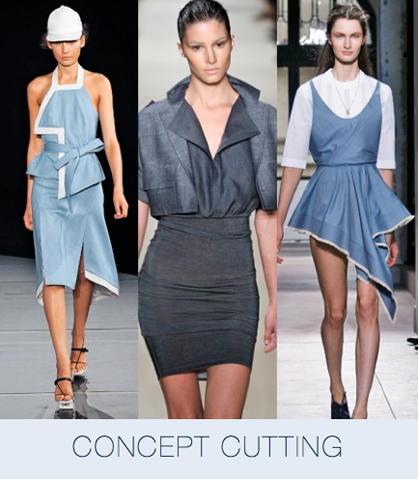 Fashion forward and directional items should appeal to a whole new segment of the market. These options move denim away from its original work-wear roots and allow for experimental and edgy looks. Keep the remainder of your ensemble clean so that the focus is on the interest of your denim piece and on you!
Tencel Tendencies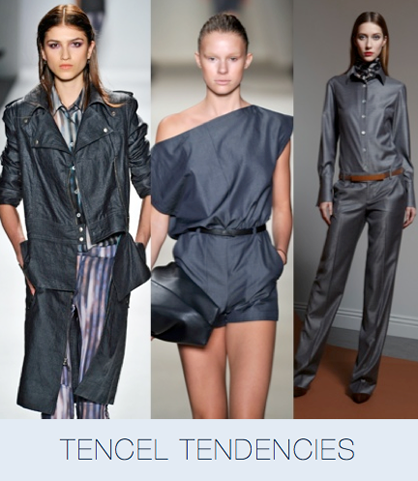 Tencel, a natural, man-made fiber known for its drape, results in a luxurious and refined look. The use of tencel in the premium market continued on the Fall 2013 runways. Its fluidity makes it well-suited for summer styling, while resin-coated and waxed twills create a structured silhouette for classic and directional pieces that maintain a sense of movement and comfort.
Raw Chambray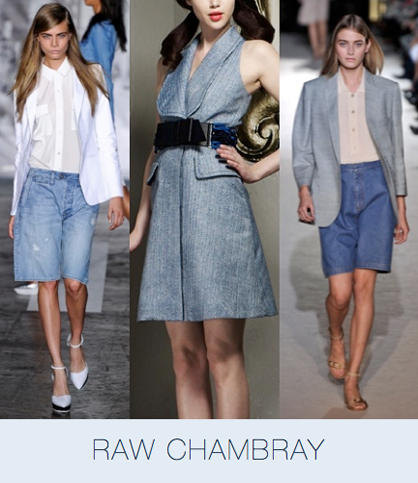 Raw chambray seems to be having a fashion moment, and we're getting flashbacks of the '80s. You can keep the look current by choosing pieces that are tailored, simple and easy. Chambray is a great neutral and pairs well with colors, prints and patterns. Premium fabric versions can elevate even the simplest of ensembles.
Color Blocking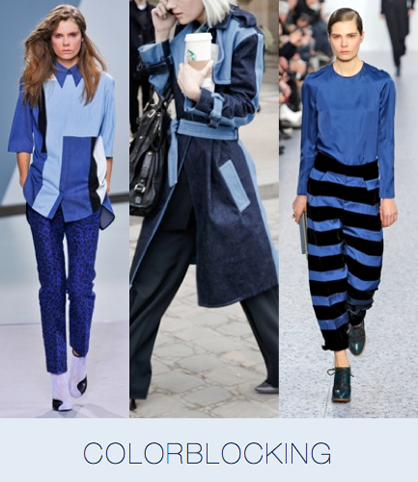 The popularity of colorblocking has officially seeped into the world of denim, as evidenced in these street wear snaps. The denim version of colorblocking emphasizes a sleek shape by using strong, graphic lines in asymmetric or linear patterns in contrasting tones and textures. The paneling or piecing technique appears in blouses, dresses, t-shirts and, of course, bottoms. For the extra daring, try pieces with leather, lace or woven inserts.
Quilted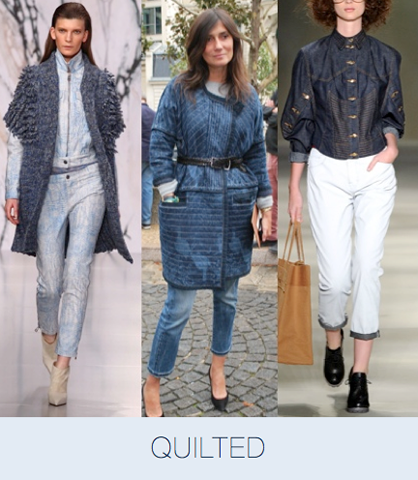 Quilted details are a great way to add visual interest to a denim wardrobe. The adventurous can choose an allover quilt effect as in the street style snap above, or choose subtle, localized patterns on a sleeve, collar or pocket. Just be sure to pay attention to the fabrication and keep the silhouette simple so that the quilting does not add unnecessary bulk.
Read more Denim Trends
Tagged in: denim, spring 2013, runway, jeans, resort 2013, colorblocking, chambray,