Designer Spotlight: Amber Farr from Flynn Skye
For designer Amber Farr, simplicity equals less problems. Her unique line of sophisticated yet adventuresome clothing, Flynn Skye, portrays this to a T.
"I believe in keeping everyone's life easy. From my pattern maker, sewer to my manufacturer … Work smart, not hard, when possible," she declared.
The inspiration – and the name – of the line came easy as well: from her offbeat daughter, whom Farr describes as "the most magical, free spirit I know."
It was while working at Planet Blue that opportunity came knocking. Farr was designing a line named Blue Moon when given the chance to, as she claimed, "spread her wings," despite never having had formal design training.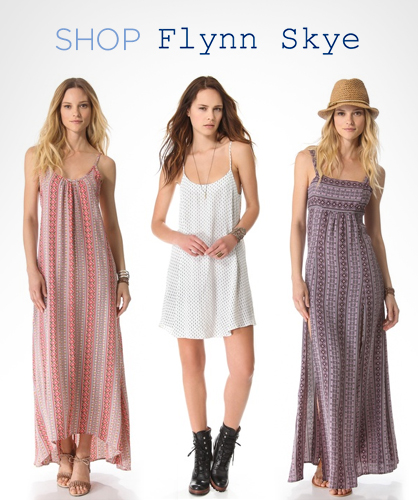 Coral Maxi Dress
Flowy Mini Dress
Bohemian Maxi Dress
She began to casually make items that struck her fancy, formally launching six months later in February. Success came quickly, forcing Farr to pump out three collections in four months.
She is proud of her success thus far: "Well I am sold out! I can't even get it to my friends or myself. I do own five pair of the perfect pants because they are my fav!"
Farr explains her aesthetic, declaring, "I develop it backwards. I try and think what will sell. Does it have hanger appeal? Is it something that is easy to wear?"
Anything can get her creativity ticking, from the color of the ocean to a grandma walking down the street. "When you are a designer everything becomes more visual," the designer explained.
Designing, believes the designer, is a dirty job. She likes to stick to jeans, Cons and a tee, although her faves from her latest collection include the striped backless dress and jumper.
"I design for woman," Farr maintained. "All woman. I mean does it work on everyone, no but I make sure my mom can wear it as well as my little muse bella hadid. She was 15 when she shot my lookbook."
Farr has her sights set on next Spring, with half the collection laid down and plans to add different textiles. "Rayon has been a staple, but for Spring I am going with cotton voile as well like Isabel Marant uses but at a lower price point. I am expecting the collection to be twice as big! Look out!"
Keep up with Amber and Flynn Skye by following them on Facebook and Twitter @FlynnSkye
Shop Flynn Skye
Tagged in: fashion, designer, designer spotlight, amber farr, flynn skye,