Designer Spotlight: Beth Richards
A two-piece or a one-piece? Designer Beth Richards has solved this beach-going dilemma with her self-named line of vintage modern swimwear. Able to double as a bodysuit, many of her classic luxe designs for Spring/Summer 2013 feature a super high waist, imparting the illusion of a one-piece swimsuit while actually more of a bikini.
Her absolute faves in the collection include the Maud top, a crop mock turtleneck look, and the Faye bottom, which features an extremely high waist that almost extends to the chest. But what really excites her about the collection is when her customers wear her designs away from a beach setting, choosing instead to style them as they please with the wardrobe pieces they already own.
"Overall, I felt the marketplace had been missing something classic yet forward. I wanted to offer women a choice. My customer is confident and modern and might want some coverage and still look fashionable," Richards said.
To design her classic, vintage looks, Richards went back to the basics. Her suits, mostly a sleek monochrome black with the occasional white accents or lace inserts, are inspiration by bygone decades and statement-making iconography, such as the cross featured in her "Large Cross" piece, a full-piece suit with a contrasting vertical stripe and mesh waist.
"I think it offers women a choice of finding something a bit more interesting to wear at the beach or pool," Richards explained. "A suit that they will feel great in that will stand the test of time."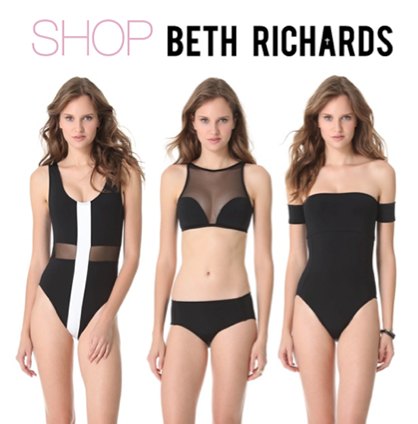 Cross Stripe One Piece
Mesh Trim Bikini
Off The Shoulder One Piece
From a young age, Richards exhibited signs of her future fashion career. She adored dressing up and experimenting with sewing. Today, her feelings haven't changed. "I love my job. I love the challenge of reinventing yourself each season," she declared.
It was a natural choice to attend Toronto's International Academy of Design and, after graduating in 1999, spend the next 14 years working with a range of top Canadian fashion labels. Her first swimwear line, released in Spring/Summer 2012, was quickly snatched up to sell by luxe e-tailer Net-A-Porter.com.
As a Toronto native, Richards has her swimwear manufactured in Canada. Functional as they are luxurious, the line is made of quality stretchy Italian polyamide and elastane that are resistant to oils, lotion and sweat, plus protect against UV rays and are resistant to chlorine.
In her Spring/Summer 13 collection, she added a rose hue to her basic black and white looks, as well as a dash of femininity with stretch floral lace. The nature of the tops and bottoms, especially the crop top, lends itself to well to mixing and matching – even if the wearer is not headed toward the nearest pool.
Experience all of Beth Richards' luxurious designs at bethrichards.com.
Tagged in: swimwear, spring 2013, summer 2013, swimsuit, bikini, beth richards, spring summer 2013, two-piece,