Designer Spotlight: Heidi Merrick
Los Angeles based designer Heidi Merrick personifies the easy breezy lifestyle of the California girl. Rooted in the downtown fashion district, Merrick's chic studio space is the birth place of her Spring 2013 collection. A mix of simple yet elegant pieces, the line features loose silhouettes and organic shapes, with a combination of black and white prints and vibrant hues.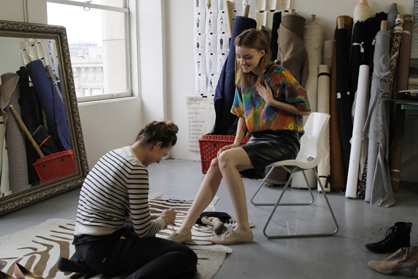 Heidi Merrick's LA Studio
Born and raised in the surf culture, Merrick was the type of girl to rip clothing, wear it backwards or dye certain sections. "The first thing I was really inspired to design and execute was my wedding dress. I've been designing since then," Merrick tells us.
The designer's line exemplifies a free-spirited quality. "I love to look at the way people dress when they aren't thinking about it, whether that means super obvious ensembles or absolutely mismatching." Influenced by the west coast atmosphere, Merrick says, "I'm always trying to bring a feeling into the collection. Sometimes it's the beach, sometimes it's a sun drenched room."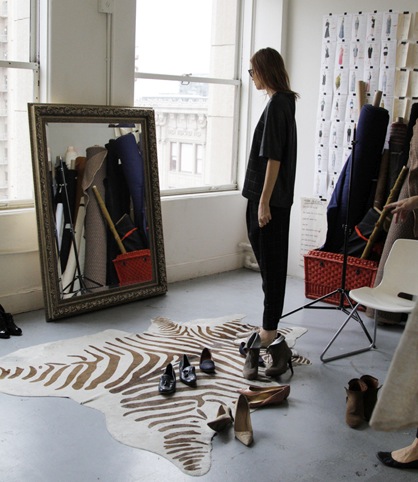 Heidi Merrick's LA Studio
Her Spring 2013 collection was inspired by her last summer on the beach. "It was my entire family and friends at our usual place drench in tar, seaweed and surf. The prints feel very California, central coast to me. I tried to dress down the silhouette with pieces that you would feel just as comfortable walking on the beach or dancing somewhere posh."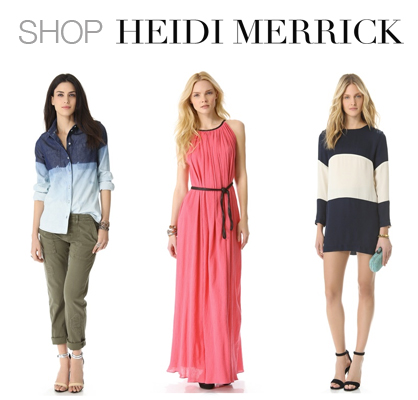 Heidi Merrick | La Paz Shirt
Heidi Merrick | Saki Maxi Dress
Heidi Merrick | Railroad Dress
So what's next for Merrick and her brand? For Spring 2014, the designer is focusing on less body conscious silhouettes and more flowing pieces. "I'm always pushing the collection to be more cool and more luxe." She also hints at some exciting collaborations in the very near future.
Experience Heidi Merrick's California lifestyle for yourself at heidimerrick.com.
Tagged in: clothing, interview, california, collection, spring 2013, women, women, designer spotlight, heidi merrick,