Designer Spotlight: Iris von Arnim
Iris von Arnim is known as the queen of cashmere. And with good reason. Her range of sophisticated cashmere items, from coats to knits, is understated yet timeless. For Fall 2013, the designer experimented with jewel-toned, stone-washed cashmere, stunning hand knits and adventurous patterns, reworking them into polished trapezium, egg and peplum forms to enhance a woman's form and emphasize her femininity.
"The collection is inspired by the woman of the twenty first century, her emotions, fears, the travels that thrill her. When designing I asked the question of how can my collection accompany her in daily life," Iris von Arnim said.
Woven doubleface flight jackets are paired with flowing midi-length skirts to create an X-shape, reviving Edwardiana. Muted neutrals with elegant lines take the day, while eye-catching red, turquoise and violet, or bold patterns, are sure to turn heads. The line exhibits pieces that are both fitting and loose but remain, overall, contemporary and sophisticated.
"The brand is renowned for its distinctive cashmere ribs, cables and architecture and these designs are borne out of an unrivaled experience and thusly, are unmistakably hers. That is why an Iris von Arnim is, simply, peerless," the brand declared.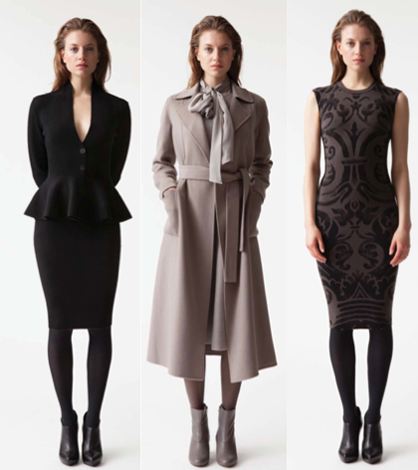 Founded in 1978 by von Arnim herself, today the label is known as one of the leading German brands of its generation. Von Arnim set out to redefine German fashion, and has, apparently, succeeded. Produced in Italy and Asia, the line is vended in more than 200 high-end boutiques and department stores around the world. Since the mid-1980s, the designer has focused on cashmere, which remains at the heart of all her designs today.
"Cashmere is not endlessly reproducible. From the bottom half of a cashmere goat, you only get two sweaters a year. Nothing is more beautifully soft than cashmere, and the colors in this rare and precious material are always more brilliant," the designer asserted.
As her material of choice is cashmere, von Arnim has come to express a deep understanding of the fabric. Using only the high-quality materials, her looks combine bold shapes and prints with playful details for a style that is classic yet modern; pieces that easily become staples that hang in your closet forever.
"Beauty doesn't scare me, it makes me happy," von Arnim noted. "People, landscapes, fashion, cars – everything that is beautiful I find inspiring. Beauty only becomes intimidating when you compare yourself to it."
The designer has been lucky enough to collaborate with Claudia Schiffer, who worked with the label to create her first line of cashmere designs. Von Arnim also fronts the biggest European designer competition, the Apolda European Design Award.
Von Arnim has made the decision to never turn her company over to outside hands. Since its beginning, the company has been family-run. She remains not just the main designer but also the entire heart of the company. In 2006, her son Valentin von Arnim was added to the management team.
Experience the entire range of styles at www.irisvonarnim.de/en.
Read more Designer Spotlight
Tagged in: designer, fall 2013, knitwear, designer spotlight, cashmere, german, iris von arnim,