eShakti E-tailer Offers Fully Customizable Clothing
The dress is cute, but the hemline is a little long. You like the shirt, but hate the Peter Pan collar. EShakti, a women's fashion e-tailer, has fixed your fashion dilemma. The website sells women's apparel that is customizable for the perfect fit – and the perfect style.
Shopping online can be convenient, and it can be full of hassles, especially when it comes to fit and sizing, the top concerns for women buying clothing on the Web. EShakti claims to guarantee a perfect fit, no matter what you are buying. While retailers offer a range of sizes, lengths and fits, eShakti offers true fit paradise with customizable options such as sleeve type, hemline length and neckline choice, in addition to sizing options.
Express your unique style while receiving a garment that perfectly suits your individual body shape. With its easy digital measuring tools, within a few mouse clicks, you are on your way to creating your own piece of flattering apparel in minutes.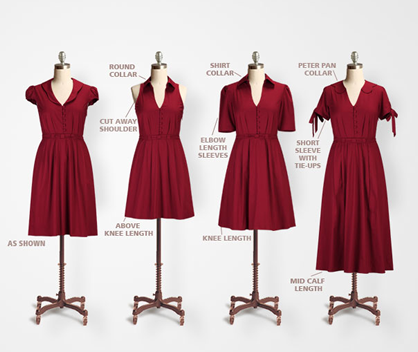 via eShakti
"It is our understanding that the majority of American women don't get their size, let alone their preferred style, and hence there is a gap between demand and supply … Brands tends to spec and cut their clothes differently. Some use 'vanity' sizing. One brand may have a younger or slimmer fit, while another a missy or fuller fit," B. G. Krishnan, CEO of eShakti, said.
Beyond a simple custom house, the shopping destination offers a range of trendy, current fashions, claiming to feature distinctive styles using high-quality fabrics that boast unique details. Its website caters to women of all sizes, vending size selections from 0 to 36W.
"We like to say that we are in the business of real fashion for real people," Krishnan asserted. "At eShakti, you can customize your measurements and style preferences. Do you have a hard-to-fit shape and know that standard sizes won't fit? Do you like the design, but the neckline, sleeves or length do not work for you? EShakti addresses all of these – especially the size and fit areas – and we see that pretty much the majority of the market is interested."
Despite all the fancy features, eShakti is perfectly affordable, with its apparel selling for between $39.95 and $199. With quick turnaround, customers can expect to receive their garments in less than two weeks after placing their order, plus enjoy no questions asked returns.
Check out all the endless options at www.eshakti.com.

Tagged in: clothing, eshakti, women's apparel, e-tailer,