Fall 2011: Oscar de la Renta
From fur hats to tribal-print coats, the East was brought west in Oscar de la Renta's Fall 2011 show during New York Fashion Week.
One minute the styles felt very Eastern European—with dark tweed suits and crimson lips –then a moment later, a fur hat, bright red accessories and funky knits would take the stage, perhaps inspired by Russia's rural neighbor Mongolia.
Known for being the go-to gownmaker for the red carpet, de la Renta showed off a surprising number of separates during Wednesday's show.
It was all about details: Gloves, sequins, lace-up booties, strappy heels and chunky jewelry made each look stand out.
The color palette was very rich, showing off deep wines, emeralds, and brighter hues of green and blue.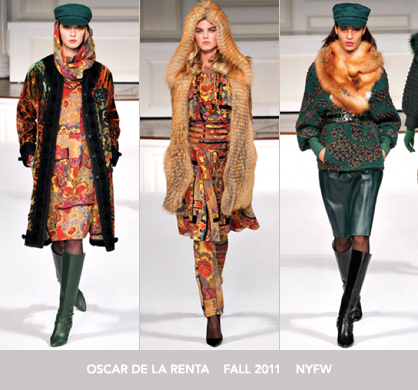 The collection was cohesive, yet it never failed to surprise. A sophisticated burgundy knit dress might be followed by an eccentric, printed-silk dress and rainbow-colored robe.
Sometimes mistaken for scarves, hoods were a big trend in the show, attached to sweaters, blouses and dresses, and tucked under caps. Hats were also huge during the beginning of the show, such as furry pillbox hats or conductor-type styles.
Although de la Renta mastered the art of the ensemble, he didn't disappoint when it came to eveningwear either.
Feather-covered flapper dresses, skirts piled in tulle and tight, off-the-shoulder numbers were just some of the hot looks that closed the show. A velour, animal-print, floor-length gown was sexy and see-through, and a magenta chiffon gown would be stunning to wear while accepting an Oscar. Wear an Oscar to the Oscars? Couldn't be more fitting.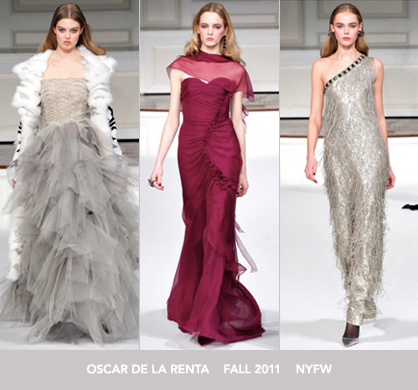 Tagged in: new york fashion week, runway, oscar de la renta, fall 2011,