Fall 2012 Trend Wrap-up from A-Z: Part 3
Lady LUX continues the Fall 2012 A-Z trend wrap-up with O-T!
O is for Olive. To add military vibes to a collection, olive green is the answer. The shade appeared in outerwear, dresses, tops and, unexpectedly, in monochrome suits. Olive brought interest to silks as seen in Gucci and Emilio Pucci while making Topshop Unique's reptilian skin tops even more edgy. Easily worn as a neutral and looking especially sharp against black, the traditional military hue is a major color for Fall.
LadyLUX via Style.com
P is for Pumps. Pumps from Spring 2012 continued to grow in popularity, especially single sole versions. Ankle straps and Mary Jane styles were prominent as were pointed toes. Designers added unique materials such as wood panels, vinyl and brocade for flair. Heels ranged from thin stilettos to sturdy, chunky shapes. Christian Dior introduced a fresh take with a squared toe version inspired by ballet slippers.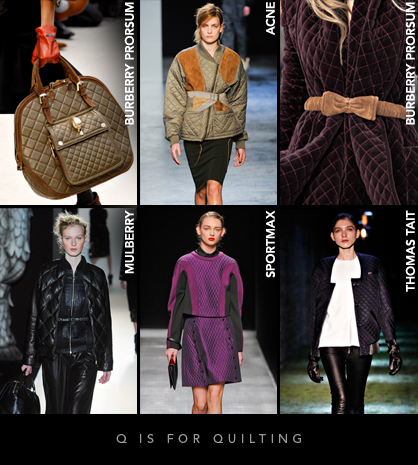 LadyLUX via Style.com
Q is for Quilting. In a season with an emphasis on protection, quilted fabrics emerged in outerwear, offering the comfort and warmth of a thick blanket. Designers gave diamond-patterns to velvet, leather and nylon for modernity. Skirt ensembles with quilted panels evoked sportiness while handbags were luxe as seen in Burberry Prorsum.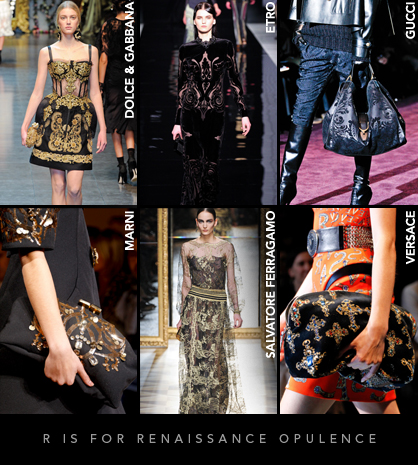 LadyLUX via Style.com
R is for Renaissance Opulence. Designers were inspired by the opulence of the Renaissance, particularly in the emphasis on embellishments. Dresses, gowns and handbags were embroidered with gold trims and elaborate beading, providing a lavish feel. Versace referenced the era with prints and adornments featuring the crucifix. Rich silks and velvets boasted intricate brocade patterns as seen in Etro.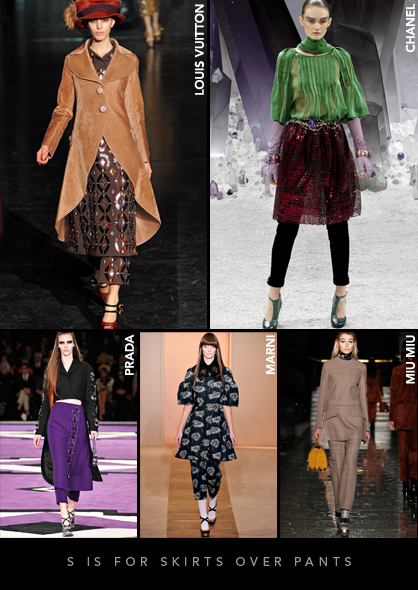 LadyLUX via Style.com
S is for Skirts Over Pants. Designers gave suits a makeover by adding an extra element: skirts. Long and short skirts were layered over pants and paired with jackets for the new tailored look. Ensembles featured either wide-leg pants or fitted styles in solids, tweeds and prints. Chanel's presentation focused on the new styling, offering everything from pleated chiffon versions to boucle numbers.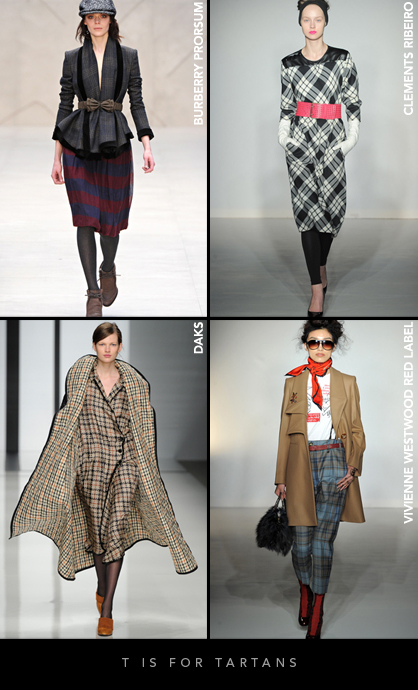 LadyLUX via Style.com
T is for Tartans. Tartans and checks were a bold presence on the runway this season. Oversized patterns brought life to conservative silhouette dresses and loose pants, and were often paired with solids. Designers such as Daks went all out with full head-to-toe matching ensembles while Burberry Prorsum's subtle option was paired with stripes. The nostalgic print was featured in black-and-whites or even brights.
Read more Fall 2012 trend wrap-ups.
Tagged in: trends, guides, footwear, accessories, color, apparel, chanel, fall 2012, burberry prorsum, fall 2012 trends, versace, christian dior, runway trends, etro, fall trend 2012 wrap up, dolce & gabbana, daks, trend wrap-up,