LUX Style: Two-Tone Details
It's been around for a while, but this season it's more popular than ever; two-tone looks are taking over retail stores and proudly displaying their multi-hued details in shoes, handbags, apparel and accessories. Creating an appealing juxtaposition, here are some of our favorite two-tone pieces.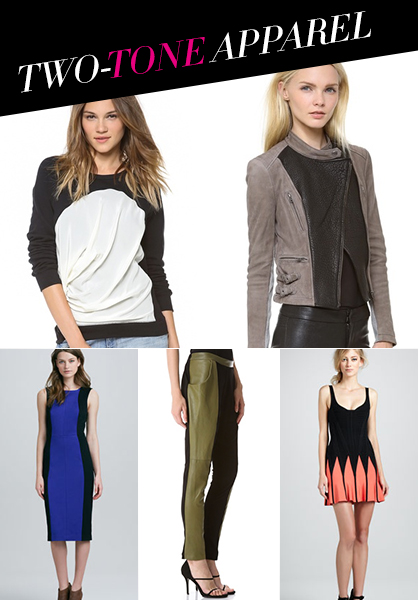 Herver Leger / Two-Tone Bandage Dress I Trina Turk / Two-Tone Dress
Yigal Azrouel / Two-Tone Leather Jacket I PJK / Two-Tone Sweatshirt
Ohne Titel / Slouch Leather Pants
Look to two-tone detailing this fall in dresses, tops and bottoms to create figure-flattering silhouettes and high contrast looks for visual appeal. Mixed materials and leather panels prove to be a common trend in two-tone apparel, along with using black as the anchor color. From structured jackets to laidback sweaters, this trend can be expressed in both casual and dressy ensembles.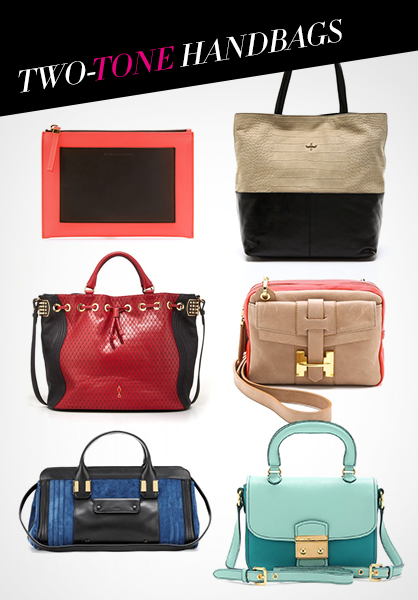 Balenciaga / Two-Tone Pouch I Miu Miu / Leather Two-Tone Handbag
Halston Heritage / Crossbody Bag I Chloe / Blue and Black Tote
Christian Louboutin / Quilted Bucket Bag I Pour La Victoire / Tan and Black Tote
This fall's structured and polished handbags get an updated twist with two-tone color combinations. In addition to black mixed with color, different shades of the same hue are also prominent. Day and evening clutches are not afraid to participate in the trend.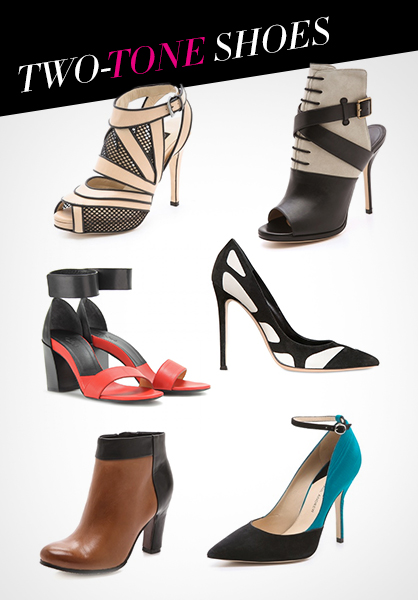 Gianvito Rossi / Black & White Pumps I Paul Andrew / Peep Toe Booties
Chloe / Ankle Wrap Sandals I Sam Edelman / Two-Tone Booties
Paul Andrew / Two-Tone Suede Pumps I Chrissie Morris / Black Net Heels
Take the trend to your feet this season with two-tone booties, pumps and sandals. Seen in high contrast black and whites, neutrals and with pops of color, this popular trend adds a modern touch to classic silhouettes. Look for velvety suede, sheer mesh and calfskin for an upgraded look.
Read more LUX Style
Tagged in: guides, dresses, handbags, shoes, lux style, pumps, two tone,