Neiman Marcus Fall 2013 Trends
Fall is quickly approaching and Neiman Marcus is back at it with its trend forecast for Fall 2013. Once again, the luxury department store has unveiled its top picks for this season's must-have trends in footwear, accessories, colors and themes.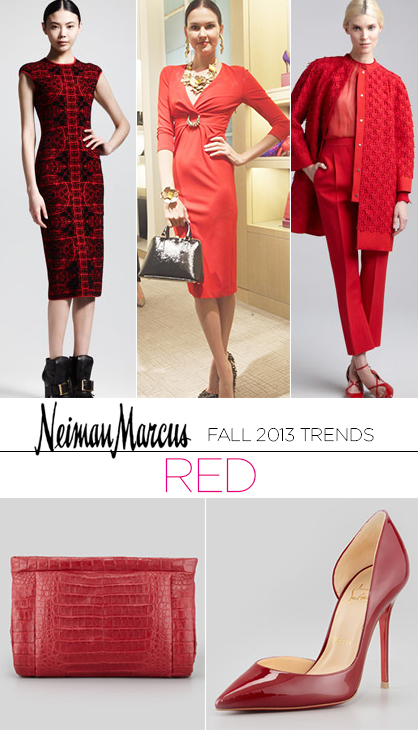 Alexander McQueen / Knit Sheath Dress
Valentino / Lace Coat
Nancy Gonzalez / Crocodile Clutch Bag
Christian Louboutin / Red Sole Pump
Navy was last season's choice for the new neutral, but this year, a more vibrant and classic shade is taking over: red. While this color may typically stand alone, that's not the case this season. Don't shy away from mixing prints with a red heel or clutch; instead, embrace it as a neutral and layer away. Whether pairing red with animal prints or choosing a unique pattern, it's all about changing it up.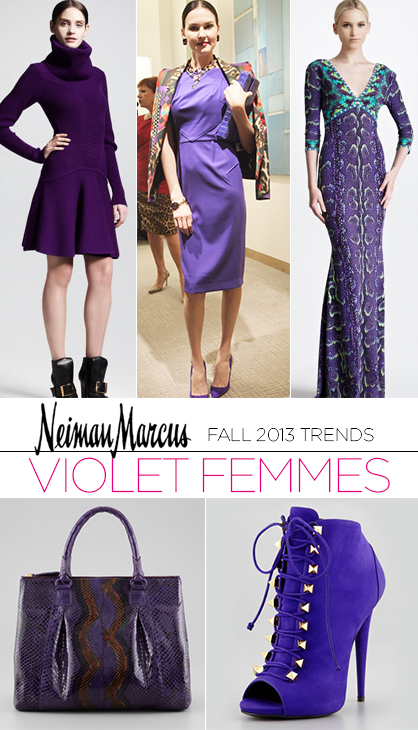 Alexander McQueen / Knit Snood Dress
Roberto Cavalli / Snake-Print Gown
Nancy Gonzalez / Python & Crocodile Tote
Guiseppe Zanotti / Lace-Up Bootie

Another color trend is shades of violet. It's going to be all about the richer side of the purple palette. Colors like oxblood, merlot and eggplant will be the hottest shades to wear. Sport the tone from head to toe using a single hue of violet or by combining different shades. Chic booties and a tote bag are both great ways to incorporate the color into your outfits.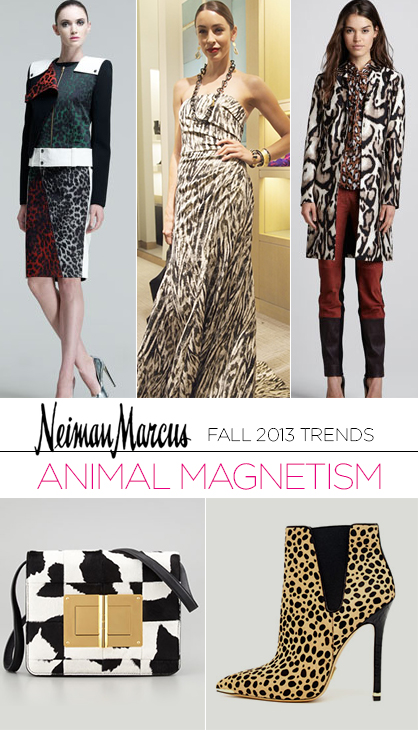 Roland Mouret / Leopard-Jacquard Jacket
Diane Von Furstenberg / Leopard Coat
Tom Ford/ Calf Hair Clutch
Michael Kors / Calf Hair Booties
Animal prints are here to stay, and that's no exception for Fall 2013. Leopard print is always a classic pick, but other prints such as cheetah, zebra and dalmatian are popping up. A common theme for this season is mixing and matching, especially with various styles of animal prints. An ensemble of prints is a perfect way to wear the trend. Pair a coat in a chic leopard print with a calf hair clutch for some true animal magnetism.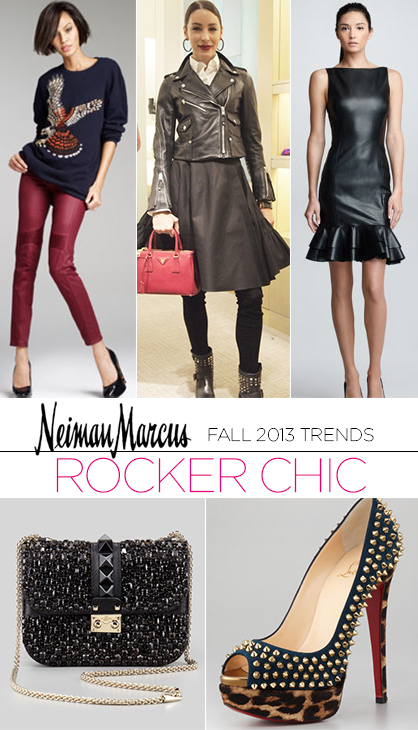 Stella McCartney / Knit Sweater
Ralph Lauren / Ruffled Leather Dress
Valentino / Crossbody Bag
Christian Louboutin / Spiked Leopard Print Pump
Rocker chic is a feminine spin on the classic rock look. The theme still incorporates the classic leather jacket, but combines it with more ladylike pieces. You can still wear beaded dresses, skirts and pumps while rocking a tough accessory, like spiked pumps or a crystal bag. Mix it up with jackets and venture into colored leather in shades of red and violet.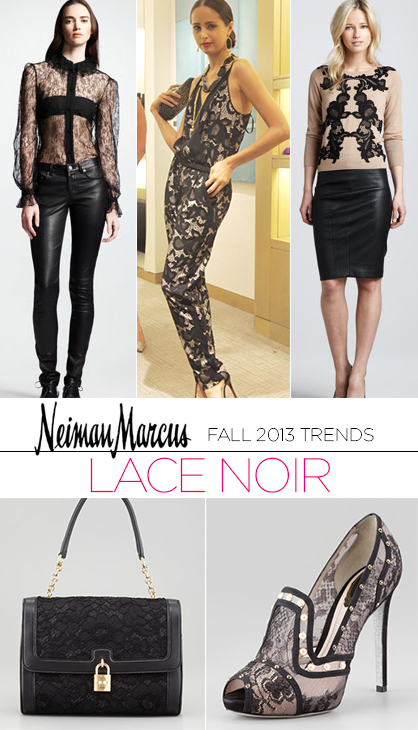 Saint Laurent / Long Sleeve Lace Top
Diane Von Furstenberg / Lace-Print Sweater
Dolce & Gabbana / Lace Shoulder Bag
Rene Caovilla / Stud Lace Loafer Pump
Lace noir is going to be a big contender for Fall. This theme specifically showcases black lace, often patterned over a white or nude material. Lace will be everywhere this season from menswear-inspired shoes to clutches. More classic examples include sweaters and blouses.
Read more Fall 2013 Trends

Tagged in: trends, neiman marcus, dresses, handbags, shoes, fall 2013, lace, animal print,