Fall Couture 2012: Christian Dior
It was the moment the industry has been waiting for: Raf Simons' debut collection at Christian Dior. The Fall Couture 2012 show was a spectacle witnessed by colleagues including Alber Elbaz, Marc Jacobs, Olivier Theyskens, Riccardo Tisci, Kris Van Assche, Diane von Furstenberg and Versace, as reported by Style.com.
Simons did what he does best, which is to create clean, modern looks with a lot character. His version of modern isn't edgy, but refined and intelligent. With the same brilliance he had in Jil Sander, Simons reinvented Dior, starting with couture. The collection projected a whirlwind of dresses, gowns, skirts and peplums in red, blue, black, grey, bold yellow and, in a carryover from his last Sander show, pale pink.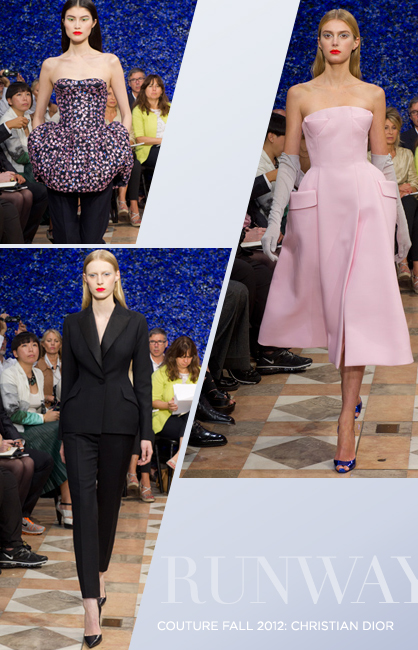 Volume was key with Simons' dresses, which ranged from midi to floor length. In either case, bodices were fitted and juxtaposed with skirts that flared out at the waist. One particularly striking look presented a long-sleeve mesh shell contradicted with a full skirt detailed all over with floral appliqués – a Dior obsession. Simons crafted similar versions with corset bodices in inky red or yellow watercolor prints.
Peplum tops found the same dosage of volume as the skirts of the dresses did. There was nothing subtle about the peplum looks that could have been mistaken for mini ball gowns. Simons combined the style with black cigarette pants to balance the volume.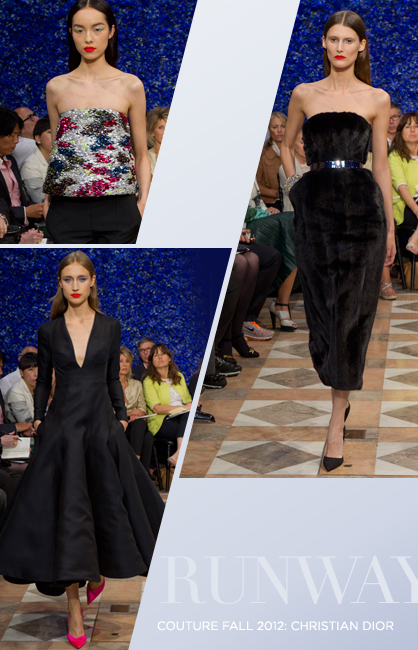 His other balancing act was the slim-fitting dresses that went just past the knee. They were polished and chic, often belted at the waist and accessorized with a thick choker.
While there were a handful of potential red-carpet looks, two dresses were definite winners. Simons' mermaid-style dress in unexpected yellow felt like a new kind of glamour, while a red bustier A-line was classic.
Without a doubt, the upcoming Spring collection will continue to draw curiosity from the industry. What will Simons' first ready-to-wear Dior collection bring?
Tagged in: paris, runway, christian dior, fall couture, couture fall 2012, couture collection, raf simons,