Fashion expert Tim Gunn shares styling tips for Fall
On Sept. 24, fashion guru Tim Gunn appeared at the Fashion Valley Mall in San Diego, Calif., to teach guests how to make their wardrobe work with Fall fashion tips.

To get ready for the autumn season, Gunn hosted a Fall 2011 runway show that showcased collections from Kate Spade New York, Lucky Brand and Juicy Couture.

Gunn is famous for being the co-host and on-air mentor of "Project Runway," but also serves as the chief creative officer for Liz Claiborne Inc. As a personal style cheerleader, he has published two books detailing how to learn and love to create your own style.

Several hundred guests attended the show, eager to hear the advice that Gunn had to share about Fall style, fit and proportion.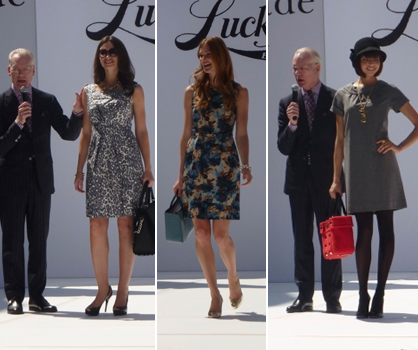 via Marisa Machak
The show kicked off with Kate Spade New York, with key looks such as ladylike tailored dresses, cropped ankle-length slacks, embellished sweaters, thick pea coats and black polka-dot suit separates. One coat that particularly popped was a magenta pea coat with a high neckline.

Gunn discussed how to choose the perfect floral print and the importance of learning to wear suit separates with other pieces, declaring suits are not just for the office. The pieces were paired with high-heeled pumps and booties, handle bag purses and briefcases, black brimmed hats, and dark sunglasses.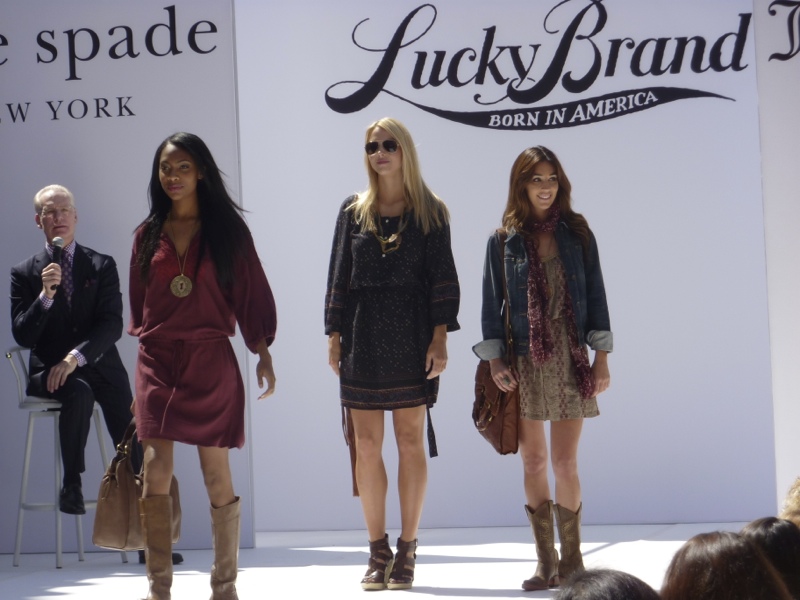 via Marisa Machak
Lucky Brand was next up and featured new denim trends. Making an appearance on the runway were '70s wide-leg trousers, dark skinny jeans perfect with boots, long-sleeved drawstring dresses paired with a denim jacket, and long maxi skirts. Models' looks were finished with chunky, beaded necklaces; leather hobo bags; cowboy boots; and wedge heels with multiple straps.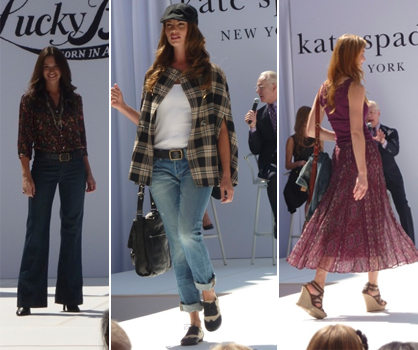 via Marisa Machak

The trendiest Lucky look was an ensemble with black and cream capelet, a newsboy cap, oxford flats and cuffed jeans. To Gunn, a capelet is a piece that can be worn both day and night. The fashion expert also emphasized how cropped jeans are intended for "women with a long and lean figure only."

During the Lucky exhibit, Gunn also imparted some tips for men, including how to find the perfect-fitting jean, when to wear a scarf, and to always have a dark suit on hand.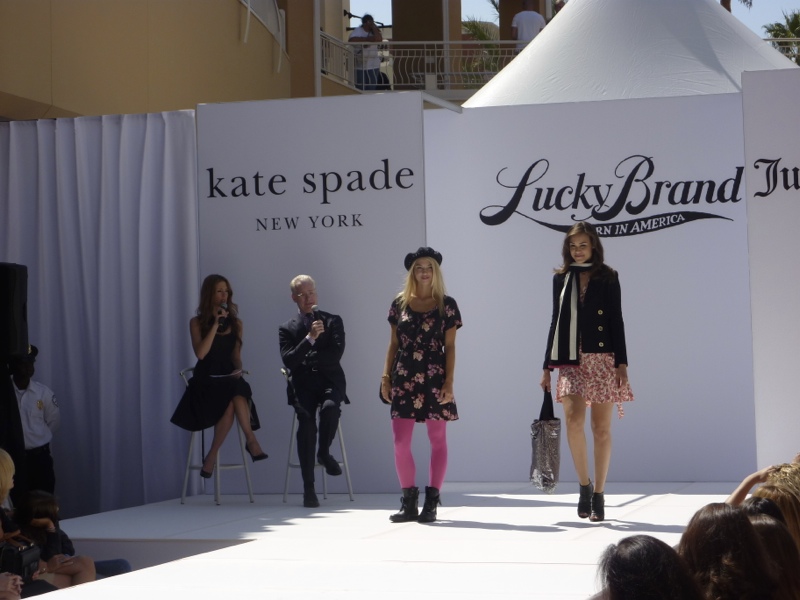 via Marisa Machak
The remainder of the show was filled with Juicy Couture creations. Pink was everywhere: There were pops of pink such as hot pink tights worn with combat boots and pink floral printed skirts and dresses. Many other coats, faux fur sweaters, lace dresses, basic black leggings, puffy vests and blazers also offered the signature Juicy style.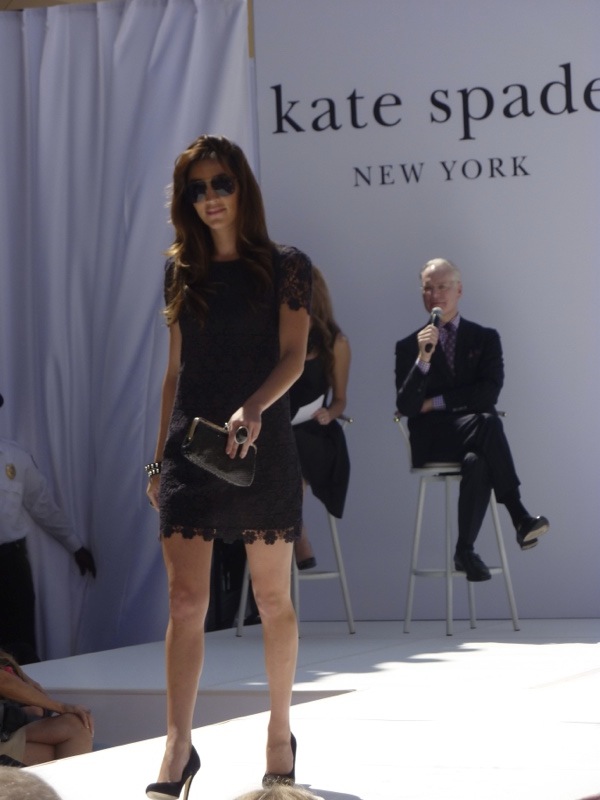 via Marisa Machak
One dress that stood out was a mini black lace shift dress, effortlessly glamorous and paired with dark shades and black pumps.

After the runway show, Gunn held a Q&A session to answer attendees' style and "Project Runway" questions. Guests' questions touched on personal style, new trends and fit. One audience member asked whether Gunn agrees with the decisions of the "Project Runway" judges. He replied, "All the time! But not on the last episode ... it was time for Olivier to go!"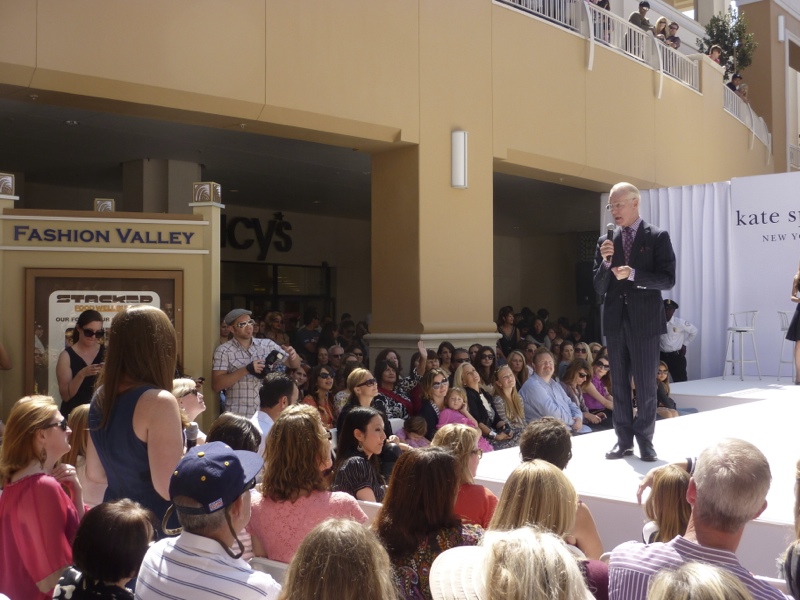 via Marisa Machak

After the Q&A, guests were invited to an after-party to receive gift bags and have their picture professionally taken with Gunn, should they have spent $150 at the Kate Spade, Lucky Brand or Juicy Couture store.

San Diegans got the great opportunity to receive autumn fashion advice from one of the top fashion experts of the industry--and surely they left with the best knowledge of how to "make it work."
Tagged in: lux exclusives, fashion, fall, juicy couture, san diego, kate spade new york, tim gunn, lucky brand, fashion valley mall,