Fashion photographer Anne Menke releases new book, 'See the World Beautiful'
As fashion photographer Anne Menke was putting together her new book, which officially arrives in stores this month, she spoke with her Art Director, Andrew Egan, about her artistic vision and personal outlook. "He said, 'How do you see the world?' and I was like, 'I see beautiful, I look always for beautiful things.' This explains everything that I do," Menke recalls. And with that, she had her title. "See the World Beautiful," a book of photography documenting her search for beauty across numerous countries and cultures, presents her most classic shots from the last fifteen years of her career.
After traveling the globe as photographer to some of the biggest designers in the industry, shooting the iconic Sports Illustrated Swim issue and seeing her spreads in everything from Vogue to The New York Times along the way, Menke has developed her own aesthetic that comes across in everything she touches. She credits this aesthetic to a wanderlust and sense of curiosity that has been with her since childhood.
As she began her career, she moved from her native Germany to Paris, ready to explore a new city and way of life. "I felt so great those first two or three years," she said. Yet, "by the time I spoke the language fluently, I realized that it is just the same, just in a different form." Eventually, she realized that French and German culture have more in common than not, and was ready to move on. After a stay in London, she landed in New York, which "was the first time I really met the big melting pot." For someone whose favorite thing to do is "meeting people and talking to people," NYC provided the diversity that inspired her.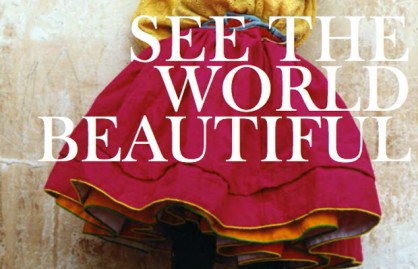 From there, she began to travel internationally in search of the perfect locations to shoot and gained renown for finding the most unique, striking locales. Even as she began making stops in places like India and Africa, Menke explains, "I picked always places that were a little bit more out of the way, where normally people don't go for fashion shoots, and through that I feel like we always got more exceptional things. You find very special things."
The more places Menke went, the more fascinated she became with the people and communities that she encountered. She began integrating the indigenous people and their traditions into her fashion shoots to create her unique style. Though the rarefied world of high fashion and the most remote people of South America may seem incompatible, she noted that designers are constantly drawing from other cultures for inspiration. Citing Comme Des Garcons and Hussein Chayalan in particular, Menke explains that whether it's a special knitting technique practiced in the Andes or the mood of a local festival in Mongolia, it's often the cultures that seem most foreign that generate the most interest for designers.
Her book, "See the World Beautiful," is the product of this realization. By fusing her composition skills with moments of personal connection, Menke has created a warm, revealing look at the many people and styles that have left an impression on her over the years. In each one, her claim that, "I am a storyteller" holds true as her photographs communicate something of the individual and moment depicted. In addition to the photographs, texts by Menke and colleagues including Tommy Hilfiger, Julia Chaplin and Andrew Niccol are included to explain the powerful meeting of fashion and global culture in the images.
Look for Menke's book at Barnes and Noble or other bookstores near you.

Tagged in: lux exclusives, travel, art, tommy hilfiger, photography, photographer, anne menke, photography book, see the world beautiful,