Fashion's Night Out celebrations: A city-by-city guide of fashion fun
One of the biggest and best fashion parties of the year, the international extravaganza Fashion's Night Out, is coming to a city near you. From Spain and Miami to Brazil and Seattle, fashion lovers – including celebrities, designers and other fashion elite – will gather on Sept. 8 to partake in an incredible range of festivities, all designed to celebrate the crazy world of fashion.
For the third year in a row, the general public is invited to check out exclusive events including designer appearances, live musical performances, celebrity guests and, of course, fashion shows. Held after hours in more than 100 cities and 17 countries, this year's event promises to be even more spectacular that last year's, with more locations and new events. The affair is designed to inject some life into the industry's economy during troubled financial times, bolstering consumer confidence and allowing stores a special night to stay open extra late and rake in the sales. Attendees can expect fabulous designer deals and a fantastic excuse to shop.
From mingling with the stars to scooping up exclusives designs, LadyLUX has compiled some of the top events you don't want to miss in New York, Los Angeles, Orange County and London. So don your most stylish gear, grab those credit cards and get ready to have an amazing night!
via Barbie Loves FNO
NEW YORK
On Sept. 8, New York City is going into fashion overdrive when Spring 2012 Fashion Week hits the runways at the Lincoln Center and the citywide Fashion's Night Out fest kicks off. A total of 250 stores across Manhattan will be participating in this worldwide event with giveaways, designer and celebrity appearances, performances, and plenty of cocktails and food!
As the experience can be overwhelming, to help transport you from one fashion event to the next, Barbie is hosting the Official FNO Double-Decker Bus, which will run from 6 p.m. to 11 p.m., making 10 stops along the way. You can also play along with Barbie in her Ultimate Fashion Hunt, a scavenger hunt to find Barbie-size Fall designer looks.
Teen Vogue will, as always, be hosting its third Annual Block Party, with three blocks of nonstop fun held on Bleecker Street and West 11th Street.
The Block Party features a pop-up shop selling limited edition goodies from Vans, which is also one of the sponsors. Fashionista guests can enjoy Essie manicure stations, Arizona Ice Tea smoothie and popsicle bars, photo booths, music from Teen Vogue's Andrew Bevan, and a chance to have Teen Vogue's editor sign your own copy of the Teen Vogue Handbook.
Check out other highlights of events in the city:
Upper East Side

1. Barney's New York is not only participating in FNO but plans to donate 10 percent of the flagship store's sales that night to the National September 11 Memorial & Museum, in honor of the 10th year anniversary of 9/11.

2. Bloomingdales will be launching new brands and products, showcasing its latest Fall merchandise and hosting special meet-and-greets with superstar stylist Rachel Zoe and supermodel/designer Erin Wasson.

3. At the Roger Vivier store, runway model Jessica Stam will make an appearance. You can also channel your inner model and capture the night with StudioBooth in special booths, sharing your interactive pics via Facebook and Twitter.
Midtown

1. Bergdorf Goodman hosts events from 6 p.m. to 10 p.m., including a FNO Doll signing from Jason Wu.

2. Coach is going all out for the night with its Return of the Classic event. The Coach Duffle Sac is back, and the label has brought seven of the most stylish bloggers on board for "The Duffle Project," featuring the bloggers styled with the iconic bag. You can meet the ladies behind the style, including The Man Repeller's Leandra Medine, The Glamouri's Kelly Framel, Into The Gloss's Emily Weiss, Tales of Endearment's Natalie Joos, The Chriselle Factor's Chriselle Lim and The Blay Report's Zandile Blay.
Meatpacking District

1. Christian Louboutin will debut two limited edition FNO styles just for the occasion. Guests can also get the celebrity hair treatment from Frederic Fekkai and visit the amazing eyelash bar stocked with Christian Louboutin lash creations.

2. Shopbop is hosting the Shopbop Lounge on 9th Avenue and 13th Street with stylist Louise Roe, who will be interviewing designers from the online boutique, stylists, bloggers and fashionistas. The e-commerce site will also present a live show of seasonal trends and offer guests a chance to enter to win a $5,000 shopping spree on Shopbop.com.
To get the complete list of stores and events, visit Fashion's Night Out.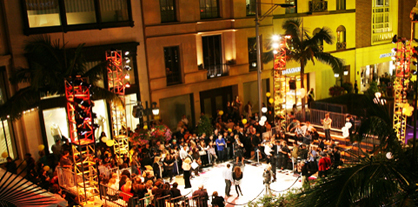 via Rodeodrive-bh.com
LOS ANGELES
For the second year in a row, the Beverly Center will serve as the central hub for Los Angeles's Fashion's Night out. This year, Mayor Antonio Villaraigosa, Vogue's West Coast editor Lisa Love and Nicole Richie will be hosting the extravaganza and kicking things off with an opening ceremony at 5 p.m. in the center court.
The fun continues with the Luxury Fashion Show, which exhibits exciting Fall trends from the Beverly Center's newest stores, and the Contemporary and Juniors Fashion Show featuring the city's top brands and looks from Bloomingdales and Macy's. The star-studded red carpet event will also offer minimakeovers at the Maybelline New York's Color Studio, beauty tips at Chaz Dean and an exclusive, invite-only cocktail lounge by Pisco Porton.
Bloomingdales, Macy's and several dozen other stores will be participating in the fun and offering giveaways, complimentary cocktails and desserts, music, stylists meet-and-greets and fabulous deals to make shopping even more tempting! Visit the Beverly Center for more details.
For a chic night out under the stars, celebrate Fashion's Night Out at The Grove. The outdoor event will take place in The Park with a DJ spinning top hits, models showing off the hottest new styles, the "MAC Me Over" cosmetics makeover party hosted by MAC Cosmetics, and plenty of wine and fashion-inspired bites from participating restaurants.
Nordstrom will also be hosting its fashion shindig that night, with tasty treats, upbeat music and exclusive Fashion's Night Out merchandise. For the Lauren Conrad fans, she will be making a special appearance in the Savvy department from 7 p.m. to 8:30 p.m. Buy anything from her Paper Crown line now until Sept. 8 and get a picture signed by her on the big night! Visit The Grove and Nordstrom for more information.
If you want more than just fashion shows, Rodeo Drive is creating a spectacular high-end fashion carnival and bringing back the iconic Ferris wheel that become the symbol of the West Coast's participation last year.
Rodeo Drive is teaming up with Cirque Du Soleil for Fashion's Night Out, bringing an array of well-dressed specialty performers, including flamethrowers and stilt walkers. Guests will also be able to take photos as if they were participating in the new Los Angeles Cirque du Soleil show, IRIS, and create custom flipbooks.
The famous drive will include 67 in-store festivities at locations including Neiman Marcus, Saks Fifth Avenue, Chanel and Gucci; endless cocktail parties; celebrity appearances; extended shopping hours; and 15 of the city's top gourmet food trucks, such as the Lobsta Truck and the Cheeseball Wagon. These delicious food trucks will feature a special limited edition Fashion's Night Out menu item, only available that night on Rodeo Drive. Check out Rodeo Drive for more information on the fashion carnival.
ORANGE COUNTY
At South Coast Plaza, the fashion party includes more than 100 boutiques, exciting Fall fashion shows, cocktails, live music, special designs, free gifts, discounts and more. Bloomingdales is teaming up with AnQi to co-host the HOT Fashion Show, featuring the must-haves of the season. The department store is also presenting the NBC Lounge, which will showcase the new line, and offering the chance to win a walk-on role on a TV show.
Saks Fifth Avenue will be hosting special fashion presentations to showcase the latest trends, followed by a cocktail reception. The unforgettable event at South Coast Plaza will include a red carpet photo booth and a contest to win a $1,000 gift card. To see all the participating stores, visit here.
Starting at 5 p.m., top celebrity stylist Melis Kuris is starting things off at Fashion Island's Fashion's Night Out. She will be hosting a Fall presentation and announcing the winner of the styling contest. Guests can enter to win a 90-minute styling session with Kuris and a $1,000 Fashion Island gift card here. The night of fashion includes more than 40 participating stores, including Neiman Marcus, Bloomingdales, Nordstrom, American Rag Cie and more! The first 500 guests who make a purchase in one of the participating stores will receive a custom Fashion Island tote.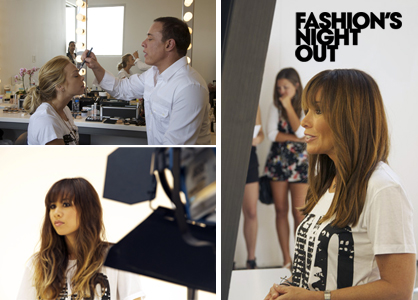 via Fashion's Night Out LA
LONDON
On Sept. 8, London will be pulsing with people turning out for the fun happenings on Oxford Street, Regent Street and surrounding areas in the West End. Major stores such as Vivienne Westwood, Alexander McQueen, Agent Provocateur, Harvey Nicols, Christian Louboutin and Kurt Geiger will host special events, including free champagne, new window displays and DJ music.
Check out the fun at Selfridges, where Lily Allen and her sister Sarah Mary Owen will be celebrating their new pop-up shop, Lucy in Disguise. At this all-out launch party, peruse the racks of cocktail and prom dresses, or the vintage designer items from the '20s to '80s. Other options at the famed department store include getting pampered with Bronze Libertine manicures from Dior, sipping the refreshments, relaxing to the jazz music of Alexander Stewart and receiving makeup tips and romantic advice at Gordon's Cafe.
At Topshop's Oxford store, enjoy something different: a pop-up magazine brought to life. With personal shoppers to help you chose your selections, Sophie Lloyd DJ music and fab makeovers, Topshop will surely deliver a marvelous night of entertainment.
The after-hour events at Liberty are also a sure bet. Kicked off by Manolo Blahnik and his muse Yasmin Le Bon, Liberty will celebrate fashion through offering insider fashion advice from Vogue fashion editor Emma Elwick, an opportunity to win Kurt Geiger shoes, made-to-order cocktails at the Circus Bar and a chance to dance the night away to Motown classics played by in-store DJs.
ONLINE
This year, if you can't get out to celebrate Fashion's Night Out, you can celebrate while staying in and shopping online! Fashion's Night Out Online lists every e-retailer participating, along with special incentives and exclusive gifts. You can search for all your favorite sites or simply browse through the hundreds of possibilities. From American Apparel to Rebecca Minkoff and smaller boutique shops, the options are endless. Once you find all your must-visit shops, you can add them to "My Night Out" with a click of a button, and they will be mapped out for your shopping pleasure.
OFFICIAL FNO COLLECTION
What extravagant night out would be complete without a nod to charity – and some great souvenirs!
With Fashion's Night Out memorabilia such as T-shirts and bags, you can remember the fun you had at the shindig while sporting the Fashion's Night logo on your ensemble.
Go for the basic logo on a short- or long-sleeved tee or get more adventurous with multicolor patterned shirts in bright combinations of blue and purple or pink and orange. And don't forget the hat or a bag to complete the look.
Scoop up these snazzy goods and benefit New York City AIDS Fund in the New York Community Trust, which receives 40 percent of proceeds. Visit fashionsnightout.com/collection to discover which retailers near you offer the official FNO 2011 collection, or to order online.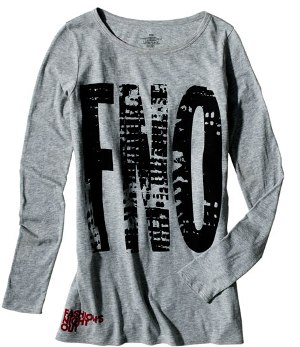 via Fashion's Night Out
VOGUE AND POLYVORE'S COMPETITION FOR NEW YORK TRIP
This year, Fashion's Night Out is offering a special contest for creative fashionistas. Vogue and Polyvore have partnered to present FNO Style Setter, a new competition in which the fashion inclined may produce their own FNO sets on Polyvore. The fortunate winner receives a trip to New York City, where he or she will have the chance to personally visit the Vogue offices, pose in a photo shoot and explore the magazine's legendary fashion closet.
Would-be competitors should go to Vogue.com to determine the week's theme, then visit Polyvore's FNO section to create unique sets featuring items from the official Fashion's Night Out collection. These pieces may be styled with whatever entrants discover from the FNO online retailers.
Vogue editors will select the best sets every day, and each week's seven winners will be judged by guest celebrity editors, such as Blake Lively and Alexander Wang, who will pick their two favorites to be finalists. The resulting six contestants will compete for votes on Vogue.com on Sept. 5. Whichever set's creator rakes in the most comments wins the grand prize trip. For those uncertain of their creative talents, you may be considered for the grand prize just by commenting on your fav set. One commenter will also be randomly chosen to win the same prize of jetting off to New York.
Click here for the rules.
This article was a collaboration by Annette Tang of the VersaStyle and Katherine Sweet. You can follow Annette and her fashion adventures on Twitter at @theversastyle.