Fine jewelry sales gain momentum on the web
Signs may be suggesting the fine jewelry market is slowing down, but the opposite holds true for the category in website sales. As reported by WWD.com, ComScore reported last month that online retail spending reached $44.3 billion for the quarter – a 17 percent increase from the previous year. Among the top performers were jewelry and watches.
Driven by low overhead and vast selections, the growth is attracting more e-tailers to the category and more investments. Fine jewelry e-tailor Gemvara revealed it is getting a $25 million injection of capital. The two-year-old site just closed the round of funding, led by Norwest Venture Partners.
"Consumers are becoming much more comfortable buying more meaningful, expensive and emotional types of products — jewelry being an obvious one, but also fashion and apparel. There's a lot going on there, especially with the female customer. There's some massive changes happening," Gemvara founder Matt Lauzon said to WWD, adding that all of Gemvara's products are made domestically, with New York City being the biggest hub for production.
As a shift occurs within the category and shoppers become more comfortable buying fine jewelry online, Lauzon compares the change to what happened when Netflix began to take off, taking over Blockbuster's seemingly unassailable position as the way to rent movies.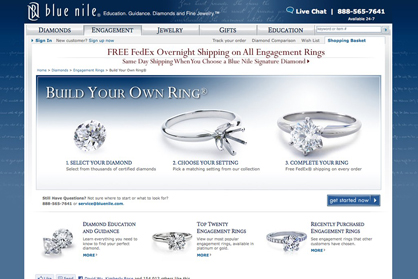 Photo Courtesy of WWD.com
Hana Ben-Shabat, a consultant and partner at global management firm A.T. Kearney who specializes in luxury retail, attributes the trend to two factors. The first is price. Shoppers view styles in store but can find similar products online for a better deal. Without the overhead and costs of running brick-and-mortar stores, online sites like Gemvara, Blue Nile, Plukka and Port-Au-Gem can afford to charge less.
The second is vast assortment.
"At the end of the day, it's a category that has a significant number of sku's, and there's no way you can get everything in one place. It's almost impossible," Ben-Shabat said. "It's a business run on a very large amount of inventory and there's always a limit to what you can show in the stores — and online you have the flexibility of showing a wider selection that you can actually offer in-store."
Tagged in: ecommerce, fine jewelry, blue nile, online sales, gemvara, online sales growth, e-tailers,