2014 Haute Men Of Hollywood
This time of year, during awards season, the ladies receive a lot of attention for their fashion choices. Not to be one upped, the men of Hollywood have been looking mighty good on the red carpet. The crop of men nominated for Oscars and hitting the awards shows this season have been particularly well-dressed gentlemen. See which leading men, nominated for Oscars, have been captivating our attention.
Leonardo Dicaprio
We always love an award season that includes this dapper leading man. Always one to look good in a suit, this man cleans up well and knows how to wear a suit. Further proof he cleans up well is his laid back street style. This man loves his newsboy caps and slip on shoes. (The Wolf of Wall Street)
Jared Leto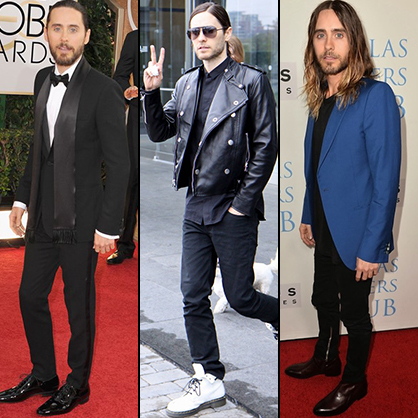 Jared Leto's hair has been taking the red carpet by storm and its no wonder, it's gorgeous. While his hair has everyone talking, it's his style that has us wooed. The rock star/actor is another example of cleaning up well as evident in the suits he's worn. Whether he's mixing things up with a blue blazer and boots or being casual in a rocker get up, this man has style. (Dallas Buyers Club)
Matthew McConaughey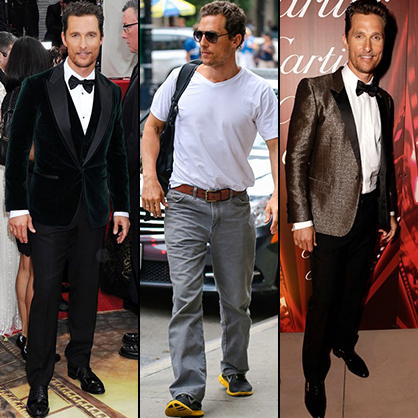 The favorite this season, McConaughey has had a lot of fun with his suits. Not opting for the traditional black tux, we've been entertained with the fashion choices this handsome fella has been making. It's no surprise he looks just as good off the red carpet in something as simple as jeans and a T-shirt. Wearing an emerald velvet jacket at the Golden Globes and choosing a metallic jacket for the Palm Springs show, he keeps us looking forward to his next look. (Dallas Buyers Club)
Bradley Cooper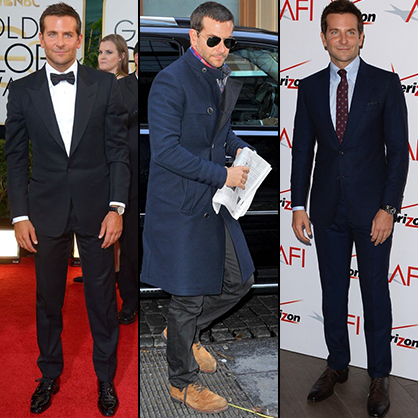 This dapper man has always had impeccable style. Cooper is known for dressing well on and off the red carpet. We are fans of him in a tux and suit but his street style is also very impressive. His love of aviators and boots should encourage more men to dress the same. (American Hustle)
Michael Fassbender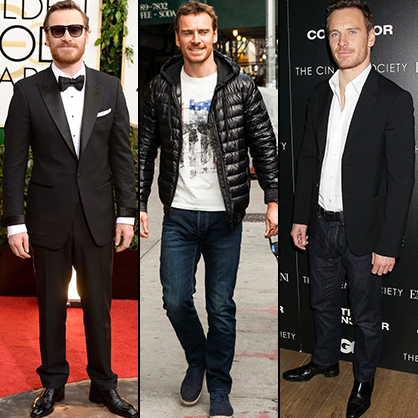 Michael Fassbender has quickly become a style icon for men. The actor can get a little quirky on and off the red carpet, posing for photos in his sunnies at the Golden Globes. He does know how to dress up well as evident in his press tours for 12 Years a Slave. Like Cooper, we're impressed with his effortlessly trendy street style. (12 Years a Slave)
Read more Red Carpet Looks.
Tagged in: menswear, entertainment, red carpet, award shows, celebrity fashion, luxman, red carpet fashion,